Ideas are easy.
Execution is All!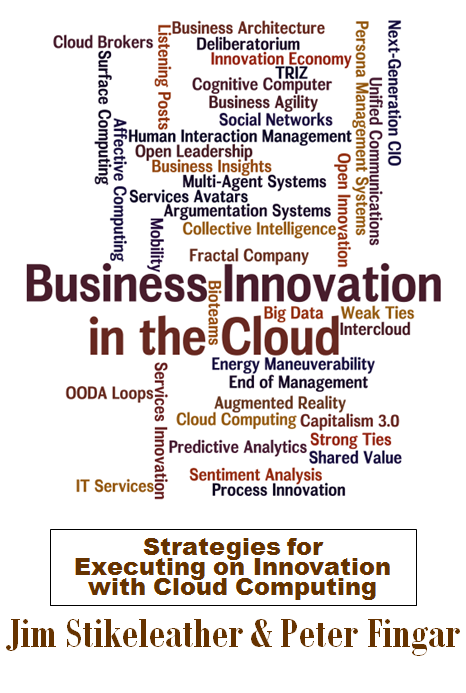 Order now from Amazon now (discounted by Bizanalyst)
Think you understand how technology is going to change the way we work, organize, and compete? Think again. In this exciting and deeply insightful book, Stikeleather and Fingar offer a compelling vision of how the Cloud will rewrite the rules of business. For them, the Cloud isn't about "on-demand IT," but about "on-demand innovation" ─ and if your organization doesn't get this, it's gonna get caught out by the future.
In a book that is both practical and thought-provoking, the authors do a great job of unpacking "the next big thing."
─Dr. Gary P. Hamel
London Business School
Author of What Matters Now
Stikeleather and Fingar hit a home run with this ode to technology and business convergence, and given the innovation imperative, make this the first book to turn to on business innovation in the Cloud.
─Dr. Richard M. Soley
Chairman and Chief Executive Officer
Object Management Group, Inc.
Excerpt ...
The Business Innovation Dogfight in the Cloud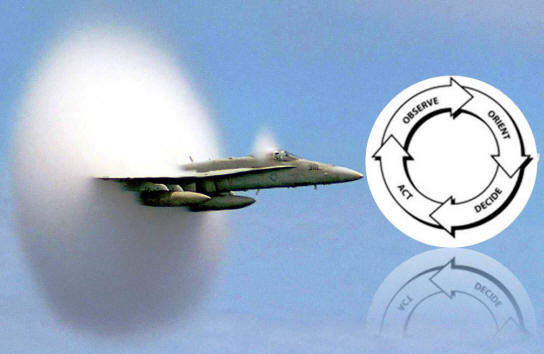 --Book Description--
Thomas Edison said it famously, "Genius is 1% inspiration and 99% perspiration." This hard-hitting book is all about that 99%--executing on innovation in the 21st Century world of exponential and unpredictable change. The book, in an innovative multimedia format, provides an agenda for enabling innovation in your organization, and lays out a strategy framework for execution by harnessing the revolutionary business platform, the Cloud. Creativity and great ideas will always be important--but execution is all when it comes to business innovation. Thus, the book is an impassioned plea to reinvent innovation as we know it-- to rethink the fundamental assumptions we have about business innovation and innovate innovation itself.
Cloud computing is enabling innovation to take place faster and faster, and is removing a tremendous amount of friction from the marketplace for companies of any size. A new generation of digital natives is facile with the new technology, new work patterns, and higher levels of collaboration. Most creativity and innovation comes from the edge, from weak ties, multiple minds coming together. Collaboration enabled in the Cloud makes it easy for companies to work together allowing each to work in an ecosystem, on their own clocks, where what they do creates value for their customers.
There's still a lot we don't know about how cloud computing will unfold, like at the beginning of the Web. Way back then, in Internet time, we couldn't begin to imagine the new business and economic models: things like Facebook and Google. Although we can't know the unknowable, we can strive to gain the agility we need to manage the unexpected, the unpredictable and the new instability. Thus we have no magic formulas for innovating our way into the future, but we can arm ourselves with the management approaches and tools needed to flow with the future, and gain that elusive thing called agility. The book offers concrete methods of energy maneuverability used in the development of the world's most agile fighter jet, the F-16, for making the nebulous notion of agility an actionable reality. Executing on innovation isn't a one time affair, it's a systematic process that is built for change. And change is the only constant it today's business world.
Before we can properly discuss what the Innovation Economy portends for business, we need to set the context of what's happening in the larger world outside business, what's happening in our hyper-connected society as a result of dramatic advances brought about by globalization and the Internet, including recent implications of the Great Recession. With a broad context established, the book explores the current state of business innovation and looks at multiple perspectives and key variables to be included in doing the work of business innovation:
Energy Maneuverability OODA Loops as the Basis for Business Agility

Open Innovation

Social Networks as a Source for Business Insights via Weak Ties

Collective Intelligence: The Deliberatorium and Argumentation Systems

Explicit Collaboration via

Strong Ties

Affective Computing

Sentiment Analysis

Augmented Reality and Surface Computing

The Cognitive Computer

Process Execution in the Intercloud

Business Process Innovation

Business Innovation as a Business Process

Innovation as a Team Sport and Human Interaction Management

Big Data and Predictive Analytics as the Basis of Actionable Business Insights

The End of Management—As We Know It

Open Leadership and the Rise of Bioteams

Services Innovation and Products as Services Avatars

Listening Posts and Persona Management Systems

TRIZ- A Problem-Solving Approach to Innovation

Calling on IT Services Organizations

Cloud Brokers

The Next-Generation CIO

The Fractal Company and Multi-Agent Systems

Business Architecture for the Innovation Economy
A multimedia book? Yes, throughout the book you will find QR codes and tiny URLs to take you into a 3rd dimension of related videos and documents. The text can be read in short order, but the multimedia experience of this book goes far beyond. So take as much, or as little, time in this book to chart your future. The book isn't some esoteric stuff written by technology pundits, it's written by two business technology practitioners with combined hands-on leadership at the coal face of business technology for over 70 years. The book provides encyclopedic coverage of the monumental subject of business innovation, including an innovation architecture and an actionable innovation agenda, challenging readers to "get ready," "get set," and "go!" However, this book is an optional read for incumbent executives! And so is business survival in the global Innovation Economy. Innovate or die.
Carpe diem.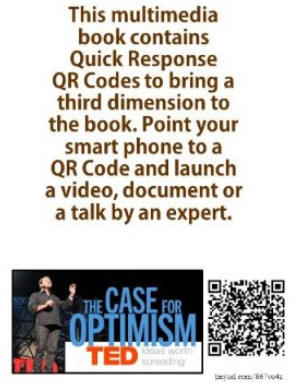 ▼ Watch the Popular 8-Minute Youtube Overview ▼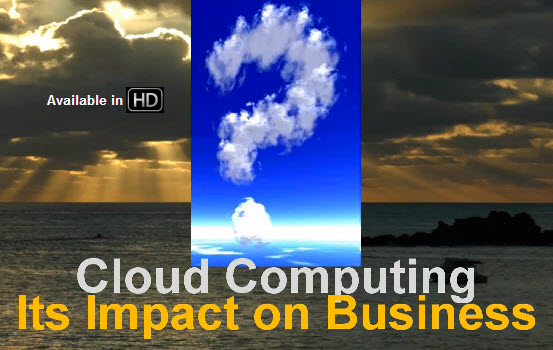 To order multiple copies, email us.
This book can be supplied in special edition versions.
Check out our suggested readings.