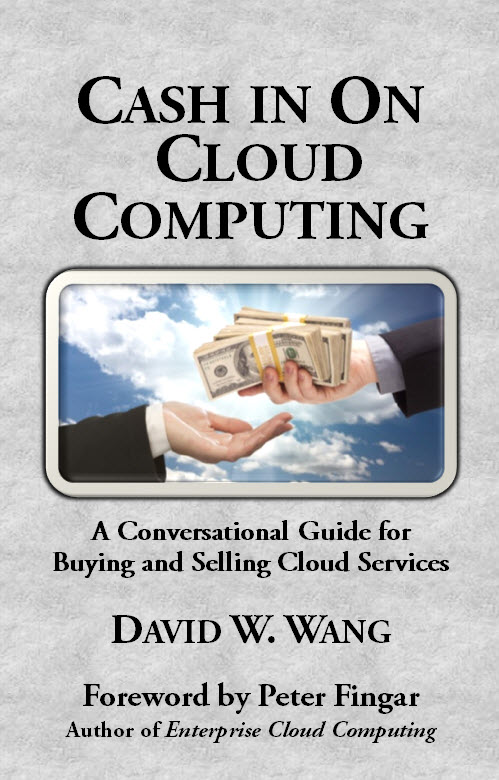 To order multiple copies, email us.
Available at Amazon

If you are new to clouding computing, as either a buyer or seller of Cloud services and solutions, you may be surprised by this book's disclosures that some people perceive Cloud services as a commodity, and that either selling or buying should be straightforward and as simple as placing an order.

If you use a Cloud-based email service such as Yahoo, Google or Hotmail, you are already a user of simple and straightforward cloud computing as a commodity. On the other hand, if you are responsible for mission-critical enterprise applications such as ERP and CRM and evaluating moves to the Cloud, you no doubt know, as revealed in this book, that such moves require analysis and planning on the level of any major enterprise IT project.

Cloud computing definitely has many attractive benefits to offer, but there isn't a "one size fits all" formula for all customers' needs.

A consultative sales process is a must in the cloud computing era. One unique feature about this book is that it is filled with conversational dialogs between buyers and sellers, and those selected are typical of the conversations you will no doubt have when considering buying into cloud computing.

The payback is usually a big deal in many senses including business strategy, financial revenue, and operational transformation. Thus both buyer and seller can cash in on cloud computing!
While there are several really good books on the what and why of cloud computing, this book centers on the "how" of buying cloud services: how to ask the right questions, how to avoid the pitfalls, and how to capitalize on cloud computing.

Foreword
I began my career in technology way back in 1967. In 1981, I met John Vincent Atanasoff, the inventor of the electronic digital computer. I was on "the Internet" using email in the 1970s at GTE Data Services (GTEDS) before it was called the Internet, thanks to the work of Larry Roberts, a father of the ARPANET, and his collaboration with GTE. GTEDS consolidated General Telephone's data centers to create a "computer utility," selling services to external clients as well. The computer utility was the precursor to what we today call "cloud computing," with multitenancy as its cornerstone.

Fast forward to now. I want to make the point that this grandpa has pretty much seen it all, so I don't pay attention to the constant stream of hype that comes from the IT industry. But when something game changing comes along, I devote my full attention. And my full attention has been devoted to cloud computing, a real game changer.

Since 2008 I've written four books on cloud computing, including Dot Cloud: The 21st Century Business Platform, Enterprise Cloud Computing, Business Innovation in the Cloud, and Cognitive Computing. All of these books focus on business issues and implications, explaining the what and why of cloud computing.

But now comes the focus on how, that is, how to go about doing the work of buying in and adopting cloud computing. We can thank David W. Wang for providing a comprehensive guide to the how of cashing in on cloud computing. Read, enjoy, learn, and cash in on cloud computing!

--Peter Fingar

Table of Contents

FOREWORD BY PETER FINGAR 9
INTRODUCTION 10
IT'S HIGH TIME TO ADOPT CLOUD SERVICES 10

SECTION 1—START WITH THE CLOUD THINKING 15
1—GET THE CONCEPT GOING 16
GET OVER THE CURVE 17
BUILD ON WHAT CLIENTS ALREADY KNOW 20
WHAT'S UNDER THE HOOD? 23
THE MAGIC OF ABSTRACTION 25
THE PROOF OF THE CLOUD CONCEPT 27

2—"BIG THREE" STACKS AND PLATFORMS 31
PUBLIC, PRIVATE AND HYBRID CLOUD 31
INFRASTRUCTURE, PLATFORM, AND SOFTWARE AS A SERVICE 36
TOWARDS THE CLOUD BASED ECOSYSTEM 42

3—CLOUD ERA GAME CHANGERS 46
AGILITY AND CLOUD BASED BUSINESS STRATEGY 48
SCALABILITY AND UTILITY COMPUTING 52
COMPETITIVE AND FAST GO TO MARKET 54

SECTION 2—BUILD THE CLOUD SALES MODEL 58
4 — TIPS ON CLOUD SALES MANAGEMENT 59
PROACTIVE PROFILING AND GO-TO-MARKET 59
LEAD NURTURING AND PARTNER CHANNEL ENABLEMENT 61
A SIX-STAGE SUCCESSFUL CLOUD SALES PROCESS 63
INNOVATIVE POSITIONING AND BUNDLING 65
TOP-DOWN CLIENT ENGAGEMENT 67

5—DEAL BREAKERS - PRICING, ROI, AND SLA 70
RESOURCE-POOL AND USAGE-BASED PRICING 73
THE CLOUD ROI FACTORS 76
SERVICE CONTRACT AND LEVEL AGREEMENT (SLA) 79

6—CLOUD TALES TO TELL - USE CASES 83
GENERAL WORK APPLICATIONS 85
BUSINESS CRITICAL OPERATIONS 86
THE EMERGING BIG DATA ANALYTICS 88

7—CLOUD PERFORMANCE BENCHMARKING 91
THE FACE OF CLOUD - CLIENT SERVICE PORTAL 91
POLISH THE CLOUD KPIS 94
CLOUD AUDITING AND ASSURANCE 97

SECTION 3—UPSELL CLOUD CAPABILITIES AND FEATURES 101
8—DATA CENTER AND CLOUD 102
CLOUD AND DATA CENTER FOOTPRINT 105
DATA CENTER- CLOUD HYBRID SERVICES 110
CLOUD BACKUP & 113
DISASTER RECOVERY 113

9—CLOUD MIGRATION PATHS 118
MIRROR THE CURRENT IMAGES 121
REINSTALL FROM SCRATCH (FAILOVER) 124
FORKLIFT MIGRATION 125

10—CSPS' VALUE-ADDED SERVICES 128
PREMIUM SECURITY SERVICES 128
CLOUD PROFESSIONAL SERVICES 133
MANAGED CLOUD SERVICES 136

11—ADVANCED CLOUD OPERATIONS 141
CLOUD UPTIME MANAGEMENT 143
INTEROPERABILITY AND APIS 146
UBIQUITOUS CLOUD NETWORKING 150
CONCLUSION 157

ADDITIONAL MINI CASE STUDIES 158

GLOSSARY OF CLOUD COMPUTING SERVICES 162

ABOUT THE AUTHOR 172


David W. Wang has been the director and senior manager of strategic business development for both startup and Fortune 20 technology companies in the global marketplace. He is also a senior consultant on telecom & IT business, markets, and solution trends for the financial and investment sectors. David has pioneered in cloud computing business development and sales since 2008. The author of Decoding the Dragon's Mindset (2009), he is based in the Washington DC metro area.