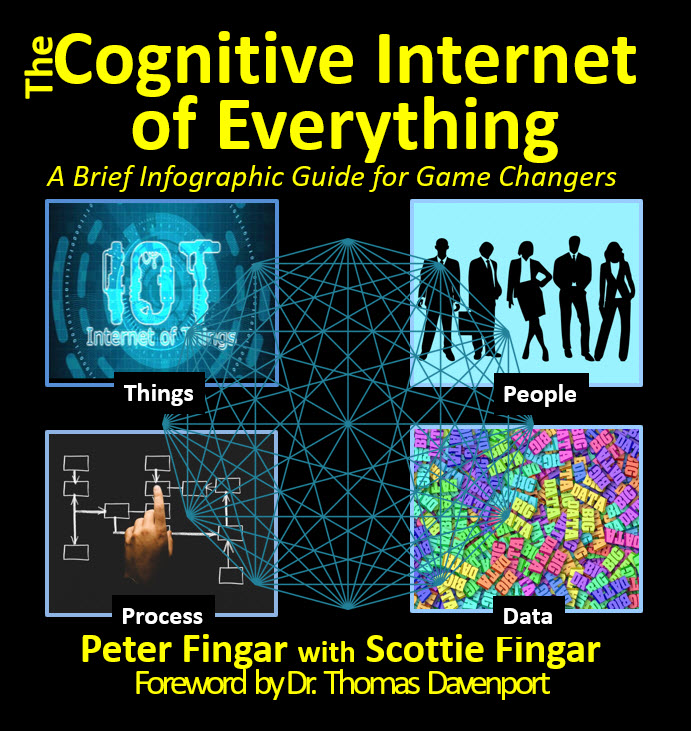 To order multiple copies, email us.
Available at Amazon

Click to listen to or read this brief interview. How big of an impact will Artificial General Intelligence have? Some have called it the most important technological development in human history. Definitely worth a listen.
___________________________________________________________________________
This book is a concise infographic briefing on the most noteworthy developments in artificial intelligence. AI now incorporates Things, People, Process and Data. This quantum leap requires a whole new way of thinking and acting if we are to reap the benefits and understand the potentially catastrophic downsides.

The book uses a unique multimedia format with QR codes and tiny URL links that let readers drill down on many important topics. As an infographic book drawn from some of the author's keynote speeches, the aim is to make the information available without having the reader plow through thousands and thousands of words!

Leaders in government and business can ill afford to miss this early-warning book. A lot of effort went into making the book concise so that very busy people who have little time to read, the Game Changers, will have time to grab the essence of this hugely important subject —and act!

What They Are Saying About This Book
Cognitive Computing, Machine Learning, Artificial Intelligence, Internet of Things, and so forth -- it sure seems there are more buzzwords floating around than usual. Peter Fingar reviews what they mean and more importantly how they relate to each other. An important read.
--Dr. Richard Soley, MIT PhD, and CEO, Object Management Group (OMG)
As we move into the Fourth Industrial Revolution as described by the World Economic Forum, what becomes more important than what you know is an awareness of all that you don't know. This concise book is an effective starting point for gaining that awareness of the tech that is redefining the game.
--Dr. James Stikeleather, Professor and Board of Trustees Member at the University of South Florida, and Former Chief Innovation Officer, Dell Services
A brilliant and informative little gem of a book, which comes as a call to action no business or IT professional who cares about our world can afford to ignore. Well worth anyone's time.
--Sue Bushell, Editor, CIO Government Magazine, Australia
With technological developments in Cognitive Computing moving at light speed, this book comes not a minute too soon and is written by the right person. Peter Fingar, a veteran in the IT Industry is always capable of presenting the latest technological development in the right context. The reader is taken along the path of Cognitive Computing and will get an insight in the great impact on any organization and society as a whole.
--Frits Bussemaker, Chairman, Institute for Accountability in the Digital Age
The Cognitive Internet of Everything is going to have significant impacts on businesses, individuals and collaborations of all kinds. When we look back a short ten years from now, we will be wondering what we ever did before all people, processes, data or machines were not enhanced by the cognitive wave. We will all be different in our roles as executives, employees, contractors, consumers, and people participating in many contexts. Machines will be equally supercharged by cognitive smarts and we all will be leveraging live data with conforming processes that revolve around changing needs. New balances will be struck between customers and organizations, people and machines, process resources and superintelligence in various new ways. You're in for a ride.
--Jim Sinur, Author and Vice President, Emeritus, Gartner
The Cognitive Internet of Everything changes how we view the future of business and the role of AI. The concepts in this book open up an entirely new dimension when we think about how we architect and transform businesses on a scale many of us have not even fathomed.
--William Ulrich, President, Business Architecture Guild

Living and breathing the passion for automation and efficiencies that technology brings us, this book creatively weaves the past, with the now and the future, opening the doors for all of us to grab it and run with the opportunities. The book offers comfort in the fact that change is part of our lives, but also motivates the reader to become an integral part of it.
--Jane Mason, CEO, eClarifire
For as long as I've been a tech, Peter Fingar has been one of the leading voices pointing the way into the future. Now that the future has truly arrived, there is no better book to fully understand the potential of all these powerful technologies coming together than The Cognitive Internet of Everything.
--Peter Schooff, Managing Editor at BPM.com

A short, punchy reminder of the path humanity is on and how we need to prepare for change. Peter Fingar says 'Wake Up!' using his good natured humor and simple yet powerful messaging.
--Phaedra Boinodiris, Author and Learning Innovation, Behavioral Science Specialist at IBM
As the world continues to change rapidly, authors who can give us clear descriptions of the changes are needed. Peter Fingar is such an author. His latest book is required reading for all people who wish to quickly overview the paradigm and some of the details of the Cognitive Internet of Everything.
--Dr. Thomas Greene, Research Staff Emeritus, MIT-Computer Science and Artificial Intelligence Laboratory (CSAIL)

Foreword
Peter Fingar is a fun guy, which isn't an attribute I would use to describe most people in the information technology field. But who else would publish a picture book about the intersection of artificial intelligence and the Internet of Things? Okay, it's not exactly just pictures—more like a series of infographics—and there are word-based captions on the pages too. But if it takes you more than an hour or so to get through the book you are definitely taking too long!
What will you get for your brief investment of time? Well, the book includes:
· A series of interesting factoids about the rapid pace of change in information technology—memorize a few and use them to astound your boss or your cocktail party companions;
· Undeniable evidence that we need AI—or cognitive systems if you prefer—to make sense of all the data that is being generated every second;
· A call to action—for you as an individual to get up to speed on these issues, and for organizations to embrace this revolution or go out of business.
That's a far greater ratio of insights to time investment than most books provide. So stop reading this foreword and get on with the fun pictures!
Thomas H. Davenport
Distinguished Professor, Babson College; Research Fellow, MIT; Senior Advisor, Deloitte
Author of Competing on Analytics and The AI Advantage
Table of Contents
Foreword 1
Introduction and a Hello 2 – 3
Three Eras of Computing 4
Artificial Intelligence 5
The MoSAIC 6
The Internet of Everything 7-8
Big Data 9 – 11
Slate Magazine Quote 12
Gartner Quote 13
Cognitive Computing 14 -5
Affective Computing 16 – 19
Commonsense Knowledge 20
Cognition as a Service 21
Cognitive Computers 22
Cognitive Era of BPM 23 – 27
Business Architecture 28
Applications and Uses 29 – 33
Symbiosis or Genocide 34 – 35
What to Do 36 – 38
Universal Basic Income 39
Conclusions 40 – 43
About the Author 44
About the Author
PETER FINGAR is an internationally recognized expert on business strategy, globalization and business process management. He's a practitioner with over fifty years of hands-on experience at the intersection of business and technology. He is an author of 26 best-selling books, most recently Cognitive Computing, a Brief Guide for Game Changers. His seminal book, Business Process Management: The Third Wave is widely recognized as a key launch pad for the BPM trend in the 21st Century.

Peter has held management, technical and advisory positions with GTE Data Services, American Software and Computer Services, Saudi Aramco, EC Cubed, the Technical Resource Connection division of Perot Systems and IBM Global Services. In addition, he served as the CIO for the University of Tampa.

He has taught graduate and undergraduate computing studies at business schools in the U.S. and abroad, and has given keynote talks worldwide (including London, New York, Washington, Amsterdam, Stockholm, Munich, Milan, Paris, Brussels, Tokyo, Shanghai, Montreal, Chicago, Denver, Las Vegas, San Francisco, San Diego, Miami, Cairo, Johannesburg, Riyadh, Dubai, Lisbon).

In addition to numerous articles (including CIO Magazine, Optimize, Computerworld, Intelligent Enterprise, Internet World, SiliconIndia, FirstMonday, EAI Journal, Logistics, Information Age, and the Journal of Systems Management), some of his other landmark books include Dot.Com: The 21st Century Business Platform, Extreme Competition: Innovation and the Great 21st Century Business Reformation, The Real-Time Enterprise: Competing on Time, Enterprise Cloud Computing, IT Doesn't Matter: Business Processes Do, Business Innovation in the Cloud, Business Process Management: The Next Wave, Smart Process Apps, AI + Blockchain, and Serious Games for Business (www.mkpress.com).
PeterFingar.com
SCOTTIE JACOB FINGAR, RN, BSN, MA, AHN-BC, LMT is an Advanced Board-Certified Holistic Nurse and Nursing Educator. For the past fifteen years she has taught psychosocial and medical-surgical nursing at Hillsborough Community College in Tampa, Florida, where she is a tenured Associate Professor. Whereas Peter's background is High Tech, Scottie's background is High Touch. Her MA from Goddard College focused on Holistic and Integrative Nursing, a specialty that infuses her teaching. She has used gentle breathwork, insight meditation, guided imagery and visualization, music and sound, art, therapeutic movement, InterPlay, energy-based therapies and massage in her work with clients and patients across the lifespan, in care settings ranging from wellness to ICU, chemical dependency, developmental disability, childbirth, and hospice. She is particularly interested in the potential that advanced technology holds for enhancing human caring.
Scottie is the author of Therapeutic Breathing: Resources for Healthcare Professionals (and the Rest of Us) available at Amazon.com.