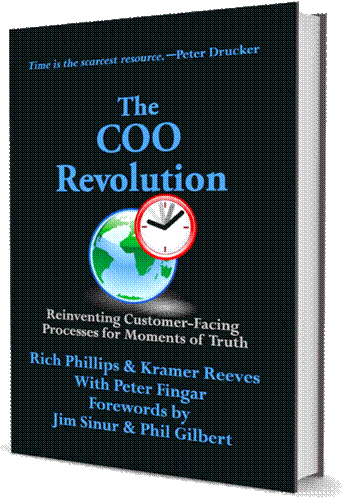 Buy the book at a discount from Amazon via our affiliate, Bizanalyst.
Ships directly from our warehouse.
Kindle edition here. (Note the figures are below if not legible in Kindle.)

While traditional back-office functions will certainly not go away, the book encourages COOs to pivot and also focus on the front office. The book asserts that the primary role of the modern COO should be that of delivering customer experiences that delight! To wit, Amazon vs. Walmart as a measure of front-office customer delight.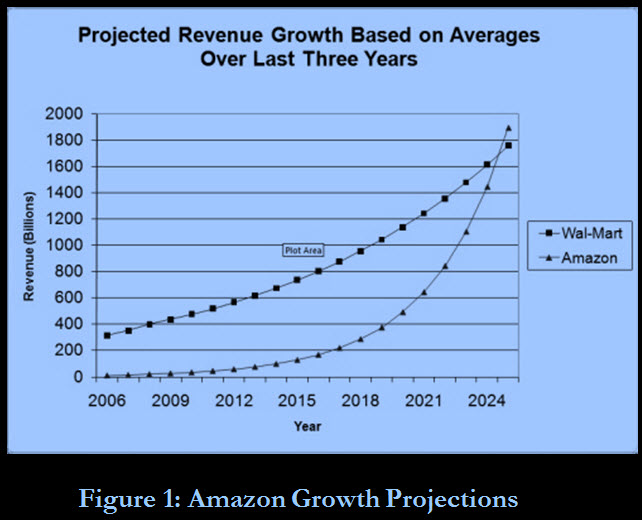 And here are some useful descriptions of front, middle and back offices.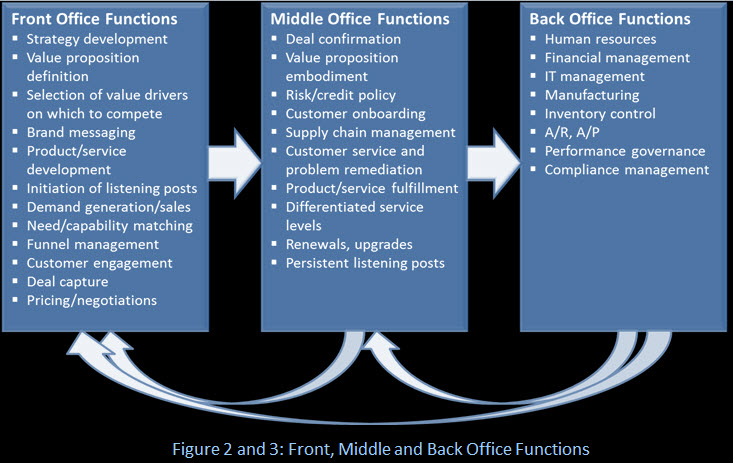 ___________________________________________________
The Book's Launch at IMPACT 2013
___________________________________________________
Even someone like me who knows the complexity of systems still thinks as a consumer – make my experience great! And that great experience is what CMOs are obsessing over. The design point of products and services, especially those in information industries like banking, insurance, entertainment, and retail, has shifted from the product to overall user experience. User experience is now primary to customer loyalty and competitive advantage.
While these experiences may be designed in your Marketing group, they have to be delivered at scale to be useful and profitable. And this connection between operational excellence (inside-out) and user experience (outside-in) is the crux of Phillips', Reeves' and Fingar's argument. Using proven tactics and tools, they describe a capability to connect these worlds.
Scaling something as complex as an "experience" is hard, but the Modern COO drives operations through this lens of great service delivery as opposed to efficiency-at-all-costs. In the end, the book makes the point that if great user experience sits at the top of your target operating model, efficient operations will also result.
Connecting the CMO and COO may not be the most intuitive suggestion, but it's a modern one. It's a connection that business leaders must understand and capitalize on. Read this book to start your journey.
---Phil Gilbert, Vice President, Design, IBM
_____________________________________________
Here is why this book is so important for your journey ahead. Enterprises are changing at speeds that are demanded by changing conditions. Managers have to respond in both reactive and proactive modes.
These times, with ever changing conditions, require serious thought to create Intelligent Business Operations (IBO) with the support of smart technologies. Managers will be expected to provide leadership and vision in creating innovative and responsive processes to support IBO. "Business as usual" will become a luxury for a chosen few, so most managers will have to prepare for a future with processes that seek patterns of threat and opportunity in a near real-time fashion.
There will be a premium offered for organizations and managers that can develop adaptive processes that are innovative, differentiating and smart. Processes and supporting resources must be quick and smart enough to deal with new desired business outcomes.
I personally encourage individuals and organizations to investigate ways of adding speed and intelligence to their key processes to enable them to outperform the status quo and reach for new opportunities. This is a great way to stay on top or ahead of the ever-changing environment. The default position is to react to the increase of speed and innovation too late. Achieving this goal will depend on intelligent technologies such as the iBPMs and supporting and augmenting technologies.
Don't just read this book--live it!
---Jim Sinur, Vice President, Gartner
______________________________________________

Table of Contents
Walk thru the table of contents with a Powerpoint slide show here.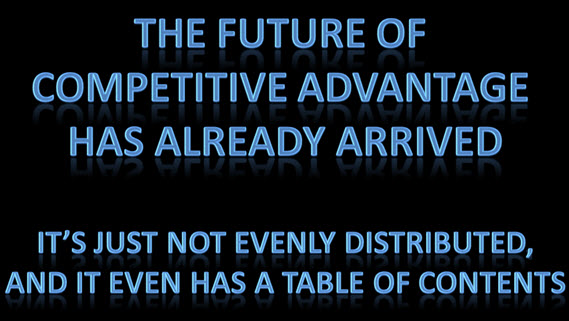 FOREWORD BY JIM SINUR, Gartner
FOREWORD BY PHIL GILBERT, IBM
PREFACE
1. A MODERN BUSINESS IMPERATIVE
WINNING VIA THE FRONT OFFICE
THE MODERN FRONT OFFICE ANALOGY
NEW BUSINESS ARCHITECTURE
A GLIMPSE INTO HOW TO GET IT DONE
THE FRONT AND MIDDLE OFFICE OPPORTUNITY
MOMENTS OF TRUTH – A NEW PARADIGM
TAKING A PEEK AT DISRUPTIVE CAPABILITIES
CAN YOU TEACH AN OLD DOG NEW TRICKS?
Bring Your Best
WHO'S GOT GAME?

2. THE MODERN ENVIRONMENT
THE MODERN CONSUMER – B2C
King Customer is Now a Dictator
Customers are Demanding Total Solutions
Customer Interaction at the "Zero Moment of Truth"
THE MODERN CUSTOMER – B2B
DISRUPTIVE CAPABILITIES – NOT FOR THE FAINT OF HEART
Cloud-Based Services
Mobile/Smart Devices
Big Data/Analytics
Social Platforms
Other Technology-Based Accelerants
ENVIRONMENTAL FORCES
Mass Production is Giving Way to Mass Customization
PORTERS FORCES RE-EXAMINED
SO, WHAT DOES IT ALL MEAN?

3. INADEQUACY OF TRADITIONAL APPROACHES TO BUSINESS MODEL INNOVATION
THREE-LETTER WORDS ARE NOW FOUR-LETTER WORDS
FRONT AND MIDDLE OFFICE
TRANSFORMATION METHODS – THE INADEQUACY OF TRADITIONAL APPROACHES TO OPTIMIZING BUSINESS PERFORMANCE
Blunt Force Cost Reduction Due to an Emphasis on Efficiency
Classic Process Reengineering
Internal Organization Restructuring
Strategic Realignment
THE TRADITIONAL COO
Cost Management
Efficiency
Operating Structure
Strategic Mix
Profit Performance
Back Office Production
Policy Management, Compliance and Corporate Governance
Business Infrastructure
Cross-Enterprise Resource Leveraging
P&L Clarity and Accountability
Traditional COO Responsibilities in Aggregate

4. THE REAL-TIME ENTERPRISE
WHAT IS DRIVING THE REAL-TIME ENTERPRISE?
KEY ELEMENTS OF THE REAL-TIME BUSINESS
Automate the Primary Activities of the Organization
Radically Reduce the Cost of Business Interactions
Provide Self-Service That Delights, While Cutting Costs
Radically Reduce the Cost of Software While Speeding Up Development Time
Execute on Innovation with Great Speed and Agility
Sense and Respond to Demand
Make Deep Structural Adjustments
Offer Product Services

5. CUSTOMER CENTRICITY IN REAL TIME
THIS IS WHERE THE REAL FUN BEGINS
Deep Customer and Competitor Awareness
Granular Segment Clarity
Codification of Business Practices and Value Proposition Principles
Distribution of Authority to the Point of Customer Interaction
Aggressive Commitment to Iterative Learning
Transparency Regarding and Commitment to Fact-Based Analysis and Response
Technology Architecture & Platforms Enabling Granular, Real-Time Interactions
Non-Hierarchical Culture
A Willingness to Test – and Fail – Without Retribution
Self-Contained Teams
CUSTOMER CENTRICITY – IN SUMMARY 1

6. THE MODERN FRONT OFFICE
THE MODERN FRONT OFFICE – WHAT DOES IT LOOK LIKE?
SEEING THE FRONT OFFICE THROUGH THE CUSTOMERS' EYES
Customer Centricity Emphasis
Real-Time Emphasis
Value Chain Emphasis
Value Proposition Emphasis
Resource Alignment Emphasis
Transformation and Agility Emphasis
SO WHAT?
NEEDS FOR MODERN BUSINESS PROCESS MANAGEMENT

7. SMARTER PROCESSES
WHY IS THIS IMPORTANT
BUSINESS OPERATIONS IN THE AGE OF THE CUSTOMER
Customer-centric business operations
Mobile, Social, Cloud and Big Data Disruption
Are You Easy to do Business With?
Instant, Seamless and Insightful Customer Service
A Framework for Leveraging Smarter Processes

8. WHAT THE EXPERTS ARE SAYING
SMARTER SOLUTIONS FOR MODERN CHALLENGES
GARTNER
2012: The Year of Intelligent Business Operations
Big Data Impacts on Process
Technology for Intelligent and Innovative Processes (iBPMS)
FORRESTER RESEARCH
Embrace Big Process Thinking
ADDITIONAL PIECES GET ADDED TO THE MOSAIC

9. THE 21ST CENTURY COO
CHAMPION OF THE MODERN BUSINESS MODEL
EFFICIENCY AS AN OUTCOME, NOT AN OBJECTIVE
LONGITUDES AND (L)ATTITUDES
IT IS ABOUT THE INFORMATION NOT THE TECHNOLOGY
THE OPPORTUNITY – CARPE DIEM

10. NEW COMPETITIVE DIMENSIONS
COMPETITIVE ADVANTAGE IN A NEW LIGHT
Competing on Customer Engagement, Experience, and Interaction
Competing on Custom Business Processes for Competitive Advantage
Competing on Speed
Competing on Alignment of Resources & Capabilities To The Value Proposition

11. CASE STUDIES
REAL TIME IN REAL TIME
LARGE U.S. BANK REVOLUTIONIZES CUSTOMER ONBOARDING
THE OTTAWA HOSPITAL PATIENT-CENTRIC CARE
SMARTER PATIENT SOLUTIONS FROM A LEADING HEALTHCARE PROVIDER
ODYSSEY LOGISTICS & TECHNOLOGY DELIVERS END-TO-END
CLAIMS PROCESSING SERVICES BREAKTHROUGH

12. MAKING IT HAPPEN: THE BUSINESS MODEL
TRANSFORMATION – THE ART AND SCIENCE
WHERE TO START
FRONT OFFICE EMBODIMENT OF THE VALUE PROPOSITION
Create a Vision
Establish a Roadmap
Start Small, BUT
Clarify Customer Value Drivers
Select Target Customers
Select Differentiation Strategy
CONSTRUCTION OF THE EXECUTION FRAMEWORK
Walk the Customer Experience
Customer Value Drivers Define Prioritization
Codification of the Value Chain and Interaction Model
Codification Using Business Rules
Rules + Process Management
(Rules + Process Management) x Front Office = Value
Value Proposition Embodiment
MAKING IT HAPPEN AT MOMENTS OF TRUTH
13. MAKING IT HAPPEN: PROCESS MANAGEMENT
NOT JUST SMARTER – BETTER
TWO OUT OF THREE AIN'T BAD
BASIC FORMS OF PROCESS MANAGEMENT
SYSTEMS THINKING: THE "CORE" CORE COMPETENCY
LEARNING TO BECOME A PROCESS-MANAGED ENTERPRISE
MASTERING BUSINESS PROCESS MANAGEMENT
GETTING STARTED WITH BUSINESS PROCESS MANAGEMENT
HIGHER ORDER PROCESS MANAGEMENT
THE PROCESS PORTFOLIO
CRITICAL SUCCESS FACTORS
14. WHAT'S NEXT?
EXTRAPOLATION OF EMERGING CAPABILITIES
Expanding the Envelope of Manageability
BPO – A Whole New Ballgame
Test and Learn
Mobile Everything
IMPLICATIONS FOR LEADERSHIP
__________________________________________
About the Authors
Rich Phillips is an accomplished transformation executive who has enjoyed a diverse and rewarding career. Benefitting from roles that involved challenging environments matched by equally compelling opportunities, Rich and his teams have orchestrated a series of successful start-ups, turnarounds, and enterprise-level transformations. Serving as CEO, President, COO and CIO, Rich has developed an extensible methodology for producing customer-centric, fast-cycle business models that inspires people through effective strategy development, process management and technology innovation.
As Chief Strategy Officer of BP3, Rich and the Client Strategy team focus on translating client business strategies into durable execution models that deliver exceptional results. BP3 has served Fortune 500 companies across a broad spectrum of industries and business applications.
Rich's industry recognition includes conference speaking with Gartner and Forrester Research, publication in a variety of journals, and recognition in the Smithsonian Institution for technology innovation. Rich has also served as Adjunct Professor at the Olin School of Business at Washington University.
LinkedIn: tinyurl.com/cluxx3d www.bp-3.com/blogs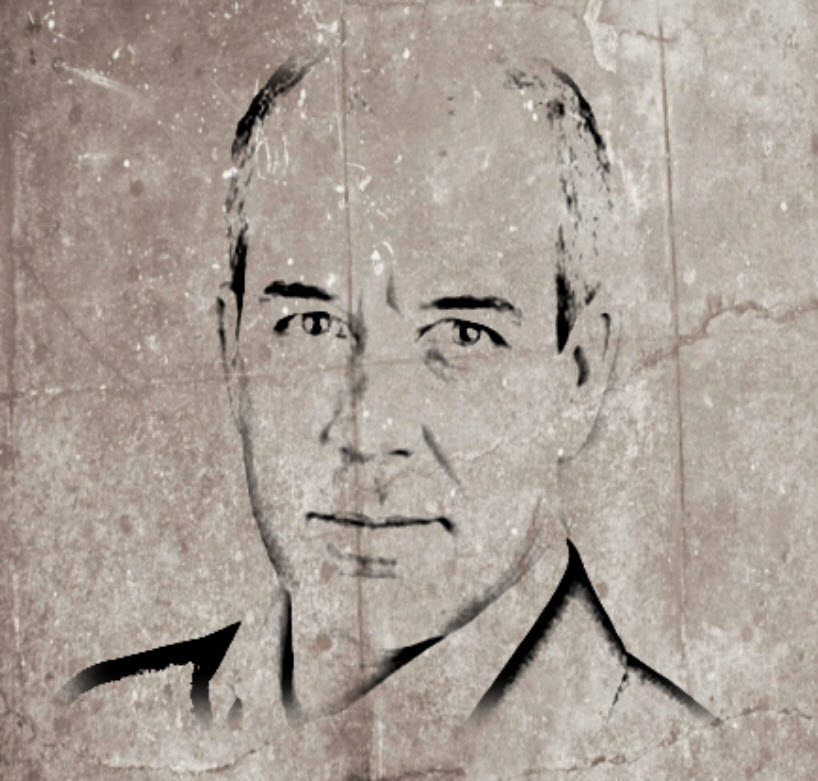 Kramer Reeves has over 15 years experience in the enterprise software industry, ten at IBM. He is currently Director of Product Marketing for IBM's Business Process Management (BPM) and Operational Decision Management (ODM), Business Rules and Event Processing software portfolios and leads IBM's Service Oriented Architecture (SOA) marketing agenda. In this role, Kramer leads a global organization that defines IBM's strategy and message for a portfolio of product and service offerings under BPM, ODM, and SOA. Kramer leads teams in the understanding of core customer and market requirements; defines IBM's BPM go-to-market strategy and vision based on client business challenges; and brings IBM BPM solutions and skills to market. Kramer has held various management and leadership positions at IBM including acquisition related roles for six acquired companies, including ILOG and Lombardi. Prior to joining IBM, Kramer spent six years consulting and developing customer information and billing systems for global clients in the energy and utility industries. Kramer has a BS in Civil Engineering from Virginia Military Institute and an MBA from the University of North Carolina at Chapel Hill. He lives in North Carolina with Amy, his wife and partner, and their three wonderful daughters.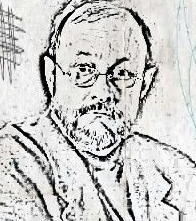 Peter Fingar, Executive Partner in the business strategy firm, Meghan-Kiffer Research, is one of the industry's noted experts on business process management, and a practitioner with over forty years of hands-on experience at the intersection of business and technology.
As a former CIO and college professor, Peter is equally comfortable in the boardroom, the computer room or the classroom. Peter has taught graduate computing studies in the U.S. and abroad. He has held management, technical and advisory positions with GTE Data Services, American Software and Computer Services, Saudi Aramco, EC Cubed, the Technical Resource Connection division of Perot Systems and IBM Global Services.
Peter has developed technology transition plans for clients served by these companies, including GE, American Express, MasterCard and American Airlines-Sabre. In addition to numerous articles and professional papers, he is an author of twelve landmark books. Peter has delivered keynote talks and papers to professional conferences in America, Austria, Australia, Canada, China, The Netherlands, South Africa, Japan, United Arab Emirates, Saudi Arabia, Egypt, Bahrain, Germany, Britain, Italy and France. www.peterfingar.com