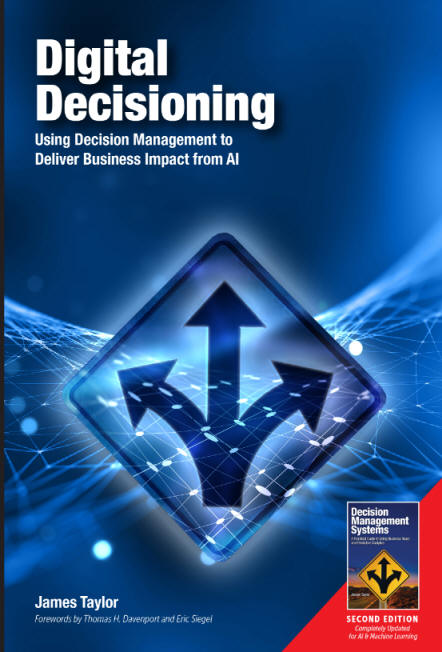 Available at Amazon
Available at Barnes&Noble
"I've worked as a C-level executive in multiple insurance companies and engaged countless strategy consultants, IT consultants and technology vendors over the past two decades. This book describes the only approach that has actually allowed me to operationalize predictive models and deliver real ROI!"

Digital Decisioning ensures your systems act intelligently on your behalf, making precise, consistent, real-time decisions at every touch point. It operationalizes machine learning and artificial intelligence, so you can make the best possible decision, every time. It uses business rules to guarantee the agility, transparency and compliance that established companies and regulated industries demand. Focusing only on decision-making, it supports continuous learning and improvement. Digital Decisioning applies machine learning and artificial intelligence at scale to automate the decisions essential for more profitable, more customer-centric and more digital business operations.
"Essential reading for COOs looking to rigorously improve automation through AI."
Based on dozens of successful projects around the word, this book lays out the basic elements of the approach in a practical how-to guide. Aimed at managers, not technical teams, this book will focus your efforts to apply machine learning, artificial intelligence and predictive analytics. It emphasizes practical "do this next" advice delivered in non-technical terms, describing the business value and impact of critical technologies without diving into technical detail. Stories of
real implementations, real companies, show what can be done.
A completely updated version of an established and popular book on Decision Management, this second edition has forewords by leading analytic experts, Tom Davenport and Eric Siegel.
"James has been at the forefront of decision management techniques for years. Anyone trying to automate and embed analytics to support decisions should read this book."
—Bill Franks, Chief Analytics Officer, International Institute for Analytics, speaker, and author

"An absolute masterclass in analytics from one of the great masters himself. Nothing butsolid knowledge, sage advice, and great examples without an ounce of hyperbole or flu."
—Doug Laney, Principal Data Strategist with Caserta, and best-selling author of 'Infonomics'.
ABOUT THE AUTHOR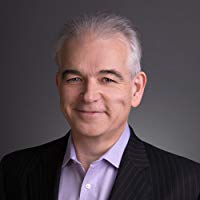 James is the CEO and Principal Consultant of Decision Management Solutions. James is the leading expert in in Digital Decisioning, an emerging best practice for delivering business impact from AI and machine learning. James is also one of the leading experts in decision modeling and the new Decision Model Notation (DMN) standard.
James has over 20 years developing software and solutions for clients and leads a successful team that helps our clients use Digital Decisioning in conjunction with supporting decisioning technologies, data science, AI, machine learning and predictive analytics to improve real-time operational decision-making. He has led Decision Management and decision modeling efforts for leading companies in insurance, banking, health management, manufacturing, travel and telecommunications.
James is the author of "Digital Decisioning: Using Decision Management to Deliver Business Impact from AI" (2019), "Real-World Decision Modeling with DMN" (2016) with Jan Purchase, "Decision Management Systems: A practical guide to using business rules and predictive analytics" (2011), "The MicroGuide to Process and Decision Modeling in BPMN/DMN: Building More Effective Processes by Integrating Process Modeling with Decision Modeling" (2014) with Tom Debevoise and "Smart (Enough) Systems: How to Deliver Competitive Advantage by Automating Hidden Decisions" (2007) with Neil Raden. He and has contributed chapters on Decision Management to multiple books as well as many articles to magazines.