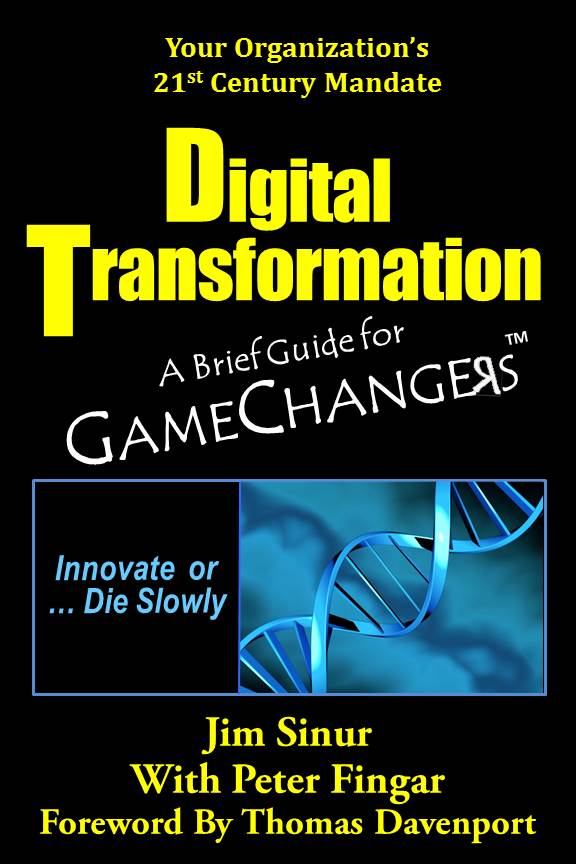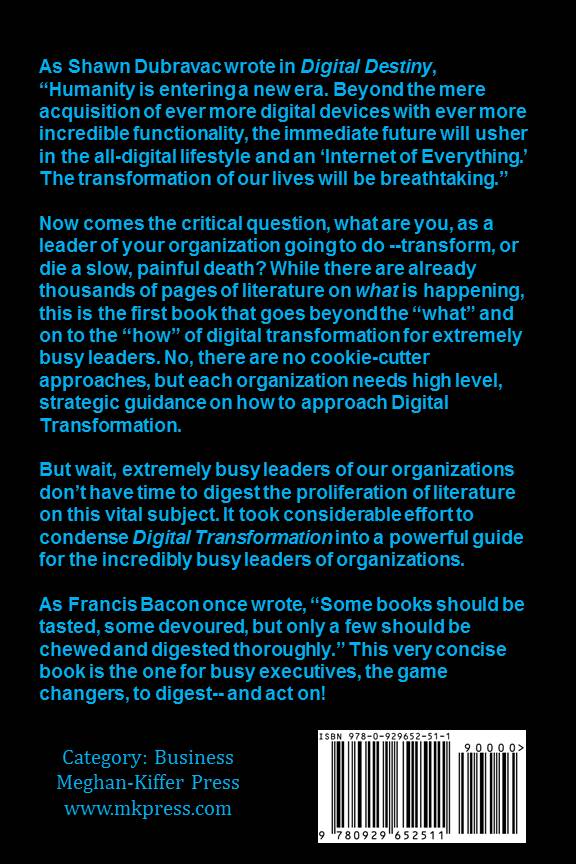 Order from Amazon.
Good choice is from Bizanalyst ...
Straight from the Publisher's Warehouse.
>>> Kindle Edition.

No, it's not another Hype Cycle!
It's the new, new normal.
We are in the early stages of the digital age and it is becoming clear that no organization or individual is going to come out the same. This means that organizations and individuals can act in several ways. One can resist and fight the digital era with all their might. One can go with the flow and select those things that are good in the digital era and reject those that don't seem to fit at the moment. The other approach is to creatively embrace this new age and really take advantage of it. Smart organizations and people will try to educate themselves --NOW-- on the changing face of the digital trend that looks to be a long journey.
Like any journey, knowing where you want to end up and calculating the best path there is a best practice. The digital journey has a twist on the notion of best practice. You can only plane one leg of the journey at a time. What you learn in the first and subsequent legs will determine where you go next and where you ultimately end up. Digital Transformation is a different from the "fail fast and fail often" and the "static plan and manage" approaches in that it combines aspects of both. There are planned targets and paths, but the effort exercises innovation through experimentation along the way.
There will be risk, innovation and experimentation, but the stakes here are huge. Organizations and individuals that do nothing will face a slow and painful death. The suggestion here is not to "go off the rails," but intelligently embrace the digital era in phased approach that is aimed at learning and adjusting. Organizations will be building for change with technologies that are optimized on controlled change. Organizations that embrace digital will dominate in their respective areas of operation and will be ready to respond to many emerging trends, economic, geopolitical and industry scenarios. This book helps organizations and people understand and start many dialogs about digital transformation.
Don't Stop Believing.
Foreword byThomas H. Davenport
Digitization is all the rage, and it's hard to find an organization that is actively resisting its siren call. One seldom hears, "We're aggressively pursuing an analog strategy," or "We think that paper, fax machines, and the U.S. Postal Service are the keys to our future." Everyone seems to agree that going digital is the right thing to do.
But digitizing is not a binary activity—a switch with analog on one pole and digital on the other. It's a set of visions, strategies, and choices for how to change an organization over time. Companies need to decide what processes and sub-processes should be digitized, what digital products and services to offer, and how much digital value should be added to existing offerings. They can't do everything at once because it's too expensive and too hard. Making good decisions about what to digitize, when to digitize, and how to digitize is absolutely critical to success.
This book is a concise and straightforward guide to such decisions. Jim Sinur and Peter Fingar are no strangers to the topic, having worked as consultants, advisors, and authors of many words on the topic over multiple generations of digital initiatives. They've seen concepts like business process reengineering, enterprise resource planning, knowledge management, and artificial intelligence wax and wane over time. This experience allows them to put the current enthusiasm over "digital everything" into wise perspective. As am I, they are persuaded that the forces favoring digitization in the current economy are powerful and inevitable.
You need a trusted guide to digitizing because it's easy to fall off the path in this journey. Many companies, including such fallen giants as Kodak, Blockbuster, and Borders, have failed miserably. Others have moved too slowly or too fast, or chosen the wrong targets in the wrong sequence for digital transformation. With these authors, however, your digital strategy is in good hands. It's amazing that for such a small sum you can acquire all of the knowledge and perspective in this book that can do so much for organizations. Don't question why you were able to source such a bargain; just start reading and tell your fellow-travelers on the digital journey to do the same. You have nothing to lose but the analog chains that have bound you to previous ways of doing business!
Thomas H. Davenport
Distinguished Professor of IT and Management, Babson College
Digital Fellow, MIT Initiative on the Digital Economy
Senior Advisor, Deloitte Analytics
Co-Founder, International Institute for Analytics
What They Are Saying...
"This book is an illustration of its own message. It is not self-contained. It reaches out into the digital realm through hyperlinks and QR codes to draw the larger universe into its scope. In the digital universe everything is (potentially) connected."
--Vint Cerf, Co-Inventor of the Internet and Chief Internet Evangelist, Google

"Don't question why you were able to source such a bargain; just start reading and tell your fellow-travelers on the digital journey to do the same. You have nothing to lose but the analog chains that have bound you to previous ways of doing business!"
--Thomas H. Davenport, Distinguished Professor of IT and Management, Babson College; Digital Fellow, MIT Initiative on the Digital Economy; Senior Advisor, Deloitte Analytics; Co-Founder, International Institute for Analytics

"Without digital transformation, your organization will be dead — one year, five years, a decade. Dead. (Test: If you're now competing on price, you're the walking dead). Why? Almost too many reasons to enumerate. That's why you need to read this book."
--Dr. Richard Welke, Georgia State University; Dir, Center for Process Innovation
"Take the time to digest this 'short' work - if you want to be a game changer for your enterprise. It gives you a guide to constructively destroy your IT architecture and transform it into a digital, dynamic infrastructure for doing business in the 21st century. And it avoids the past experience of too many well intentioned IT Architects from being the equivalent of kamikaze pilots as they embraced a technology without a clear organizational mandate."
--Paul Hessinger, Chairman Emeritus InRule Technology; Principal C-Level Coach, Mentor and Researcher, Vision UnlimITed

"Fingar and Sinur tackle the most pressing topic on any executive's mind today -- how to respond to digital disruption with a profitable, growth-oriented transformation strategy. Connecting the dots across the most important trends of the digital era, from automation to IoT, the authors present both practical scenarios and actual case studies applicable to any initiative."
--Nathaniel Palmer, BPM.com; Executive Director, Workflow Management Coalition

"The current buzz phrase 'digital transformation' captures a movement that has completely transformed several industries -- entertainment (especially music), news, books. etc. But that was just the beginning: we'll see similar tremendous transformations in manufacturing, healthcare, transportation and every other field over the next twenty years. Though most sources seem to credit technological changes (like the Internet of Things), it's the focus on customer delight and outcomes that will drive the changes, relying on pervasive digital infrastructure. This book is a concise way to see how."
--Dr. Richard Soley, MIT PhD, and CEO, Object Management Group (OMG)

"We see a recent shift in thinking from do you have a Digital Strategy? to Is your strategy Digital? This book will give organizations an excellent insight into executing essential digital strategy."
--Frits Bussemaker, CIONET, Europe, and Global Industry Council Director, IFIP

"This is a hot topic, smartly packaged in a short book, with all the extra connective tissue only hinted at in the top 2015-2016 tweets about digital transformation."
--Dr. Jim Spohrer, Director, Cognitive Systems Institute

"Disruption is in danger of usurping innovation as the next hyped management buzzword. Which is why this book is so valuable to business leaders as they try to guide their companies into the future, without destroying the present, and forgetting valuable lessons from their past. Jim and Peter have managed to walk the fine line between vision and ideas and practical implementation of those ideas. It gets you inspired to take action, but doesn't leave you there. It helps you understand HOW to take action. And finally through powerful case studies it shows that it is possible to disrupt and not die."
--Ian Gotts - Founder & CEO - Q9Elements.com

"This book concisely articulates a roadmap for people and organizations seeking innovation and dramatic improvement in the ways they engage with clients and how they operate at their core. Full of vision, pragmatic examples, external references, and practical tips, this book is a call to action for those who will succeed."
--Alan Trefler, Founder & CEO – Pegasystems

"The concept of 'becoming digital,' while exciting and appealing, is filled with confusing terms, competing approaches and conflicting examples. While the desired outcome is clear, namely the shift to a new high performance business model powered by the amplification of people and process; the way forward remains as dark as the deepest parts of the rain forest. Digital Transformation provides a beacon on how to successfully implement a customer-centric, 'outside - in approach' to becoming digital as well as providing an exhaustive set of check-lists that serve as navigational aids while on the design and implementation journey. This book is a must for anyone who is about to undertake this effort."
--Edward ML Peters, Ph.D. ,Managing Partner, Hidden Ridge Partners

The shift to a digital world is changing every aspect of how business is done. While many companies and industries already feel disrupted by digitization, in fact we are just getting started with far more disruption still to come. In Digital Transformation, Jim and Peter show the potential digitization offers to transform organizations while also providing concrete strategies and next steps to help them achieve a positive result. For those who recognize the potential of becoming a digital business, Digital Transformation is a quick but tremendously helpful read."
--James Taylor, CEO of Decision Management Solutions; author, Decision Management Systems: A Practical Guide to Using Business Rules and Predictive Analytics

"Jim and Peter bring considerable experience and knowledge to bear on the critical question of how companies can avoid being devoured by organizations that are able to digitize faster. After laying out what it means to be a digitized organization, the book provides practical guidance and examples to help companies take control of their digital destiny. This is required reading for anyone who wants to transform their company so that it survives and thrives in an increasingly digitized world."
--Jon Sapir, Founder & CEO, Silver Tree System

"Building the capabilities needed to embrace a digital enterprise represents basic table stakes in the new digital world. This book hits the nail on the head with its situation reviews, discussions on alternatives, and predictions. It's a must read book for all who want to not only survive, but prosper in this new era of the global digital enterprise."
--Dan Morris, Managing Principal, Wendan Consulting and co-author of The Business Transformation Field Guide

"A short course in everything you need to know about digital transformation – what, why and how – with lots of case studies and links to further reading and resources."
--Brett Champlin, Founder of the Association of Business Process Management Professionals (abpmp.org)
"In his new book, you will find the single most practical guide anywhere to get you on the path to successful digital business transformation including a 'how-to' set of roadmaps, step-by-step checklists and direct-action plans. In addition to how-to knowledge, the book also delves into a number of enlightening case studies that reenforce his good advice. From how to pick your best on-ramps for digital transformation to the not-to-be-missed section titled 'Don't Fall Asleep at the Digital Wheel', Jim and Peter take extremely busy business leadership and technical leadership alike on a whirlwind practical tour of 'what to do' to ensure your future digital success."
--George Barlow, Chief Sales Officer, Trisotech
"We are on the verge of a revolution in the shape of business computing. These days it's all about agility, cognizance and fidelity -- and the tools and techniques to provide them. This timely book highlights the key enablers of digital transformation, including business rules and dynamic processes. Here's the go-to book for crafting your digital plan. Don't miss it!"
--Ronald G. Ross, Principal & Co-founder, Business Rule Solution

"This book is an invaluable atlas of methods, techniques and practices for navigating the digital terrain that's rapidly engulfing every aspect of organizational life. It is important reading for anyone responsible for how an organization operates"
--Robert Weerts, Cofounder, Adaptive Enterprise Group

"This book provides a good characterization of terminology that can be used to facilitate a dialog between executive management and the IT leadership in order to plot a future roadmap for a business. Assuming that most organizations are under pressure to 'do more with less' and are asked to 'keep up with customer expectations' and 'beat out the competition,' the book exposes a number of places to poke at existing systems."
--Tom Keeley, Founder & CEO, Compsim
About the Authors... ___________________________________________________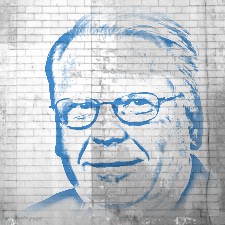 JIM SINUR is an independent thought leader in applying business process management (BPM) to innovative and intelligent business operations (IBO). His research and areas of personal experience focus on business process innovation, business modeling, BPM technology (iBPMS), process collaboration for knowledge workers, process intelligence and optimization, business policy and rule management (BRMS), and leveraging business applications in processes.
During his 20 years as Vice President at Gartner, Mr. Sinur was critical in creating the first Hype Cycle and Maturity Model, which have become a hallmark of Gartner analysis, along with the Magic Quadrant. He has been active in the rules, data and computing com-munities, helping shape direction based on practical experience. Mr. Sinur has vertical industry experience on the investment and operational sides of the insurance and financial services
Prior to joining Gartner, Mr. Sinur was a director of technologies with American Express, where he worked on a large, industrial-strength, model-driven implementation of a business-critical merchant management system. This system is still active in the merchant retention and support functions for American Express. His responsibilities there included architecture, advanced development technologies and data/database administration.
Before American Express, Mr. Sinur worked for Northwestern Mutual Life for 18 years, where he was involved in leading-edge projects like the Underwriting Workbench that employed many new and emerging methods and technologies. This was after he was involved with building and re-architecting many major applications on the investment and annuity side of NML's business. jimsinur.blogspot.com
____________________________________________________
PETER FINGAR, Executive Partner in the business strategy firm, Meghan-Kiffer Research, is one of the industry's noted experts on business process management, and a practitioner with over fifty years of hands-on experience at the intersection of business and technology.
As a former CIO and college professor, Peter is equally comfortable in the boardroom, the computer room or the classroom. Peter has taught graduate computing studies in the U.S. and abroad. He has held management, technical and advisory positions with GTE Data Services, American Software and Computer Services, Saudi Aramco, EC Cubed, the Technical Resource Connection division of Perot Systems and IBM Global Services.
Peter has developed technology transition plans for clients served by these companies, including GE, American Express, MasterCard and American Airlines-Sabre. In addition to numerous articles and professional papers, he is an author of twenty nine landmark books, and counting:
(www.peterfingar.com/books.html)
Peter has delivered keynote talks and papers to professional conferences in America, Austria, Australia, Canada, China, The Netherlands, South Africa, Japan, United Arab Emirates, Saudi Arabia, Egypt, Bahrain, Germany, Britain, Italy and France.
The authors' other recent groundbreaking book: