Globalization is the greatest reorganization
of the world since the Industrial Revolution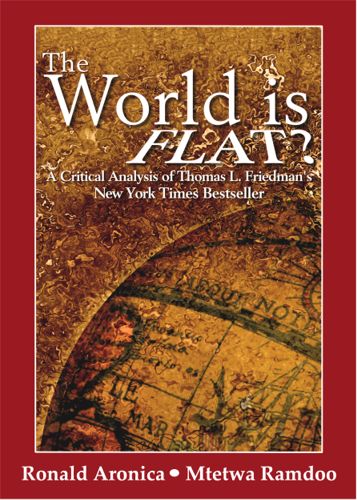 Three excerpts were released in light of the global
financial crisis. Read them here:
http://mkpress.com/FlatExcerpts.pdf
Pass them along!
Follow-On Book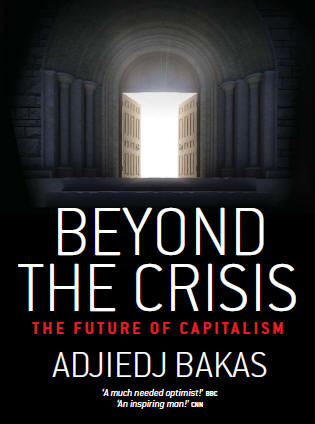 Learn More!

Course Reference Materials: Scroll Down this Page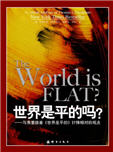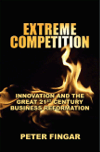 Also Available in Chinese Companion Book
"I'm delighted that you and your colleagues are taking on Tom Friedman and his superficial collection of 'folk stories.' It is a terrible book. Thanks for spreading the word." -- Chuck Howe, Prof Emeritus of Economics, University of Colorado at Boulder
Description
From boardrooms to classrooms to kitchen tables and water coolers, globalization has become a hot topic of discussion and debate everywhere, including a best-selling book by a famous journalist. However, Thomas Friedman's runaway bestseller, The World is Flat, is dangerous. Friedman makes "arguments by assertion," assertions based not on documented facts, but on stories from friends and elite CEOs he visits --not even one footnote reference. Yet his book influences business and government leaders around the globe. By what it leaves out, it does nothing more than misinform millions of people and our leaders.

In The World is Flat? Aronica and Ramdoo show that the world isn't flat; it's tilted in favor of unfettered global corporations that go the ends of the earth to exploit cheap labor, lax environmental regulations and tax breaks. This concise monograph brings clarity to many of Friedman's misconceptions, and explores nine key issues that Friedman largely ignores. To create a fair and balanced exploration of globalization, the authors cite the work of experts that Friedman fails to incorporate, including Nobel laureate and former Chief Economist at the World Bank, Dr. Joseph Stiglitz. Refreshingly, you can now gain new insights into globalization without weeding through Friedman's almost 600 pages of ill-informed, grandiloquent prose and bafflegab.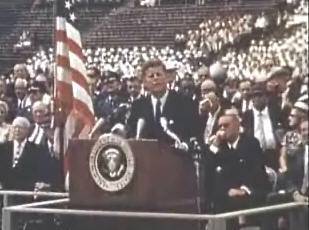 Watch: A 13 minute Overview


(Allow approx. 10 seconds for streaming video to buffer)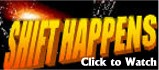 Watch: Shift Happens


(Approx. 6 minutes. Allow approx. 10 seconds for streaming video to buffer)

Aronica and Ramdoo pummel
Friedman's flat world back into a sphere
Interview With Aronica and Ramdoo

More at Amazon



The Story of Stuff


Annie Leonard



Counterpoints
by Andy Kaiser

CRISIS of CAPITALISM


DON'T MISS THIS 11 MINUTES




▼ Watch the Popular 8-Minute Youtube Overview ▼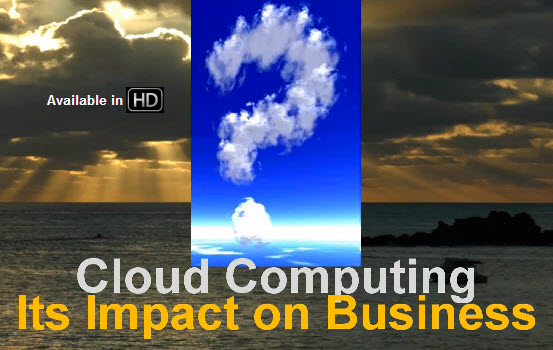 Table of Contents
GLOBALIZATION: THE ISSUE OF OUR TIMES 17
ON BULLSHIT 17
ONE OF THE WORLD'S LEADING THINKERS: TOM FRIEDMAN? 19
THE PUNDIT AND THE MONEY TREE 21
DOUBTING THOMAS 26

Part 1: How the World Became Flat 29
Chapter 1: While I Was Sleeping 29
Chapter 2: The Ten Forces That Flattened the World 32
(1) 11/9/89 (Fall of the Berlin Wall) 33
(2) 8/9/95 (When Netscape Went Public) 34
(3) Work Flow Software 36
(4) Open-Sourcing 37
(5) Outsourcing 39
(6) Offshoring 42
(7) Supply-chaining 44
(8) Insourcing 45
(9) In-forming 46
(10) Amplifying technologies, or "steroids" 47
Chapter 3: The Triple Convergence 50
Chapter 4: The Great Sorting Out 52

Part 2: America and the Flat World 57
Chapter 5: America and Free Trade 57
Chapter 6: The Untouchables 61
Chapter 7: The Right Stuff (Added in the 2006 edition) 63
Chapter 8: The Quiet Crisis 64
Chapter 9: This Is Not a Test 66

Part 3: Developing Countries and the Flat World 67
Chapter 10: The Virgin of Guadalupe 67

Part 4: Companies and the Flat World 72
Chapter 11: How Companies Cope 72

Part 5: Geopolitics and the Flat World 75
Chapter 12: The Unflat World 75
Chapter 13: Globalization and the Local 84
Chapter 14: The Dell Theory of Conflict Prevention 86

Part 6: Conclusion: Imagination 89
Chapter 15: 11/9 Versus 9/11 89

NO ISSUE LEFT BEHIND 93
1. Drivers of Twenty-first Century Corporate Globalization 94
2. Fair Trade or Free Trade? 96
3. Ricardo and National Industrial Policy 99
4. Debt and The Financialization of America 102
5. America's Former Middle Class 107
6. Privatization of the Commons 110
7. Not Killing the Earth 119
8. Beyond Unipolarity: A Tripolar World 121
9. A Paradigm Shift for America 126
THE END OF THE BEGINNING 129

REFERENCES 131
INDEX 133
ABOUT THE AUTHORS 137


A number of universities reference the resources on this page for their courses. Please let us know of additional resources you'd like to suggest to share with others. Please email us:
admin (at) mkpress.com
―Additional Reading Ideas―
Interesting Articles, Interviews and Reviews
For our returning readers,
we've kept the updates for this edition in the listings below.

Has the American Dream Become Our Nightmare?
Mary Sykes, 7/3/2010

The Emergence of a Biosphere Economy
and The Biosphere Economy
WorldChanging Team, 6/28/2010
The Third Depression


Paul Krugman, NYT, 6/24/2010
The Renminbi Runaround
Paul Krugman, NYT, 6/24/2010
Are We Going Down Like the Soviets?
Tom Engelhardt 6/21/2010

7 Things You Can Do For Earth Day That Actually Matter
Travis Walter Donovan and Gazelle Emami , 4/19/2010
Noam Chomsky on Fascism
Chris Hedges, 4/19/2010
China, Concubines and Google
Nicholas Kristof, NYT, 3/30/2010
Why Are We Afraid of Saying "Socialism?"
Frances Moore Lappé, 3/30/2010



Corporate Personhood Debate
Wikipedia Summary 7/3/2010
History of Corporate Personhood
Lenny Flank 2/1/2010

Obama Weekly Address Video: President Blasts Supreme Court Over Citizens United Decision.
Darlene Superville, Associated Press, The Huffington post, 2/1/2010.
Never Heard That Before
Thomas L. Friedman, The New York Times, 1/30/2010
The State of the Union Is Comatose
Frank Rich, The New York Times, 1/30/2010
Why Are Americans Passive as Millions Lose Their Homes, Jobs, Families and the American Dream?
Harriet Fraad, Alternet, 2/2/2010
How a New Jobless Era Will Transform America
Don Peck, The Atlantic, March 2010
U.S. Steps Up Effort on Digital Defenses
David E. Sanger, John Markoff and Thom Shanker, The New York Times, 4/27/2009
Are Corporations Using the Internet to Accelerate Our Cultural, Political and Economic Decline?
Chris Hedges, Alternet, 2/16/2010
Mega Giant Corporations Are Very Bad for America
Barry C. Lynn, Alternet, 1/2/2010
2020: China Rises, the U.S. Declines and the Planet Strikes Back
Michael T. Klare and Tom Engelhardt, Alternet, 1/6/2010
Who's Sleeping Now?
Thomas L. Friedman, The New York Times, 1/9/2010

The Earthquake That Triggered a Global Empathic Response: What the Haitian Crisis Tells Us About Human Nature
Jeremy Rifkin, The Huffington Post, 2/22/2010
'The Empathic Civilization': Rethinking Human Nature in the Biosphere Era
Jeremy Rifkin, The Huffington Post, 1/11/2010
Is China an Enron?
Thomas L. Friedman, The New York Times, 1/19/2010
Do the Right Thing
Paul Krugman, The New York Times, 1/21/2010
The Colbert Report: Matt Taibbi
Heather Thursday, 12/10/2009
Obama's Big Sellout
Matt Taibbi, Rollingstone.com, 12/9/2009
Are Americans a Broken People? Why We've Stopped Fighting Back Against the Forces of Oppression
Bruce E. Levine, Alternet, 12/11/2009
10 Ways to Screw Over the Corporate Jackals Who've Been Screwing You
Scott Thill, Alternet, 12/19/2009
The Big Zero
Paul Krugman, The New York Times, 12/27/2009
The Toilet That Can Help Solve Our Water and Energy Problems
Gar Smith, Alternet, 12/28/2009
Chinese New Year
Paul Krugman, The New York Times, 12/31/2009
Uneasy Engagement - China willing to Spend Big on Afghan Commerce
Michael Wines, The New York Times, 12/29/2009
Advice From Grandma
Thomas L. Friedman, The New York Times, 11/21/2009

6 Signs the American Empire Is
Coming to an Early End
Michael T. Klare, Tomdispatch.com, Alternet, 10/27/2009
Google's Eric Schmidt on What the Web Will Look Like in 5 Years
Marshall Kirkpatrick, Read Write Web, 10/27/2009
Joel Salatin advocates a better way to raise food
David Grant, The Christian Science Monitor, 11/24/2009
Our Lives Are Filled With Worthless Crap That's Destroying the Earth: Here's What You Can Do
Sharon Bloyd-Peshkin, Alternet, 11/28/2009

America Without a Middle Class
Elizabeth Warren, The Huffington Post, 12/3/2009
Opinion: What to do while the world burns
Mort Rosenblum, globalpost, 12/4/2009
To the Hope and Change Crowd -- How's It Working Out for You?
Joe Bageant, Alternet, 12/9/2009
How finance reshaped America
Ellen Frielich, Reuters, 7/9/2009
The Swiss Menace
Paul Krugman, The New York Times, 8/16/2009

Is There Any Point in Fighting to Stave off Industrial Apocalypse?
George Monbiot and Paul Kingsnorth, Alternet, 8/19/2009

Unscientific America: How Scientific Illiteracy Threatens our Future
Chris Mooney and Sheril Kirshenbaum, Alternet, 8/21/2009
Reluctance to Spend May Be Legacy of Recession
Peter S. Goodman, The New York Times, 8/28/2009
How Did Economists Get It So Wrong?
Paul Krugman, The New York Times, 9/2/2009
Our One-Party Democracy
Thomas L. Friedman, The New York Times, 9/8/2009
The Rights of Corporations
Editorial, The New York Times, 9/21/2009
Boiling the Frog
Paul Krugman, The New York Times, 7/12/2009
The Joy of Sachs
Paul Krugman, The New York Times, 7/16/2009

Can we stop being a superpower, please?
Deepak Chopra, SFGate, 7/20/2009
Millions of Unemployed Face Years Without Jobs
Peter S. Goodman, The New York Times, 2/20/2010
------June/July 2009------
Papal message seeks "global authority" for economy
Philip Pullella, Reuters
Who Shredded Our Safety Net?
What starts with "f," ends with "k,"
and means "screw your workers?"
That's right—401(k).
James Ridgeway
GE's Immelt says U.S. economy needs industrial renewal
David Bailey and Soyoung Kim
Also: Immelt on the Charlie Rose Show
The Capitalist Manifesto: Greed Is Good (To a point)
Fareed Zakaria, Newsweek
The Failed Promise of Innovation in the U.S.
During the past decade, innovation has stumbled.
And that may help explain America's economic woes.
Michael Mandel, Chief Economist, Businessweek
Uneasy Engagement: Australia, Nourishing China's Economic Engine, Questions Ties
Michael Wines, New York Times
Reagan Did It!
Paul Krugman, New York Times
The Crisis and How to Deal with It
Bill Bradley, Niall Ferguson, Paul Krugman,
Nouriel Roubini, George Soros, and Robin Wells,
New York Review of Books Symposium
Empire of Carbon
Paul Krugman,
The Good Times as We Knew it Aren't Coming Back,
So Now What?
William Greider, The Nation
Life Among the Eco-Capitalists
Sander Hicks, New York Megaphone
Is company cost-cutting company throat-slitting?
James B. Kelleher and Jennifer Ablan, Reuters
Defying the Economic Odds: The World Melts Down, China Grows
Dilip Hiro, Tomdispatch.com
------April/May 2009------
Where Sweatshops Are a Dream
Nicholas D. Kristof, The New York Times
Bailed-Out Firms Use Offshore Tax Havens
Ken Thomas, The Huffington post
What's It Going to Take to Lock Up Drug Company Execs?
Bruce E. Levine, Alternet
Our Health-Care System Needs a Bypass
Shoshana Zuboff, BusinessWeek
Obama on the Precipice:
The Ten Worst Things He Could Do When He Takes Over
Don Hazen and Jan Frel and Joshua Holland and Liliana Segura and Tara Lohan and Heather Gehlert, AlterNet
Flat N All That
Matt Taibbi, NewYork Press
Tools For A New Economy
Robert Pollin, The Boston Review
A Very Bad Year
William Rivers Pitt, t r u t h o u t
Are "Hail Mary" Technological Solutions Our Only Hope
to Prevent Disastrous Climate Change?
Steve Connor, Independent UK
The US Has 761 Military Bases Across the Planet, and
We Simply Never Talk About It
Tom Engelhardt, Tomdispatch.com
The Economic Consequences of Mr. Bush
Joseph E. Stiglitz, VanityFair
Ocean currents can power the world, say scientists
Jasper Copping, Telegraph.co.uk
The Seven Deadly Deficits
Joseph E. Stiglitz, MotherJones.com
Our Economy May Be in a Death Spiral
-- Will Washington Stop the Bleeding?
Joshua Holland, Alternet
Redoing Globalization
Sherle R. Schwenninger, The Nation
Bushisms Over The Years
The Associated Press
The Year in Review
Dave Barry, washingtonpost.com
How We Can Live with Less and Still Feel Rich
David Villano, Miller-McCune.com
Is Shanghai Turning Pro or Just Building High? A Guest Post
Nathan Myhrvold, The New York Times
Dying Of Consumption
Stephen S. Roach, The New York Times
The Formerly Middle Class
David Brooks, The New York Times
The End of the Financial World as We Know It
Michael Lewis, The New York Times
Beyond Bailouts: On the Politics of Education After Neoliberalism
Henry A. Giroux and Susan Searls Giroux, t r u t h o u t
Stop Being Stupid
Bob Herbert, The New York Times
We're in for a Year of 'Economic Hell'
Paul Krugman, Alternet
OPEC 2.0
Tim Wu, The New York Times
Why America Needs an Economic Strategy
Michael E. Porter, BusinessWeek
Are There Just too Many People in the World?
Johann Hari, The Huffington Post
Naomi Klein Breaks Down the Bailout
Videonation, Video of the talk by Naomi Klein
Banks Mine Data and Woo Troubled Borrowers
Brad Stone, New York Times
If We Get Through This Crisis,
We'll Face Another in 5 to 10 Years -- Here's Why
Joshua Holland, Alternet
There Is an Alternative to Corporate Rule
Mark Engler, Nation Books
I buy therefore I am
Jonathan Birchall, FT.com
Reversal of Fortune
Joseph E. Stiglitz, VanityFair
Ashamed
Sen. Fritz Hollings, The Huffington Post
Amusing, but Not Funny
Bob Herbert, The New York Times
The Fall of America, Inc.
Francis Fukuyama, Newsweek
State Capitalism Comes to America
Nicholas Von Hoffman, The Nation
Stiglitz is Right, Friedman is Wrong
Gustavo Setrini, Council on Hemispheric Affairs
The Triumph of Ignorance:
How Morons Succeed in U.S. Politics
George Monbiot, Monbiot.com
Seven trillion reasons to expect a long winter
James Saft, Reuters
Recession? Depression?
How Deep, How Far and What Can Be Done?
Joshua Holland, Alternet
The End Of American Capitalism?
Anthony Faiola, washingtonpost.com
Naomi Klein Strikes Back at Critics of Her 'Shock Doctrine' Book
Naomi Klein, NaomiKlein.com
Boatloads of Trouble:
How We Are Importing Our Way to Destruction
Stan Cox, Alternet
It's Pretty Clear That Europe Is Using 'Trade' Deals
to Steal Food from Poor Countries
George Monbiot, Monbiot.com
In rich America, Third World inequality
Bernd Debusmann, Reuters
The Promise of Municipal Broadband
Craig Aaron, The Progressive
The Plot Against Liberal America
Thomas Frank, The New Statesman
Coming Soon: A Post-American World
Martha Teichner, CBS News
Credit Card Debt:
This Popping Bubble Is Really Going to Hurt
Danny Schechter, Alternet
Apocalypse Later: Looking Back at 2008 from the Future
John Feffer, Tomdispatch.com
How Anti-Intellectualism Is Destroying America
Terrence McNally, Alternet
Dr. Doom
Stephen Mihm, The New York Times
The Delusion Revolution:
We're on the Road to Extinction and in Denial
Robert Jensen, Alternet
Urban Transport Goes Green
Jennifer L. Schenker, BusinessWeek
The World is Not Flat
Mark Engler, DemocracyUprising.com
Fading superpower, rising rivals
Bernd Debusmann, Reuters
China's Rise Goes Beyond Gold Medals
Nicholas D. Christoff, The New York Times
Naomi Klein: China's Hi-Tech Surveillance State Is Ready for Export
Amy Goodman and Juan Gonzalez, Democracy Now!
In Debt we Trust: America before the Bubble Bursts
A Danny Schechter Film, indebtwetrust.com
The Three Trillion Dollar War
Joseph Stiglitz and Linda Bilmes, The Times of London
Fresh Pain for the Uninsured
Brian Grow and Robert Berner, BusinessWeek
"NBA Syndrome" Helps Fuel Spiralling Inequality
Paul Buchheit, Alternet
Chinese heat is on US sweatshop lobby
Brendan Smith, Tim Costello, and Jeremy Brecher , AsiaTimes Online
The Age of American Unreason
Transcript and Video of the interview of
the author Susan Jacoby, by Bill Moyers
Globalization
sociologyindex.com
From greed to green
Wayne Roberts, NOW
How Deep Will the Recession Go?
John Miller, Dollars and Sense
Putting Corporations First
Bill Scher, Tompaine.com
Time-Bomb:
America's Debt Crises, Causes, Consequences and Solutions
Documentary Film, createspace.com
------End of April/May 2009 Update------

Barreling Into Recession:
How Oil Burst the American Bubble
Michael T. Klare, Tomdispatch.com
Paul Krugman: The Future of the Middle Class?
Video of Talk Given to the Commonwealth Club
Why the World Isn't Flat
Bad Samaritans: The Myth of Free Trade and the Secret History of Capitalism
Ha-Joon Chang, Video Talk
Also see
Kicking Away the Ladder
Study says most corporations pay no U.S. income taxes
Donna Smith, Reuters
Shipping Costs Start to Crimp Globalization
Larry Rohter, New York Times
Oil Shock: This Time, It's Different
Steven Mufson, Washington Post

A New Deal for Globalization
Kenneth F. Scheve and Matthew J. Slaughter, Foreign Affairs

The World is Round
A review by Professor John Gray

Falling Flat
A review by Professor Roberto Gonzalez
Flattening the Great Education Myth
David Sirota, San Francisco Chronicle
Why the World Isn't Flat
Pankaj Ghemawat, Harvard Univ.
Offshoring: The Next Industrial Revolution?
By Alan S. Blinder, Princeton Economist
Gulf States: If Western Countries Won't Take Our Money,
We'll Invest in the East
Meena Janardhan, IPS News
Why Tom Friedman does not compute
By Gary Stager
The World is Flat? Globaloney!
by Michael Veseth, author of Globaloney

Confusing Columbus
The Economist

Dust, waste and dirty water:
the deadly price of China's miracle
John Vidal, Environmental Editor, The Guardian
Ted Koppel interviews Friedman and Stiglitz
New York Times
How Free Trade Hurts
Byron Dorgan and Sherrod Brown
Centre for Research on Globalization (CRG)

The China Price
Busieness Week Special Report

The China Cost
Aspen Times
The Low Post: How the Media Lies About China
Demented Solution to Chinese Competition:
American Workers, "Try Harder"
Matt Taibi, Rollingstone

China: A Long Wait at the Gate to Greatness
John Pomfret, Washington Post
Investors Seek Asian Options to Costly China
KEITH BRADSHER, New York Times
China wakes up to the dangers of pollution
Jonathan Watts in Beijing, The Guardian
Confronting Globalisation
Shelley Walia, The Hindu
Thomas Friedman Gets A Pie In The Face During Speech At Brown
And now for a little diversion.
Can the U.S. Thrive as Other Powers Rise?
Terrence McNally, Althernet Interview

Wall Street and Washington Are Failing Spectacularly
-- Where Do We Go?
Joe Costello
Monday Morning Economist
Stephen Herrington

Economist's View
University of Oregon Blog
Bush's Globalization Drive Crashes... Again
Doha Round has again collapsed
The World's Sole Superpower in Fast Decline
Dilip Hiro
The Era of Globalisation is Over
John Gray, Professor, London School of Economics,
Naomi Klein's Shock Doctrine: The Rise of Disaster Capitalism
CBC-Canada Interview
The Book


Klein vs. Greenspan on Democracy Now
John Cusack Interview



The Economic Consequences of Mr. Bush
Nobel laureate, Joseph Stiglitz
Dalian World Economic Forum Address
by Queen Rania
What Ever Happened to the Good Life?
Astra Taylor
America's Economic Free Fall
William Greider, The Nation
Triple Shock Strikes the Global Economy
Eric Le Boucher, Le Monde
The Trade Debate We Need
Robert Kuttner, American Prospect
Clitoral Economics
Barbara Ehrenreich, author of Nickel and Dimed
PBS News Hour With Friedman/Sen. Dorgan
(btw- the Smoot-Hawley Tariff Act [1930]
was after WWI [1914-18], so couldn't have been its cause.)
Workingman's Blues
The Economist
Unhappy America
The Economist
Uncomfortable Answers to Questions on the Economy
Peter S. Goodman, New York Times
Welcome to the Frozen Economy
Shoshana Zuboff, Business Week
Once Upon a Time in America
The Guardian, by Richard Adams
The Dumbing of America
Susan Jacoby, The Washington Post
Dumb and Dumber: Are Americans Hostile to Knowledge?
Susan Jacoby, New York Times
Welcome to Richistan, USA
Is the US Heading for "Developing Nations" Inequality Levels?
The Guardian
Guilded Age 2.0
Why don't Americans rise up against the kleptocracy
like they did in the late nineteenth century?
Steve Fraser, Tomdispatch
"Shrink, Shift and Shaft"
Web Site for United for a Fair Economy
Assault on the Middle Class
Corporate America Prepares for Battle Against
Worker Campaign to Roll Back Assault on the Middle Class
Joshua Holland
The Middle Is Falling Out of the Economy
Harold Meyerson, American Prospect
Given a Shovel, Americans Dig Deeper Into Debt
GRETCHEN MORGENSON, New York Times
Thriving in the Age of Collapse
Dmitry Orlov, Life After the Oil Crash
How Oil Burst the American Bubble
Michael T. Klare, Tomdispatch
Debunking the Reagan Myth
Paul Krugman, New York Times
Globalization Has Increased the Wealth Gap
Interview With Joseph Stiglitz
The World is Tilted
Austin American Statesman by John Hoberman
Ruminations on Thomas Friedman
Part Two Part Three Part Four
by Lila Rajiva
Review of Sen. Dorgan's Book
by SusanG
The Crashing U.S. Economy Held Hostage
Richard C. Cook
Stranded in Suburbia
Paul Krugman, New York Times
Success Breeds Failure
Paul Krugman, New York Times
The Cognitive Age
David Brooks, New York Times
Technology indicators show China ahead of the U.S. in technological standing
Study by Georgia Institute of Technology
The Sad State of U.S. Broadband
Advocacy groups blame what they see as a market with little competition.
Catherine Holahan, Business Week
The Comeback Continent
Paul Krugman on Europe, New York Times
For a Global Declaration of Interdependence
Wade Davis, National Geographic

A Flat World, A Level Playing Field, A Small World After All, or None of the Above? A Review of Thomas L. Friedman's The World is Flat
by UCLA Economist, Edward E. Leamer

Media Consolidation and Globalization-Part 1
Media's Role in Globalization-Part 2-Incl. Net Neutrality
Moyers Transcript
Bill Moyers, NCMR, 2007
Paul Krugman on the New Class War in America
Democracy Now
The Rich and the Rest of Us
John Cavanagh & Chuck Collins, The Nation
Consumer-Driven Culture Is Killing Our Democracy
Interview with author of Supercapitalism, Robert Reich
Firefighters and Prescription Drugs
Dean Baker, t r u t h o u t
The Big Squeeze
Steven Greenhouse, Author
Freedom Rider: Economic Meltdown
Margaret Kimberley, Black Agenda Report
Impact on American Middle Class
Bernie Sanders, NCMR, 2007
The global middle cries out for reassurance
Lawrence Summers, former Harvard Univ. President
They're Looting the Country
&
Bush's "Magic" Economic Formula
The Rich Get Richer; Regular People Lose Ground
Larry Beinhart
China Choking on Growth
Jim Yardley, New York Times
Good Jobs Are Where the Money Is
Bob Herbert, New York Times
When turning his attention to the Middle East, and the Arab streets, Friedman asserts, "The only new businesses are gas stations, whose owners, rarely reinvest their funds in the neighborhood." True?
The Construction Site Called Saudi Arabia
Jad Mouawad, New York Times
Creative Destruction's Reconstruction: Joseph Schumpeter Revisited
Bradford Delong, The Chronicle
Ben Bernanke: Embracing the Challenge of Free Trade:
Competing and Prospering in a Global Economy
Ben Bernanke, Chair, Federal REserve Board
Profits of Doom
Richard Tomkins, Financial Times



From Globalization to Localization
Stephan Roach. Chief Economist, Morgan Stanley, Jan 2007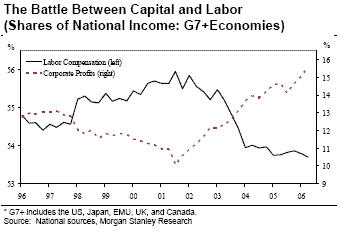 Davos:The Backlash Against Globalization and What to Do About It
Economist Nouriel Roubini's Blog, 2007
Get The Message On Trade
Deborah James and Todd Tucker
Chinese journalists tire of Thomas Friedman
and Follow-on Article
Jeremy Goldkorn
Jim Webb and Economic Reform
Daily Kos
Your MasterCard or Your Life
Bob Herbert
The Beginning of the End of Corporate Globalization
William Greider
Don't be fooled by this reform: the IMF is still the rich world's viceroy
George Monbiot
Who Rules America?
James Petras, Binghamton University
A New Deal for Globalization
Kenneth F. Scheve and Matthew J. Slaughter, Foreign Affairs
A Different Globalization for Labor
and Globalization and Protectionism
Prof. Robert Philen
Why We Face Both Food and Water Crises
Dr. Vandana Shiva
How Wealth Creates Poverty
Dr. Vandana Shiva

Monsanto's Harvest of Fear
Donald L. Barlett and James B. Steele, Vanity Fair
Monsanto Buys 'Terminator' Seeds Company
F. William Engdahla

Mystery: How Wealth Creates Poverty in the World
Michael Parenti
Unionizing the White-Collar Workforce
Jim Grossfeld
Sorry, Thomas Friedman, the World Is Round
Stephen Marshall
Corporate Income Taxes
and Interview with McIntyre
Robert S. McIntyre, T.D. Coo Nguyen

How Multinational Corporations Avoid Paying Taxes
Peter Roost, M.D.
The Rich Are Making the Poor Poorer
Barbara Ehrenreich
Globalization and Democracy: Some Basics
Michael Parenti
Framing the Engineering Outsourcing Debate
Duke University Report
Exporting I.P.
James Surowiecki, The New Yorker

Only Global Unions Can Stop the Race to the Bottom
Stephen Lerner
Another Economic Disconnect
Paul Krugman, NYT and Princeton Univ. Economist
War on Greed??
Henry Kravis makes $51,369 per hour. YouTube.

French Fried Friedman,The Nouvelle Globalizer
Greg Palast
Selling Neoliberal Globalization:
Thomas Friedman's Excellent Adventure
Joe Smith
Globalization and the Myth of Free Trade
Anwar Shaikh
World's Biggest Debtor Nation: America On Top Again
Don Monkerud
Trillions in Debt, Can the Middle Class Hang On?
Read: America Maxed Out, Also,
Watch: "Maxed Out"
James Scurloc,
Um, So About That "Free Trade"
Christopher Hayes

Global Perspectives
Web Site of Resources
Global Exchange
Web Site of Resources

A Shortlist of Books to Consider
(link to descriptions)
Three Billion New Capitalists: The Great Shift of Wealth and Power to the East by Clyde Prestowitz (Hardcover - May 3, 2005)

Extreme Competition: Innovation And the Great 21st Century Business Reformation by Peter Fingar (2007) (This companion book discusses pracitcal strategies for businesses and individuals).
False Dawn, by John Gray, Professor, London School of Economics (2000).

Making Globalization Work by Joseph E. Stiglitz (2006)

Globalization and Its Discontents by Joseph E. Stiglitz (2003)
The Globalization of Poverty and the New World Order, by Michel Chossudovsky (2003)
Tectonic Shift : The Geoeconomic Realignment of Globalizing Markets by Jagdish N. Sheth and Rajendra S Sisodia (2006)
Why Globalization Works by Martin Wolf (2005)
In Defense of Globalization by Jagdish Bhagwati (2005)
Alternatives to Economic Globalization: A Better World Is Possible by John Cavanagh and Jerry Mander (2004)
Why America's Top Pundits Are Wrong: Anthropologists Talk Back by Catherine Besteman and Hugh Gusterson (2005)
Redefining Global Strategy: Crossing Borders in a World Where Differences Still Matter by Pankaj Ghemawat (2007)
World on Fire: How Exporting Free Market Democracy Breeds Ethnic Hatred and Global Instability by Amy Chua (2004)

When Corporations Rule the World by David C. Korten (2001)
The Great Turning: From Empire to Earth Community by David C. Korten (2007)

End of the Line: The Rise and Coming Fall of the Global Corporation by Barry C. Lynn (2005)
Globaloney: Unraveling the Myths of Globalization by Michael Veseth (2005)
Development as Freedom by Amartya Sen (2000)

Natural Capitalism - Amory Lovins, Paul Hawken, Hunter Lovins
Rocky Mountain Institute - Web site of above book
Why Geography Matters: Three Challenges Facing America: Climate Change, the Rise of China, and Global Terrorism, by Harm de Blij
―Watch a Different POV on Globalization―

The Story of Stuff
Annie Leonard (powerful presentation)
A Critique by Andy Kaiser
Education and the Owners of America
George Carlin (Warning: Foul Language)
Terrorism, Globalism and Conspiracy
Yale's Dr. Michael Parenti
The Corporation
Also Available in 16 Parts at Youtube.com
The New Rulers of The World
A documentary film by John Pilger

Watch: Socioecomomics
John L. Casti
Books related to the Impact on the Middle Class
Take This Job and Ship It: How Corporate Greed and Brain-Dead Politics Are Selling Out America by Sen. Byron Dorgan (2006)
Free Lunch: How the Wealthiest Americans Enrich Themselves at Government Expense and StickYou with the Bill by David Cay Johnston (2008)
Falling Behind: How Rising Inequality Harms the Middle Class, Robert Frank, Wall Street Journal Columnist (2007)
War on the Middle Class: How the Government, Big Business, and Special Interest Groups Are Waging War on the American Dream and How to Fight Back by Lou Dobbs (2006)
Screwed: The Undeclared War Against the Middle Class -- And What We Can Do About It (BK Currents) by Thom Hartmann and Mark Crispin Miller (2006)
Outsider in the House by Bernie Sanders (1998)
Exporting America: Why Corporate Greed Is Shipping American Jobs Overseas by Lou Dobbs (2004)
The Fragile Middle Class: Americans in Debt by Teresa A. Sullivan, Elizabeth Warren, and Jay Westbrook (2001)
The Two-Income Trap: Why Middle-Class Mothers and Fathers Are Going Broke by Elizabeth Warren (2003)
Credit Card Nation: The Consequences of America's Addiction to Credit by Robert D. Manning (2001)
Financing the American Dream: A Cultural History of Consumer Credit by Lendol Calder (2001)
The Overspent American: Why We Want What We Don't Need by Juliet B. Schor
Born to Buy: The Commercialized Child and the New Consumer Culture by Juliet B. Schor (2005)
Affluenza: The All-Consuming Epidemic by John De Graaf (2005)
Additional Book Ideas Based on Your Interests
(link to descriptions)

Global Competitive Strategy, by Daniel F. Spulber, Cambridge University Press, 2007
Rethinking Globalization: Teaching for Justice in an Unjust World by Bill Bigelow and Bob Peterson (Paperback - Mar 2002)
The Next Great Globalization: How Disadvantaged Nations Can Harness Their Financial Systems to Get Rich by Frederic S. Mishkin (Hardcover - Aug 21, 2006)
The Globalization Reader by Frank Lechner and John Boli (Paperback - Nov 1, 2003) - Illustrated
Globalization: A Very Short Introduction (Very Short Introductions) by Manfred B. Steger (Paperback - Jun 19, 2003)
Globalization: Culture and Education in the New Millennium by Marcelo Suarez-Orozco and Desiree B. Qin-Hilliard (Paperback - April 5, 2004)
Globalization and Its Enemies by Daniel Cohen (Hardcover - April 14, 2006)
Globalization And Catholic Social Thought: Present Crisis, Future Hope by John A. Coleman, W. F. Ryan, and Bill Ryan (Paperback - Oct 31, 2005)
Diversity Amid Globalization: World Regions, Environment, Development (3rd Edition) by Lester Rowntree, Martin Lewis, Marie Price, and William Wyckoff (Hardcover - Feb 23, 2005)
Many Globalizations: Cultural Diversity in the Contemporary World by Peter L. Berger and Samuel P. Huntington (Paperback - Nov 13, 2003)
Globalization and Diversity: Geography of a Changing World (2nd Edition) by Lester Rowntree, Martin Lewis, Marie Price, and William Wyckoff (Hardcover - Feb 13, 2007)
Globalization and Business by John D. Daniels, Lee H. Radebaugh, Daniel P. Sullivan, and Daniel Sullivan (Paperback - Jan 15, 2002)
One World: The Ethics of Globalization (The Terry Lectures Series) by Peter Singer (Paperback - Mar 11, 2004)
The Globalization of Poverty and the New World Order by Michel Chossudovsky (Paperback - Sep 10, 2003)
Accelerating the Globalization of America: The Next Wave of Information Technology by Catherine L. Mann and Jacob Funk Kirkegaard (Paperback - Jun 15, 2006)
Globalization Challenged: Conviction, Conflict, Community (University Seminars/Leonard Hastings Schoff Memorial Lectures) by George Rupp (Hardcover - Nov 15, 2006)
The No-Nonsense Guide to Globalization (No-Nonsense Guides) by Wayne Ellwood (Paperback - Sep 1, 2006)
How Soccer Explains the World: An Unlikely Theory of Globalization by Franklin Foer (2005)
Servants of Globalization: Women, Migration and Domestic Work by Rhacel Salazar Parrenas (Paperback - April 2001)
Globalization and New Geographies of Conservation by Karl S. Zimmerer (Paperback - Sep 15, 2006)
Globalization/Anti-Globalization by David Held and Anthony McGrew (Paperback - Dec 1, 2002) - Illustrated
The Endgame of Globalization by Neil Smith (Hardcover - Dec 30, 2004)
Language and Globalization by N. Fairclough (Hardcover - Nov 30, 2006)
Institutional Change and Globalization by John L. Campbell (Paperback - Jul 26, 2004)
Queer Globalizations: Citizenship and the Afterlife of Colonialism by Arnaldo Cruz-Malav? and Martin Manalansan (Paperback - Aug 15, 2002)
China and Globalization: The Social, Economic and Political Transformation of Chinese Society (Globalizing Regions) by Doug Guthrie (Paperback - Feb 6, 2006)
Growing the Game: The Globalization of Major League Baseball by Alan M. Klein (Hardcover - Sep 18, 2006)
The Globalization of Nothing 2 by George Ritzer (Paperback - Jan 9, 2007)
How to Succeed at Globalization : A Primer for Roadside Vendors (The American Empire Project) by Mark Fried (Paperback 2004)
The Media and Globalization by Terhi Rantanen (Paperback - Dec 23, 2004)
Globalization, Economic Development and the Role of the State by Ha-Joon Chang
Globalization and History: The Evolution of a Nineteenth-Century Atlantic Economy by Kevin H. O'Rourke and Jeffrey G. Williamson (Paperback - Mar 1, 2001)
Cows, Kin and Globalization: An Ethnography of Sustainability (Globalization and the Environment) by Susan Crate (Paperback - Dec 28, 2006)
Globalization: A Short History by Jurgen Osterhammel, Niels P. Petersson, and Dona Geyer (Hardcover - April 11, 2005)
Globalization and the Challenges of the New Century: A Reader by Patrick O'Meara, Howard D. Mehlinger, and Matthew Krain (Paperback - May 2000)
Taming Globalization: Frontiers of Governance by David Held and Mathias Koenig-Archibugi (Paperback - Jul 1, 2003) - Illustrated
Capitalism in the Age of Globalization: The Management of Contemporary Society by Samir Amin (Hardcover - April 1997)
Globalization or Empire? by Jan Ne Pieterse (Paperback - Mar 16, 2004)
Critical Globalization Studies by Richard P Appelbaum and William I Robinson (Hardcover - Jan 25, 2005)
The Anthropology of Development and Globalization: From Classical Political Economy to Contemporary Neoliberalism,by Angelique Haugerud, Professor Angelique Haugerud, and Marc Edelman (Paperback - Dec 1, 2004)
Morocco: Globalization and Its Consequences (Mapping the Global Spaces) by Shana Cohen and Larabi Jaidi (Paperback - Jun 23, 2006)
Making Globalization Good: The Moral Challenges of Global Capitalism by Prince of Wales and John H. Dunning (Paperback - Jan 6, 2005)
The Globalization Syndrome by James H. Mittelman (Hardcover - Mar 6, 2000)
Globalization from Below by Jeremy Brecher, Tim Costello, and Brendan Smith (Paperback - Oct 1, 2000)
Artificial Africas: Colonial Images in the Times of Globalization (Re-Encounters With Colonialism) by Ruth Mayer (Paperback - Oct 1, 2002)
The End of Globalization: Lessons from the Great Depression by Harold James (Paperback - Oct 15, 2002)
Globalization: What's New? by Michael M. Weinstein (Paperback - April 30, 2005)
Globalization (Key Ideas) by Malcolm Waters (Paperback - Jan 16, 2001)
George Soros on Globalization by George Soros (Paperback - Mar 30, 2005)
Beyond Globalization: Shaping a Sustainable Global Economy by Hazel Henderson (Paperback - Nov 1999)
No More States?: Globalization, National Self-determination, and Terrorism by
Education, Globalization and Social Change by Hugh Lauder, Phillip Brown, Jo-Anne Dillabough, and A. H. Halsey (Paperback - Sep 7, 2006)
Anthropology of Globalization: A Reader (Blackwell Readers in Anthropology) by Jonathan Xavier Inda and Renato Rosaldo (Paperback - Dec. 2001)
Globalization by Arjun Appadurai (Paperback - Oct 2001)
Globalization and Human Rights by Alison Brysk (Paperback - Oct 7, 2002)
Making Globalization by Robert J. Holton (Paperback - Sep 17, 2005)
Community Culture & Globalization by Don Adams and Arlene Goldbard (Paperback - 2002)
A Better Globalization: Legitimacy, Governance, and Reform by Kemal Dervis and Ceren Ozer (Paperback - April 2005)
The True Cost of Low Prices: The Violence of Globalization by Vincent A. Gallagher (Paperback - Oct 30, 2006)
Has Globalization Gone Too Far? by Dani Rodrik (Paperback - Mar 1, 1997)
Globalization for Development: Trade, Finance, Aid, Migration and Policy by Ian Goldin and Kenneth A. Reinert (Paperback - Jan 4, 2006)
When Good Companies Do Bad Things: Responsibility and Risk in an Age of Globalization by Peter Schwartz and Blair Gibb (Hardcover - April 19, 1999)
Globalization and the Third World: A Study of Negative Consequences by B.N. Ghosh and Halil M. Guven (Hardcover - Aug 8, 2006)
Effects of Financial Globalization on Developing Countries: Some Empirical Evidence by M. Ayhan Kose (Paperback - Sep 2003)
Globalization in World History by A. G. Hopkins (Paperback - Nov 2002)
Globalization, Socail Movements and the New Internationalism by P. Waterman (Paperback - Mar 2002)
"China and the New World Order: How Entrepreneurship,Globalization, and Borderless Business Are Reshaping China and the World" by George, Zhibin Gu and William, Ratliff (Paperback - Oct 11, 2006)
Governing Globalization: Power, Authority and Global Governance by David Held and Anthony G. McGrew (Paperback - Dec 1, 2002) - Illustrated
Globalization and Education (Social Theory, Education and Cultural Change) by N. Burbules (Paperback - Jan 2000)
Balkan as Metaphor: Between Globalization and Fragmentation by Duan I. Bjelic and Obrad Savic (Paperback - Oct 1, 2005)
Globalization: Education Research, Change And Reform by Nicholas S. K. Pang (Paperback - Dec 30, 2006)
What Is Globalization? by Ulrich Beck and Patrick Camiller (Jan. 2000)
The Media and Globalization (Media Culture & Society Series, 194) by Colin Sparks (Dec. 2006)
Supplementary Readings and Content Resources
Universal Declaration of Human Rights
Glossaries
A Basic Globalization Glossary UNPAC Manitoba
A Basic Economics Glossary UNPAC Manitoba
Glossary of globalization, trade and health terms
World Health Organization
Globalization Glossary Emory University
A Glossary of Political Economy Terms by Dr. Paul M. Johnson
Glossary and Acronyms -
British Department for International Development
World Bank Glossary
Magazines/Journals
Democracy Now!
Znet
Elements
Resurgence - Globalizaton
Business Ethics Magazine
Yale Global Online
The Economist
Forbes
Business Week
Globalization General
Globalresearch
Globalization 101
Globalization Guide
Global Trade Watch
Corporate Watch
Multinational Monitor
Corporate Social Responsibility Newswire
No Logo
Union of Concerned Scientists
Global Policy Forum
The International Society for Ecological Economics
Institute for Policy Studies
International Forum on Globalization
The UC Atlas of Global Inequality - University of California
Consumers International
Media/Propaganda
PR Watch
GlobalPublicMedia.com
Medialens
Adbusters
International Advertising in Developing Countries
Critical Media Literacy in Times of War
Captive Kids: A Report on Commercial Pressure on Kids at School
Commercialism in Education Research Unit (CERU) at Arizona State University
The Propaganda Model of Mass Media A Blogby Darrell Moen, PhD
Media Channel
Corporations
Who Owns What Columbia Journalism Review
The Ten Worst Corporations of 2004
International Institutions
United Nations
International Monetary Fund
World Bank
International Finance Corporation
World Trade Organization
Social Responsibility
ISO Standards for Corporate Social Responsibility
The World Bank Corporate Social Responsibility Page
Industry Canada's Corporate Social Responsibility

Audio/Visual
The Century of the Self: How politicians and business learned to create and manipulate mass-consumer society.
Manufacturing Consent
Noam Chomsky (2 hrs 30 min)
The New rulers of The World
A documentary film by John Pilger (60 min)
We Can't Make It Here Anymore - by James McMurtry (7 min)
The Revolution Will Not Be Televised
By Kim Bartley and Donnacha O'Briain (1 hr 15 min)
The Latin American Revolution has begun - Complete Video!!! (7 parts)
"The United States is Terrified" - Noam Chomsky (8 minutes)
Orwell Rolls in His Grave Director: Robert Kane Pappas - (1 Hour 46 Minutes)
War Corporatism: The New Fascism
A video by Simon Robson and Barry McNamara (2:29 minutes)
Confessions of an Economic Hit Man
John Perkims on Democracy Now (35 min)
OUTFOXED (50 min)
Elite Propaganda The Myth of the Liberal Media
Justin Lewis, Noam Chomsky, Ed Herman (60 Min)
Exposed: The Carlyle Group (60 min)
Chalmers Johnson: Militarism and the American Empire
host Harry Kreisler (60 min)
Connie Martinson Talks Books: Chalmers Johnson on "The Sorrows of Empire"
Conversations with History: Open Source, with Steven Weber (60 mim)
Conversations with History: Islam, Empire, and the Left, with Tariq Ali (60 mim)
The World Is Flat By Thomas Friedman: Presentation at IFC
The Other Side of Outsourcing Thomas Friedman / Discovery Channel
Planting the Seeds for Change: Women's Struggle Against Corporate Control of Biodiversity Vandana Shiva (50 min)
The Corporation
Poverty & Globalisation
Vandana Shiva BBC Reith 2000 lectures
Robert Newman History of oil
Dr. Michael Parenti: "Terrorism, Globalism and Conspiracy"
Amused to Death
by Roger Waters
War and Globalization - The Truth Behind September 11
Michel Chossudovsky (1 hr 56 min 31 sec )
They Want Your Soul (17 minutes)
What I've Learned About US Foreign Policy: The war against the Third World compiled by Frank Dorrel (2 hours)
The Oil Factor: Behind the War on Terror Free-Will Productions
Dear Mr. President - Live PINK (4 minutes)
Oil, Smoke & Mirrors. (50 Minutes)
Articles of Interest
Corporations and War
Corporate Globalization and Middle East Terrorism By Charles Sullivan
War is a Racket - Major General Smedley Butler
Halliburton Makes a Killing on Iraq War: Cheney's Former Company Profits from Supporting Troops
by Pratap Chatterjee
Profits of War - The Guardian
War propels Exxon profits to record $7bn
by Terry Macalister, Friday May 2, 2003, The Guardian
The Profits or the War? Which Came First
Oil, Geopolitics, and the Coming War with Iran by Michael T. Klare
Oil Companies in Iraq: A Century of Rivalry and War By James A. Paul
Water Control
World Bank, WTO, and corporate control over water by Vandana Shiva
The Water Barons - CBC News
Korean Workers Prevent Water Privatization by Vivendi - Yong Chang Jang
Education and The Corporation
Democracy At Risk: Building Citizenship Skills through media Education
by Renee Hobbs
globalization and the incorporation of education from infed: Informal Education
Privatizing the University--the New Tragedy of the Commons
James Robert Brown
The Rise of Intellectual Property Protection in The American University
Lita Nelson
Democracy
The Danger of American Fascism By Henry A. Wallace
A World Turned Upside down by George Monbiot
Democracy and Globalization John Ralston Saul
Propaganda Model by Chomsky and Herman (exerpt)
Program on Corporations Law and Democracy
28 Words to Redefine Corporate Duties The Proposal for a Code for Corporate Citizenship
By Robert Hinkley
Economic Globalization, the War with Iraq and the REAL Alternatives
by Jerry Mander
Ambitions of Empire: The Bush Administration Economic Plan for Iraq (and Beyond)By Antonia Juhasz
Work
Campaign for Labour Rights by Sarah Cox
Going Cheap by Kevin Bales
The Global Production Game exercise
The Growth of Slavery in North America PBS
Matewan Revisited by Charles Sullivan

Development and Globalization
Don't be fooled by this reform: the IMF is still the rich world's viceroy
by George Monbiot
Will Tribal Knowledge Survive the Millennium? Paul Alan Cox
Global Debt and Third World Development
By Vincent Ferraro and Melissa Rosser

Fifty Years of the GATT/WTO: Lessons from the Past for Strategies for the Future C. Fred Bergsten Institute for International Economics
"Globalization: Threat or Opportunity?" By IMF Staff
'Wake Up and Face the Flat Earth' – Thomas L. Friedman
A Realistic Look at Call Centres by Girish Mishra


Patents/Intellectual Property Rights
Monsanto Buys 'Terminator' Seeds Company by F. William Engdahl
Open Source, Open Market for Ideas By Edward H. Baker
Interview: Yusuf Hamied
India's Upper House of Parliament Passes Bill That Would Prohibit Production of Generic Versions of Patented Drugs
25 Mar 2005 Medical News Today
INDIAN PARLIAMENT APPROVES CONTROVERSIAL PATENT BILL
Corporate Personhood

Americans Revolt in Pennsylvania - New Battle Lines Are Drawn
by Thom Hartmann
Our Hidden History of Corporations in the United States
Wal-Mart Lawyers Claim Class-Action Suit Would Violate Corporation's "Civil Rights"
By Aaron Bernstein. Published by Business Week, March 21, 2005 edition
Financial Markets and Investments
What is the Stock Market?
Investopedia.com

==============================================
Misc. Notes... under construction
American Electronics Association, Losing the Competitive Advantage? The Challenge for Science and Technology in the United States (2005); available at http://www.aeanet.org/publications/idjj_CompetitivenessMain0205.asp.
Commanding Heights DVD and book: http://www.pbs.org/wgbh/commandingheights/hi/story/index.html
Congressional Research Service, The Issue of Globalization - An Overview, by Gary J. Wells, 5/3/01; available at http://digitalcommons.ilr.cornell.edu/crs/6/.
Jared Diamond, Collapse: How Societies Choose to Fail or Succeed (2005)
Peter Fingar, "The Globalization of White Collar Work." Internet World, October 2001. (Free download available)
Richard Florida, "The World Is Spiky." (Free download available)
National Academies Press, Rising Above The Gathering Storm: Energizing and Employing America for a Brighter Economic Future (2006); 512 pages; free download of pre-publication report available at http://www.nap.edu/catalog/11463.html.
Joyce Osland, "Broadening the Debate: The Pros and Cons of Globalization," Journal of Management Inquiry, June 2003; 12: 137-154; available in the e-journals database for the King Library (http://www.sjlibrary.org/research/ejournals/).