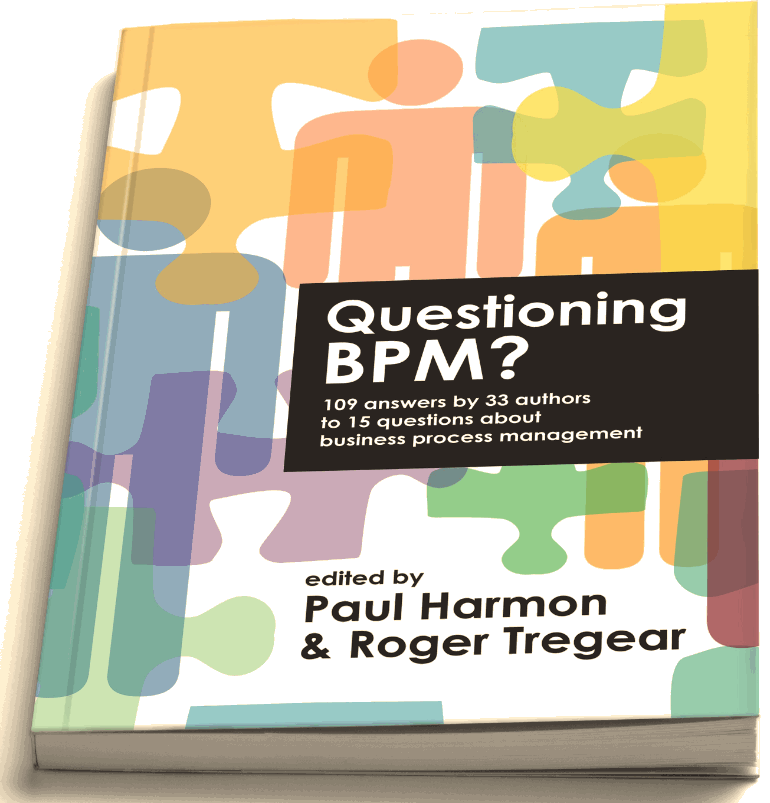 The Print Edition is available from Amazon.
The Kindle Edition is available from Amazon.
The Print Edition is available from Barnes&Noble.

Another book on BPM?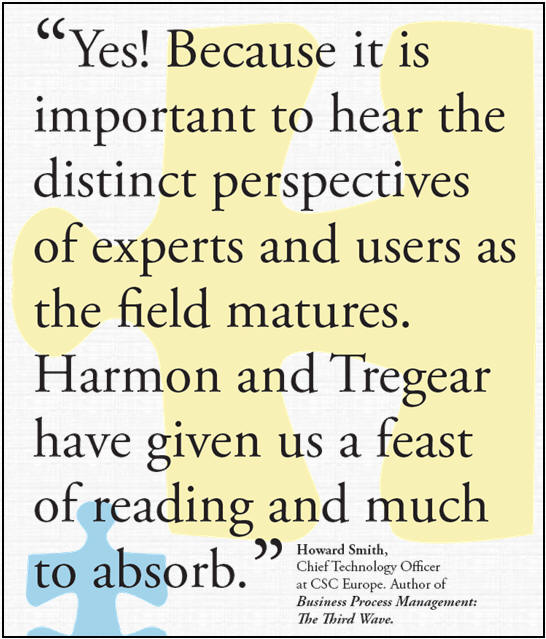 In response to the challenges in the rapidly advancing field of BPM, we have created a book that provides multiple perspectives on some common questions that come from experienced BPM practitioners --and newcomers to the field as well. Moreover, BPM practitioners come from different backgrounds and work in different areas, so no one set of answers will satisfy all of them. And we produced the book quickly so the answers will still be fresh when the book arrives in the hands of those who are asking the questions.
The book provides a variety of answers as there is no single, definitive answer to any of the questions. The book canvases the full range of answers, including both positive and negative views, showing readers how 30+ thought leaders in the field think about the issues, and to suggest why the questions are still being asked.
The book is written for those involved in process management, analysis, and change management, including managers, students, practitioners, consultants, and BPM product vendors. It is expected that the book will generate considerable interest and have a wide circulation throughout the general management, information systems, and BPM communities.
The book will trigger ongoing discussions in the social media, like Linkedin and more. You can request information about these discussions via sending this email.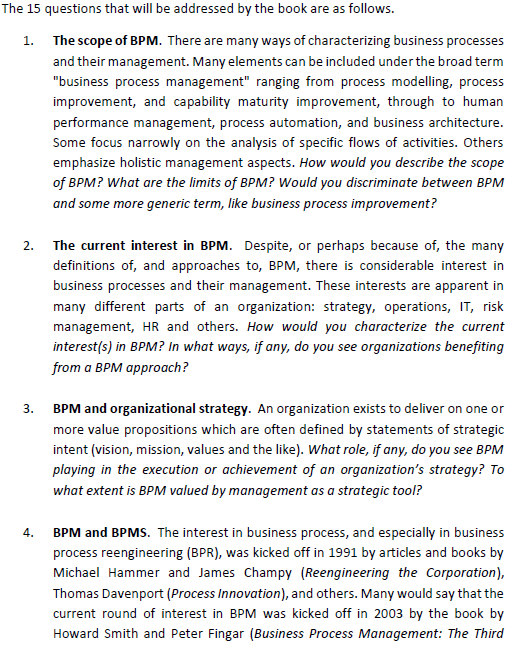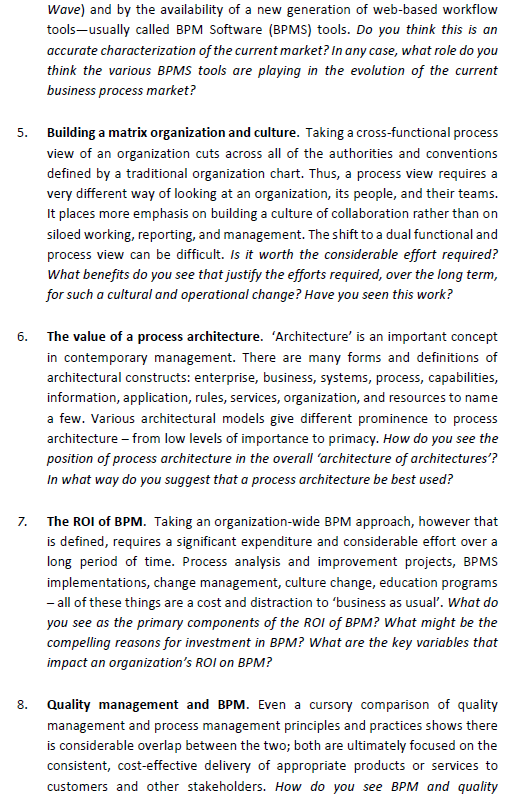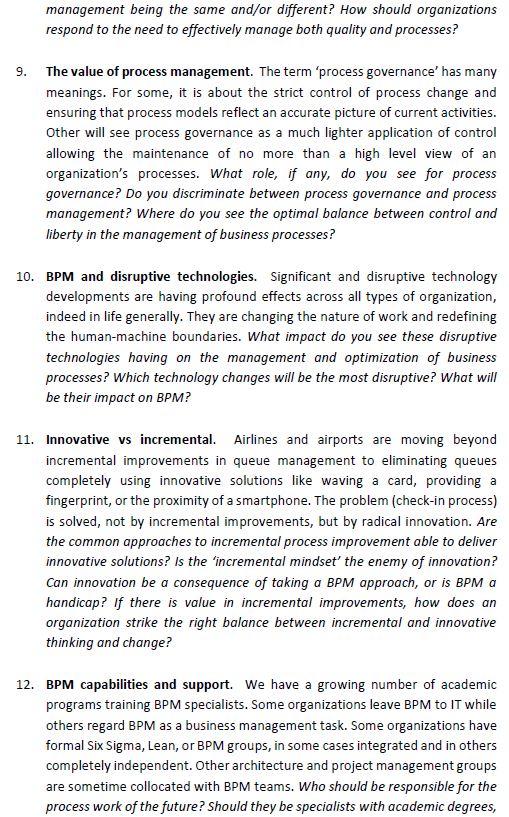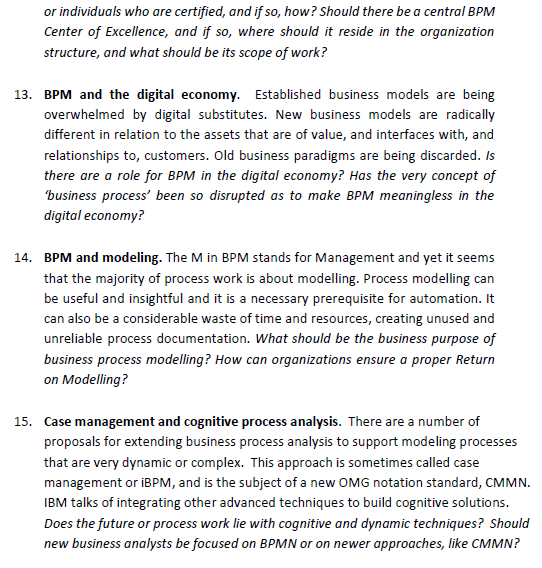 About the Thought Leaders Contributing to the Book

Dr. Roger M. Addison, CPT, is an internationally respected practitioner of Human Performance Technology (HPT), performance consulting, and founder of Addison Consulting. Roger is a past president of ISPI and received ISPI's highest award, Member for Life. He is the recipient of numerous other ISPI awards including the Gilbert, the Rummler, Service and Outstanding Communication. As an international delegate, Roger has presented and worked in North America, South America, Asia, Europe, Africa, and the Middle East. Roger is a co-author of Performance Architecture – The Art and Science of Improving Organizations.
Ahmad Alibabaei, PhD is an assistant professor in Shahid Beheshti University of Medical Sciences in Iran. He is also an associate dean in the faculty of Health, Safety and Environment. Ahmad got his PhD in Industrial Engineering with a focus on Business Process Management in 2010. He had an academic visit in QUT BPM group in 2008 for about 8 months. He has more than 12 years experience in IT and management as a manager and consultant. He also founded Zeus Advanced Systems Consulting Company in 2012 which provides IT and Management consultancy services. Dr. Alibabaei has served as a track chair, member of scientific committee and reviewer in many international conferences such as AMCIS, ECIS, etc.

Talal Alsubaie has extensive knowledge in BPM, IT and software development. He has considerable experience in process and project management and BPM automation. Talal holds the degrees of Master in Information Systems and Bachelor of Computer Science from King Saud University. He worked in for Saudi Arabian government agencies in the field of BPM and IT for 11 years, specializing in process modeling and improvement. At the Saudi Food & Drug Authority, Talal established the BPM Department tasked with operating both the business and technical aspects of BPM. Based in Riyadh, Saudi Arabia, Talal is currently the Managing Director of Modprex, an Australian company specialized in software solutions supporting process analysis and publishing.
Dr. Wasana Bandara is a tenured Senior Lecturer at the Information Systems School, Science and Engineering Faculty, Queensland University of Technology, Brisbane Australia. She co-ordinates the Masters of Business Process Management (BPM) and conducts research in BPM and Information Systems (IS). She has researched in a broad range of topics such as Process Modelling, Enterprise Systems, Shared Services, IS/BPM education More recently her research is focused on BPM and ICT for development in particular on people-oriented aspects of Business Process Management. In addition to research in her discipline areas of IS and BPM, she has a passion for scholarly investigation into and the teaching of Research Methods. She has published over 75 refereed articles in leading IS and BPM outlets and has received institutional, national and international awards in recognition for her academic excellence (for both research and teaching). For more information, see her personal web page at http://www.wasanabandara.com
Jim Boots worked at Chevron Corporation for 30 years in a wide array of functions including sales, total quality management, business development, supply chain management, business management, e-commerce management, health safety & environment management, enterprise architecture, and Business Process Management (BPM) program development. He was the primary force behind building Chevron's BPM foundation from 2005-2010. He also is a Principal IT-CMF Professional at the Innovation Value Institute with responsibilities that include a role as Lead Architect of the BPM Critical Capability. He is author of the book, "BPM Boots on the Ground: How to Implement Strategic Business Process Management: Lessons Learned from one of the World's Largest Organizations." Jim now runs his own BPM consultancy known as Global Process Innovation.
Jan vom Brocke is head of the BPM group in Liechtenstein. He is Professor of Information Systems, the Hilti Chair of Business Process Management, Director of the Institute of Information Systems, and Vice-President of the University of Liechtenstein. He has over 15 years of experience in BPM research, teaching, and practice, and he is a co-founder and co-director of international Master and PhD programs on IS and BPM (see: http://www.bpm-education.org). Jan has published more than 300 papers in renowned outlets, including MIS Quarterly (MISQ), the Journal of Management Information Systems (JMIS) and the Business Process Management Journal (BPMJ). He has co-authored and co-edited 25 books, including the International Handbook on Business Process Management, and the books Green BPM – Towards the Sustainable Enterprise, and BPM – Driving Innovation in a Digital World. Jan is an invited speaker and trusted advisor on BPM serving many organizations around the world.
Roger Burlton is the President of Process Renewal Group and co-founder of BPTrends Associates. He is the author of the pioneering Business Process Management: Profiting from Process and the collaborative effort Business Process Manifesto, now available in 14 languages. He developed and delivered the first Business Process and Business Architecture management classes in the world in 1991, certified today by universities in North America, Europe, Australia, and South America. He is recognized as a world leader in transforming companies from traditional hierarchical organizations to process-managed ones. He has led numerous initiatives to implement new process-centric business models, governance frameworks, and process management capabilities for global corporations. He continues to chair the most prominent business process conferences in the world, which he has done on over forty occasions.
Indrajit Datta Chaudhuri is a Senior Consultant with Leonardo Consulting. With about 10 years of experience in business process analysis and improvement, he helps clients to improve process performance. He is a specialist process and business analyst with extensive international experience. He has consulted and trained in business process modelling, analysis and management across many industry sectors.
Fred A. Cummins is a former HP and EDS Fellow currently doing business as Agile Enterprise Design, LLC. He has developed solutions or functioned as a technical consultant across multiple industries including manufacturing and distribution, financial services, transportation, insurance, healthcare and government. He has been co-chair of the Business Modeling and Integration task force at OMG (Object Management Group) for 15 years and most recently was a leader in the development of the Case Management Model and Notation (CMMN) specification and the Value Delivery Modeling Language (VDML) specification. Fred has authored three books, and he is currently writing the second edition of his last book to be entitled Building the Agile Enterprise with Capabilities, Collaborations and Values (Elsevier, 2016). He is currently an independent consultant focusing on business analysis, design and transformation.
Gaby Doebeli is a long-time member of Australia's Business Process Management (BPM) and Business Architecture Community. She has founded and chaired the Brisbane BPMLink Community and participated in many of Australia's BPM Roundtables run by Prof. M Rosemann. Gaby has a Masters in Information Systems and her thesis focused on the application of BPM Governance. Her findings are widely presented and documented in Australia and the US. Over the last 7 years she has further operationalised these in a number of organisations as part of business transformation programs including enterprise resource planning systems implementations. Her roles spans across Enterprise Architecture (EA) and BPM, just to name a few: Business & Process Architect, Process Design Adviser, Senior Integrated Systems Adviser, Internal Business Improvement Consultant, Six Sigma Black belt, Quality Facilitator and Internal Auditor. She is currently engaged by Brisbane City Council, the largest local council in Australia where she was awarded as the best architect of the Business & Systems Efficiency transformation program.
Melissa Doherty is a highly experienced professional with extensive experience in business process management (bpm), business improvement, enterprise architecture and ICT system implementations. As the Process and Innovation Manager at Brisbane City Council, the largest local government in Australia and the country's fastest growing city, Melissa is responsible for embedding business process management (bpm) in the organization. Her role includes managing a team who provide expert advice and improvement services to process owners, all divisions and projects in Council's business process management standards, methodology and practices.
Prior to her current role, Melissa led the Business Architecture Team, in the Enterprise Architecture Group, in the Council's Information Services Branch (ISB). Here she led the establishment of BPM in Council and worked on building stronger relationships between business areas and ICT. Throughout her career Melissa has also held roles at the Department of Immigration and Border Protection (federal government department), Optus (telecommunications) and CSG International (a software vendor, formerly ADC Telecommunications) which has given her a diverse range of experiences working in different industries. Melissa has exceptional experience driving business process thinking that has resulted in the delivery of ICT solutions, improved customer outcomes, organization efficiencies and the achievement of strategic outcomes. Melissa holds a Bachelor of Business from the University of Queensland, along with certifications in iTIL and Business Architecture from BPTrends.
Peter Fingar is regarded as one of the original promulgators of business process management beginning with the publication of the seminal book coauthored with CSC's Howard Smith, Business Process Management: The Third Wave (www.mkpress.com). As a former CIO and college professor, Peter has been working at the intersection of business and technology for over 40 years. His recent books include Cognitive Computing: A Brief Guide for Game Changers; Business Process Management: The Next Wave; Business Innovation in the Cloud and Dot.Cloud: The 21st Century Business Platform Built on Cloud Computing. He joined forces with Jon Pyke, founder of the Workflow Management Coalition (WfMC), and Andy Mulholland, Global CTO of Capgemini, to pen the influential book, Enterprise Cloud Computing: A Strategy Guide for Business and Technology Leaders. His books have been published in Chinese, Korean, Japanese and Russian editions. Peter delivers keynote talks across the globe and is speaking this year in Asia, Europe, and the Americas (www.peterfingar.com).
Denis Gagné for over a decade has been a driving force in the majority of international BPM standards in use today. He is a member of the Workflow Management Coalition (WfMC) Steering Committee, chair of the Business Process Simulation Working Group (BPSWG), and the co-Editor of the XPDL 2.2 process definition standard. For the Object Management group (OMG), Denis is the Chair of the BPMN Interchange Working Group (BPMN MIWG), and a member of the Business Process Model and Notation (BPMN) and the Case Management Model and Notation (CMMN) team. M. Gagné is CEO and CTO of Trisotech and the driving force behind www.BusinessProcessIncubator.com, a free online resource providing access to BPM, Change Management, Process Improvement, Lean and Six Sigma resources.
Ian Gotts is a serial tech entrepreneur whose passion and energy are infectious and inspiring. He is founder and CEO of Q9 Elements, a software company with a suite of cloud process solutions that promise to "Make work easier, faster and more valuable for millions of people" Ian was founder and CEO of Nimbus for 15 years. Nimbus was a software company with a process knowledge and governance solution that was acquired by TIBCO Software in 2011. Prior to Nimbus, Ian was at Accenture where as an Associate Partner he lead the Programme Management Group. Ian is the author of 8 books, and is a prolific blogger with a rare ability to make the complex seem simple. This makes him a sought after and entertaining conference speaker. Oh, and he's powered by Duracell. Personal blog: www.iangotts.com
Andreas Havliza joined Leonardo Consulting in 2010 after 10 years working in consultancy in Europe and Australia. As a Consulting Principal he is based in Perth and responsible for the Leonardo Team in Western Australia. His previous position was as a Senior Expert in Business Process Management with IDS Scheer AG in Germany.
Andreas' specialist areas of experience and expertise are Governance, Risk & Compliance Management (GRC) and Business Process Management (BPM).As a Project Manager for GRC and BPM projects, Andreas has lead and co-ordinated project teams in various industries including finance, banking, insurance, logistics, utilities and semiconductors. While working for IDS Scheer, he was the GRC Solution Owner in Germany, Austria and Switzerland. In this role Andreas was responsible for the alignment of GRC related topics within those three countries.
Carol Haig, CPT is principal of Carol Haig & Associates, a performance improvement consulting firm. For more than thirty years she has helped organizations in a range of industries to improve employee performance. Carol is co-author of the award winning Performance Architecture – The Art and Science of Improving Organizations and the co-author of the Performance Architecture column for BPTrends. Carol has served as Director on the executive board of ISPI. She has received ISPI's awards for Outstanding Instructional Product, Outstanding Organization, the Performance Improvement Award of Excellence, Distinguished Service, the Communication Award, and was named Member for Life. She is a regular presenter at ISPI's annual conference. She is a licensed ham radio operator, WE7TBD.
Eric Herness, MBA is an IBM Distinguished Engineer and is the CTO for the IBM business focused on Business Process Management (BPM) and Operational Decision Management (ODM). Eric is also the Chief Architect for BPM. Eric leads the team of architects that define product architecture and technical direction for this business. He works with many large clients and business partners on all things Smarter Process. Eric has deep experience in business process management, cloud, rules, events, integration, application servers, connectivity and object technology. He has had key lead architectural roles in WebSphere and IBM Middleware going back over 20 years.
Eric joined IBM in 1985. He has a bachelor's degree in management information systems from the University of Wisconsin at Eau Claire as well as a Master's in Business Administration from the Carlson School at the University of Minnesota.
Clement Hurpin graduated from a leading Canadian business school with a tri-lingual (French, English and Spanish) business administration degree and joined the Leonardo Consulting team in July 2012. During his time with Leonardo, Clement has gained experience in a wide range of business process analysis approaches, tools, and techniques. He has worked on projects involving process modeling, improvement (through the application of the BPTrends methodology) and automation (involving among other things data modeling, use case definition, workflow and report design). His successes during those projects saw him promoted to the established position of Consultant in 2014. He firmly believes in process-based management and supports to build process capability within client organizations.
Leandro Jesus is co-Founder and Director at EloGroup, a business transformation company that delivers consulting services and technology solutions, as well as accelerates technology startups. He earned his Master of Science in Industrial Engineering at Federal University of Rio de Janeiro, with complementary studies at Carnegie Mellon University. Leandro is Vice-President at the Association of Business Process Management (ABPMP) Brazil chapter, the largest one in the world, which influences annually 15000+ BPM professionals in Brazil. He is author/co-author of the books Rethinking Management through Processes (2014) and Establishing the Office of BPM (2011).
Peter Matthijssen, MSc, CMC, LSS Black Belt is managing consultant and trainer at BiZZdesign. As a Lean Six Sigma black belt and Business Process Management (BPM) expert, he builds change capabilities in organizations around the globe. With his Master degree in Industrial Engineering & Management (University of Twente) and over 15 years of experience in the field, he helps organizations in private and public sectors to work smarter and get better results from their processes. Peter is the author of numerous books and publications on BPM and Lean management, for example 'Thinking in processes' [2011] and 'Working with Lean' [2013]. He speaks on a regular basis on international conferences on business design and change like IRM-UK and Building Business Capability.
Matthew Morgan, MBA is Head of Process Excellence at Bridgewater Associates, an investment manager with 169 billion USD in assets under management. Before joining Bridgewater, Matthew led global Business Improvement at Parsons Brinckerhoff, an engineering company with 14,000 employees and 2.6 billion USD in annual revenues. There, he developed and deployed a new process improvement function where none had previously existed and a global business management system to drive continual improvement and process standardization across many business units overseeing the firm's 150+ worldwide offices. Previously, Matthew worked as a strategy consultant at McKinsey & Company and as a Lean Six Sigma professional and operations leader at Starwood Hotels. A former Army intelligence officer, Matt has written 9 books on Afghanistan, terrorism, and related topics. He graduated with a BS from West Point and MBA from Harvard Business School.
Gilles Morin, MBA is a founder of BPMPLUS Inc. and a BPM Coach, expert and trainer. He is also a Canadian partner for BusinessProcessTrends & Associates. He has more than 30 years' experience in leading business units and businesses transformation programs, and consulting. He worked as vice-presidents and general manager position in flagship public and private organizations in the financial and business services industry. He also played key leadership roles in starting new consulting practices in change management and BPM. In the past 15 years, he has led several BPM transformational initiatives, including BPM driven IT transformations, implementation and management of 4 BPM-performance center of expertise, incubation of BPM programs and BPMS team, process driven business architecture projects, process governance and change management programs.
Chris Potts of Dominic Barrow…is a corporate strategist, speaker and writer, specializing in strategies and processes for enterprise investment. He works as a practitioner and mentor, helping executives and managers worldwide to drive the best possible outcomes from the changes they invest in. He delivers keynote speeches and intensive workshops, and has been a visiting lecturer at New York University, City University in London, and the IT University in Copenhagen. Chris is also the author of the world's only trilogy of business novels, The Fru-ITion Trilogy (FruITion, RecrEAtion and DefrICtion).
Alan Ramias is a Partner of the Performance Design Lab (PDL), a consulting, coaching and training company that specializes in organizational performance improvement and an instructor with the BPM Institute. He brings 30 years of consulting experience in the analysis, design and implementation with organizations in Asia, Europe and North America. He is a co-author of the books White Space Revisited: Creating Value through Process and Rediscovering Value: Leading the 3-D Enterprise to Sustainable Success. Before becoming a management consultant, Alan was an instructional designer, training manager and organizational development manager at Motorola. Alan joined The Rummler-Brache Group (RBG) in 1991, and led improvement projects, became a Partner and Managing Director of Consulting Services at RBG and was responsible for selecting, training and overseeing RBG's consultant teams.
Dr. Michael Rosemann is Professor and Head of the Information Systems School at Queensland University of Technology. A disruptive thinker with a digital mind and a passion for innovation, Michael
'
s work is focused on creating exciting future worlds. He is the author/editor of seven books, 250 refereed papers, Editorial Board member of 10 international journals, and co-inventor of US patents. Michael is prolific researcher of global prominence and his projects have received funding both from government and from industry partners such as Accenture, Australia Post, Brisbane Airport Corporation, Infosys, PricewaterhouseCoopers, Rio Tinto, SAP and Woolworths.
Ron Ross - is co-founder and Principal of Business Rule Solutions LLC, Executive Editor of Business Rules Journal, and Chair of the Business Rules & Decisions Conference. At Business Rule Solutions, Ron engages in presentations, consulting services, publications, the Proteus® methodology, and RuleSpeak.® Ron is recognized as the 'father of business rules.' He is the author of nine professional books, including Building Business Solutions: Business Analysis with Business Rules with Gladys S.W. Lam (2011, An IIBA® Sponsored Handbook), and the ever-popular Business Rule Concepts (2009, 1998).
Phil Short leads the IT Operations for the Canadian Division of a large privately owned global CPG company and supports other major business change initiatives in the global organization. He adapted his formal engineering education to the modern business environment and has a track record of delivering pragmatic solutions to complex business problems including a successful SAP ERP implementation and the establishment of an enduring business process governance organization. He is continuously looking to drive enhanced business performance through the appropriate use of BPM and supporting technologies. Phil has also presented at several international BPM and IT conferences on topics such as Business Process Architecture and Business Process Governance.
Andrew Spanyi's contribution to process management is widely recognized. He is a member of ABPMP's Advisory Board and an instructor with BPMInstitute.org. He was formerly an adjunct faculty member at Babson College. He is the author of dozens of articles and several books emphasizing the importance of cross-functional collaboration and a customer-oriented, process based focus. Three of his books are: More for Less: The Power of Process Management, Business Process Management Is a Team Sport: Play It to Win! and Operational Leadership. Contact Andrew at www.spanyi.com or andrew(at)spanyi.com.
James Taylor is a leading authority on applying decision management, business rules and predictive analytic technologies to improve business performance. He is the CEO of Decision Management Solutions, a full service consultancy. He works on the Decision Model Notation (DMN) standard and is a faculty member of the International Institute for Analytics. James is the author of Decision Management Systems: A Practical Guide to Using Business Rules and Predictive Analytics (2012) and co-author of The MicroGuide to Process and Decision Modeling in BPMN/DMN (2014) with Tom Debevoise and Smart Enough Systems: Smart (Enough) Systems (2007) with Neil Raden. James also blogs at www.JTonEDM.com and can be reached at james@decisionmanagementsolutions.com.
Prof.dr.ir. Wil van der Aalst is a full professor of Information Systems at the Technische Universiteit Eindhoven (TU/e). At TU/e he is the scientific director of the Data Science Center Eindhoven (DSC/e). Since 2003 he holds a part-time position at Queensland University of Technology (QUT). His personal research interests include workflow management, process mining, Petri nets, business process management, process modeling, and process analysis. Wil van der Aalst has published more than 180 journal papers, 18 books (as author or editor), 400 refereed conference/workshop publications, and 60 book chapters. Many of his papers are highly cited (he one of the most cited computer scientists in the world and has an H-index of 119 according to Google Scholar) and his ideas have influenced researchers, software developers, and standardization committees working on process support. He has been a co-chair of many conferences including the Business Process Management conference, the International Conference on Cooperative Information Systems, the International conference on the Application and Theory of Petri Nets, and the IEEE International Conference on Services Computing. He is also editor/member of the editorial board of several journals, including Computing, Distributed and Parallel Databases, Software and Systems Modeling, the International Journal of Business Process Integration and Management, the International Journal on Enterprise Modelling and Information Systems Architectures, Computers in Industry, Business & Information Systems Engineering, IEEE Transactions on Services Computing, Lecture Notes in Business Information Processing, and Transactions on Petri Nets and Other Models of Concurrency. In 2012, he received the degree of doctor honoris causa from Hasselt University in Belgium. He served as scientific director of the International Laboratory of Process-Aware Information Systems of the National Research University, Higher School of Economics in Moscow.
Stephan A. White is sometimes described as the father of BPMN. Steve has over 25 years of process modeling experience, ranging from modeling pilot workload to commercial business processes, and has been involved in most aspects of business process modeling software, from product management, design, consulting, training, and technical writing. In the last few years, he has been active in the development of business modeling standards, was the primary editor of the BPMN 1.0 and BPMN 2.0 specification.
Paul Harmon, Editor is a Co-Founder, Executive Editor and Senior Market Analyst at Business Process Trends – www.bptrends.com – a popular website that provides free information on trends, directions and best practices in business process management. He is also a Co-Founder, Chief Methodologist and Principal Consultant of BPTrends Associates, a professional services company providing executive education, training and consulting services for organizations interested in understanding and implementing business process management. Paul is the author of some 15 books, including Business Process Change: (3rd Ed.) Morgan Kaufman, 2014)
Roger Tregear, Editor—delivers BPM education and consulting assignments worldwide. Based in Canberra (Australia), Roger spends his working life talking, consulting, thinking and writing about analysis, improvement and management of business processes. He works around the world, especially in Australia, New Zealand, U.S.A., Saudi Arabia and other Arab States. He is a regular columnist for BPTrends, author of Practical Process (2013), and co-author of Establishing the Office of Business Process Management (2011). He also contributed the chapter Business Process Standardization in The International Handbook on Business Process Management published by Springer in 2010.