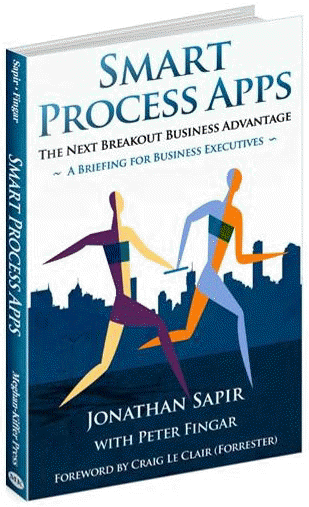 Kindle Edition available at Amazon
Discounted at Amazon via Bizanalyst
Quantity discounts available: Email us for quote.

The rise of the Smart Process App
is not just another platform shift.
It will profoundly change how people live and work,
and how companies operate.

Foreword by Craig Le Clair (Forrester)
There has been over 70% turnover for the Global Fortune G500 companies over the past 10 years. That's right. Seven out of ten companies have dropped off that list – unable to manage an accelerating pace of change that has brought – pervasive Internet connectivity, cloud-based applications, mobile devices that connect everyone everywhere, information workers who use their own tools to do corporate work on their own time, and products built with 3D printers. Not exactly a news flash, but rapid change and digital disruption is here to stay. And this brings us to Smart Process Apps (SPAs).
In 2012, Forrester analysts covering mobility, social, and Business Process trends, started seeing the emergence of a new software market. We characterized the last decade as a near obsession with software platform approaches like CRM, ERP, and Data Warehouses that, much like the relative that stays too long, consumed budget, skills, and mindshare. These systems are the transactional backbone of most enterprises. But they struggle to address "invisible" and untamed processes (those that cross departmental boundaries, involve humans, and weave in and out of core systems). But it's not their fault. They were designed for an era when companies could rely on a sustained competitive advantage with predictable and stable events, and not for the increasing volume of the zillion less predictable exceptions of today. For many enterprises 75% of their IT budgets are consumed by their care and maintenance. This is not sustainable as the world has shifted to the "Age of the Customer" driven by mobile and social media trends.
We became convinced that something new had to emerge to close this gap, something that had a foot both in the new and old worlds. We called them Smart Process Apps — and forecasted the market to reach $34 billion by 2015.
Breaking the SPA handle down is helpful; "Smart" means charged by advancing analytics and interconnecting knowledge workers; "Process" means (unlike most mobile apps today) they connect to core systems and the business processes and are fueled by the agility of BPM and Case Management, and "Apps" means that the process starts from a smart device or tablet. Smart process apps have caught the attention of business executives and the IT community.
But, here's the real problem. Our workers have changed, and so have our customers. Enterprises now need solutions that allow customers and workers to accomplish routine transactions on mobile devices that are always connected, and where process boundaries have been pushed out to the customer and to those serving the customer at the point of service. Fewer processes start at the company's firewall or with events received in the back office.
SPAs emphasize social data, immediacy, context, and ease of use to help companies re-establish a more human connection. In an ironic twist, our obsessive connectivity driven by consumer technology has led to a greater dependency on technology, and less dependency on clerical staffs. For years, process improvement efforts have automated processes to the point that people are often no longer involved. Yet many enterprises, taking this automation to an extreme, have created frustrating, bewildering islands of automation without any human touch for customers. Leading companies will soon differentiate on the personality and quality of a more personalized experience (automated and human), and SPAs will play a key role.
How do SPAs help? They float above, but interact, where needed, with core business systems. They are lighter, easier to change, assume mobile, and use big data, analytics and human collaboration to predict events and drive actions. And unlike mobile apps, they integrate and leverage core business systems. The Apple App Store has thousands of business apps that are barely used. The main reason? They lack a process layer. They do not interact well with existing information and processes. So enter SPAs and a new era of competitive advantage in business.
– Craig Le Clair, V.P. and Principal Analyst, Forrester Research
Watch Le Clair's introduction to Smart Process Apps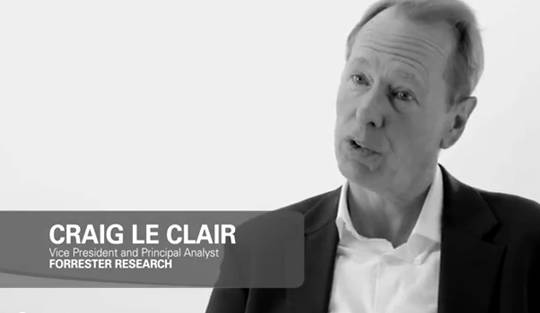 Although this book is written as a crisp briefing for business executives, it also includes two technical appendices that provide guidance for SPA builders and IT staffs.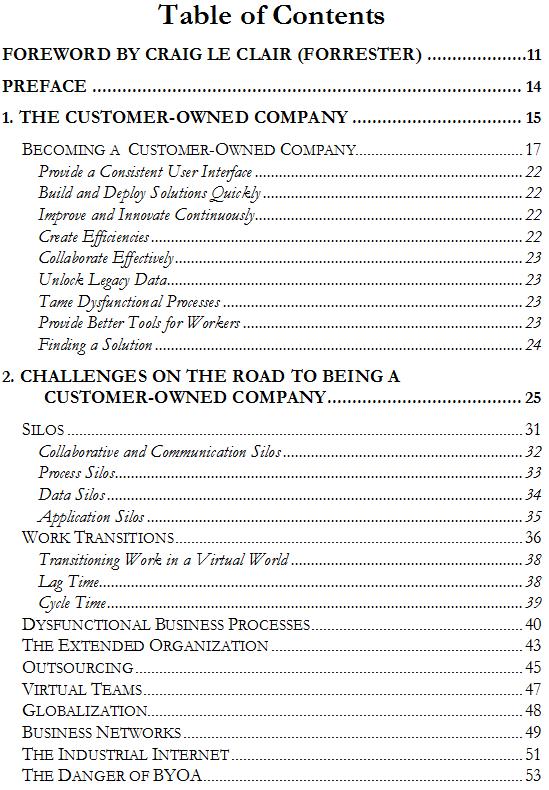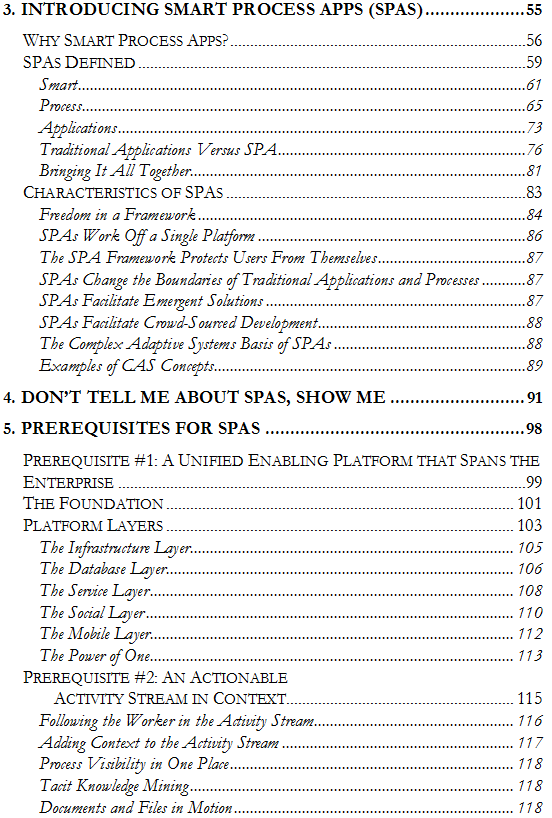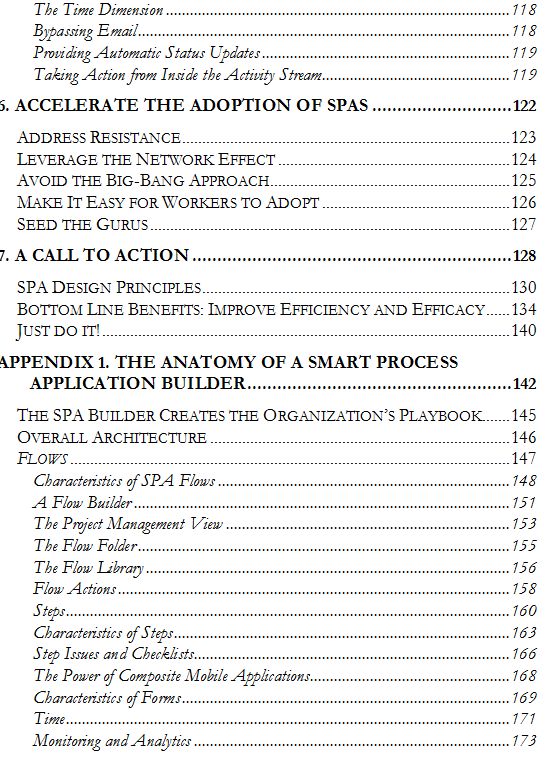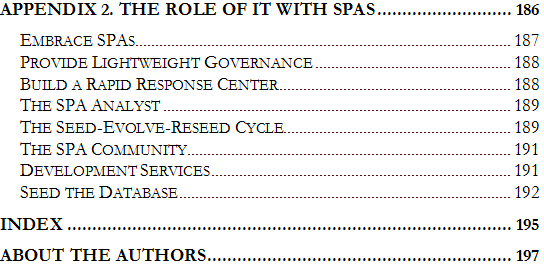 Jonathan Sapir has over 30 years experience helping clients leverage information technology to build their business. After starting out as a system engineer for IBM, Jonathan built a successful mid-size consulting firm in Chicago in the 1990's, then grew a software product development company which was acquired in 2007.
Returning to consulting, Jonathan started a new company, SilverTree Systems, Inc., to help companies migrate to the Cloud.
Jonathan has previously written two well-received books: Igniting the Phoenix: A New Vision for IT in 2003, that foretold many of the ideas that have become reality, especially in the areas of enterprise social software, cloud computing, and self-service application development; and Power in the Cloud: Using Cloud Computing to Build Information Systems at the Edge of Chaos in 2008, that looked at building information systems in the context of complex adaptive systems theory.
www.silvertreesystems.com

Peter Fingar, industry analyst, author, management advisor, former college professor and CIO has been providing leadership at the intersection of business and technology for over 40 years. Peter is widely known for helping to launch business process management (BPM) with his book, Business Process Management: The Third Wave. He is a sought-after keynote speaker and this is his latest of 14 influential books. As a former CIO and college professor, Peter is equally comfortable in the boardroom, the computer room or the classroom.
Peter has taught graduate computing studies in the U.S. and abroad. He has held management, technical and advisory positions with GTE Data Services, American Software and Computer Services, Saudi Aramco, EC Cubed, the Technical Resource Connection division of Perot Systems and IBM Global Services.
Peter has developed technology transition plans for clients served by these companies, including GE, American Express, MasterCard and American Airlines-Sabre. In addition to numerous articles and professional papers, he is an author of twelve landmark books. Peter has delivered keynote talks and papers to professional conferences in America, Austria, Australia, Canada, China, The Netherlands, South Africa, Japan, United Arab Emirates, Saudi Arabia, Egypt, Bahrain, Germany, Britain, Italy and France. www.peterfingar.com