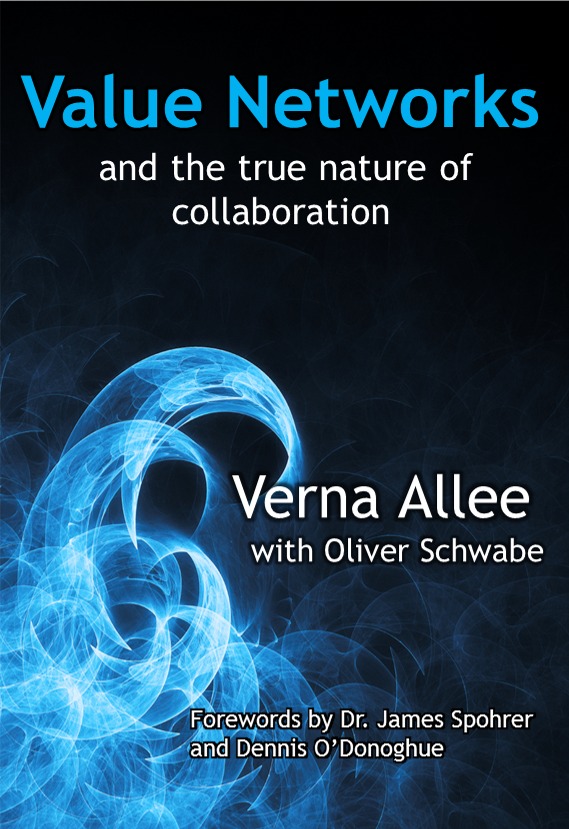 Order Print Edition from Amazon.
Order Kindle Edition from Amazon.
Order Print Edition from Barnes&Noble.

Work life is completely changing as social networking and collaboration platforms allow a more human-centric way of organizing work. Yet work design tools, structures, processes, and systems are not evolving as rapidly, and in many cases are simply inadequate to support the new flexible and networked ways of working.
Value Networks and the true nature of collaboration meets this challenge head on with a systematic, human-network approach to managing business operations and ecosystems. Value network modeling and analytics provide better support for collaborative, emergent work and complex activities.
With examples from everyday work teams through complex large-scale networks, this book simply and coherently lays out the new basics of collaborative work design and value creating networks. It explains the
underlying concepts and shows how to map, analyze, and leverage value networks in a way that supports high social values and ethical practices and achieve fast business results.
--------------------------------------------------------------------------
This book does an admirable job of explaining how to use standardized languages (like OMG's Value Delivery Modeling Language, or VDML)to map value creation, and therefore belongs on the bookshelf of every manager that cares about deep understanding of his or her organization, how the organization deals with suppliers & customers, and how the organization competes.-- Dr. Richard Soley, CEO The Object Management Group (OMG)
Forewords
Foreword by Dr. James Spohrer, IBM
To begin to understand the true nature of collaboration, start by thinking of all the different "hats" we wear day in and day out throughout our lives. At home, at work, and most certainly while out and about, we wear whatever "hat" is needed to get things done, depending on the context as well as what those around us expect at any given moment. This is the essential starting point of the world view that we are invited to adopt as we read this latest book by a prolific author, thinker, and business practitioner, Verna Allee who has earned a loyal following among academics and government policy makers as well.
We live our lives from start to end in value networks, and understanding and improving these networks is what this book is all about. The success of our species depends in large part on our natural abilities to form collaborative networks ("role based exchange networks") to get things done, but the complexity, scale and speed of today's networks constantly forming and reforming, are challenging traditional approaches that define work in terms of job roles, organization charts, and process modeling and optimization.
The premise of the book is that learning a network modeling approach expands the capability of people to work as networks. Make no mistake, the factory approach has been very successful, but people acting as part of a machine designed by others has its limits when business leaders desire a highly agile, adaptive, innovative workforce. This outcome requires a culture where people understand their roles in value networks, their interactions with other people in other roles, and the tangible and intangible deliverables that feed into a wide variety of performance indicators.
Those readers familiar with Richard Normann's classic "Reframing Business: When the Map Changes the Landscape" will no doubt be reminded of the concept of value creation systems. I know I was in several places. However, this book goes beyond in exciting and timely new directions, advancing theory and also delivering on the practical step by step examples, definitions, visualization techniques, tips, warnings about pitfalls, FAQs, methods for representing data, essentially everything a practitioner needs to lead group sense-making activities to map value networks and perform value network analysis. Helping the reader avoid category errors is one of the theoretical contributions of this book.
Value networks are visually appealing, and the diligent reader will be rewarded with diverse mapping examples and advanced analysis case studies. Chapter 3 provides examples of mapping results, including PharmCo, Journalism That Matters, AgResearch, Strategic Alliances, Technology Provider Business Model, and Training Design. Chapter 6 provides case studies of advanced applications of Value Network Analysis (VNA), such as managing highly complicated work at Boeing, procedure scheduling in healthcare, macroeconomic and intellectual capital indicators in regional innovation networks, intangible interactions in drug discovery, global financial system modeling and performance, optimizing sales group performance in the domain of intellectual capital, developing strategies for global customer support at Cisco, and the PharmCo exemplar analysis.
Let's face it, there is a lot to know about creating value in business and society, and often times it is useful to rebuild what we believe we already know from a fresh perspective. The material in this book offers that fresh perspective and moreover guides us carefully through the rebuilding from fundamentals to sophisticated analysis techniques. The book is so well organized, that for me spending a day becoming more conversant with it was a true delight. While there is still much I need to learn about VNA, and there is a great deal of work required to relate VNA to other bodies of knowledge, such as service science, service-dominant logic, viable system approach, process control networks, work systems method, many-to-many service networks, service ecosystems, and more, the boundaries of that inquiry are now much clearer, and I am more optimistic than ever about future possibilities for improving value co-creation interactions in business and society. My hat is off to Verna Allee and Oliver Schwabe for this inspiring and comprehensive guide to value network mapping and analysis.
-- Dr. James ("Jim") C. Spohrer Director, IBM University Programs (IBM UP) and Cognitive Systems Institute
Foreword by Dennis O'Donoghue, Boeing
Einstein once said: "Problems can't be solved at the same level of thinking that created them." In today's world, his words may be more poignant than when he first uttered them. The world we live in is increasing in complexity at an ever increasing rate. Wireless communications and Social Media, made possible by cheap, easy and seemingly ubiquitous access to the internet, have changed the way people connect, collaborate, and create. Across the globe, people are reaching out to others who share their views, dreams and aspirations, and are choosing to work together on things that really matter to them. People who have never met in person are sharing ideas and information, in an effort to contribute to something greater than each individual. This is a radically new level of thinking.
This ability to quickly and easily connect with multiple people anywhere in the world has interesting implications for businesses, and large corporations in particular. The same technology that enables people to quickly connect on a global scale, also enables employees to quickly connect to their co-workers, regardless of where they all may be physically located. Employees, acting with the best of intentions, are creating better ways to do their work. They are collaborating and innovating, many times unbeknownst to senior management. In fact, this new world of virtual collaboration can sometimes fly right in the face of the corporation's long held beliefs of how work should be planned, budgeted and executed.
Large corporations, with their bureaucratic policies, procedures and hierarchical, "top-down" directed style of management, may find it more and more difficult to keep up with the virtual collaboration that goes on at the working level. Senior leaders, if they are aware, will soon discover that many of the long established procedures that direct how employees do their work, no longer reflect how work is REALLY getting done. How then, is a leader of a large organization supposed to reconcile the realities of the working level with the corporation's policies and procedures? This was the situation I found myself in when I took over as Vice President of Boeing's laboratory and flight test division in 2007.
The test organization had come together over a period of 15 years from various parts of the enterprise. Each sub-group showed up with its own processes and tools, and most importantly, its own culture. Interestingly, no one had taken the time to integrate all of the disparate processes together into a coherent set of processes that would work across the "test value stream." The result was that there were process gaps and overlaps, which ultimately led to confusion and inefficiency. The employees at the working level, seeing the gaps, would work together in their own small teams to develop "workarounds.". Unfortunately, these small teams tended to keep the knowledge of the workarounds to themselves, resulting in something I like to call "process collisions"! In some cases these small teams actually sub-optimized the flow of work, driving down productivity. And while this drop in productivity up until this time had not had a noticeable impact on the company's bottom line, our world was about to change. As we were facing the largest flight test workload in Boeing's long history, we knew the system by which we were conducting our testing had to dramatically change. But where to start??
We became aware of Verna Allee and her work in Value Network Analysis (VNA) almost by accident. We had already taken the first step towards organizational transformation by developing Causal Loop Diagrams (CLDs). These CLDs helped up to understand the forces and inter-relationships that drove the behaviors and results we were seeing in the system we called the Test Operations System (TOS). Now that we understood what was driving the "current state" of TOS, we needed a way to make visible the underlying network of roles and relationships between the people working in the system. Our hope was that by making the current state network visible, it would facilitate evolving the system to our desired "future state," one that was dramatically more productive.
One of our "Systems Thinking" facilitators casually mentioned a Boeing employee by the name of Glenda Turner, who worked in the Defense, Space & Security Division of Boeing. Glenda was certified in VNA and it was Glenda who first introduced us to the principles of this method. Almost immediately we grasped the potential of this intriguing approach, and it wasn't very long at all before we were inviting Verna Allee to visit us in Seattle. Eager to move forward, we quickly devised a plan to conduct as many as six simultaneous Value Network Mapping (VNM) exercises, covering each of the major value stream segments of the TOS. The approach itself was very straightforward. We gathered a representative sample of people who did the work and ask them each to tell the story of how the work was really getting done in his or her part of the TOS. As employees told their stories, they drew out or "mapped" their role and the transactions between their role and other roles in the system. The beauty of this approach is that it stimulated dialogue (sometimes "spirited dialogue") among the employees in the group. This dialogue often led to new learning about how one employee's actions were impacting another employee's role somewhere else in the value network. And it also gave the group the opportunity to evaluate whether the transactions between roles were really adding value.
It only took 10 to 12 work scenarios before we had an accurate picture of the current state of the system. Armed with this knowledge, we then invited a second set of employees, none of whom had ever seen a value network map (VNM), to be part of a 150 person simulation of a "day in the life" of flight test. The teams were shown the current state VNMs and were then given specific scenarios to work through. Each scenario reflected the typical events seen during the course of our daily flight test operations. We asked them to draw their way through the VNM, role by role, transaction by transaction, until the work scenario was completed. And here is where something very unexpected happened: Without guidance from us, these employees began to re-negotiate roles and evaluate the value of each transaction between roles. We could hardly believe what was happening. The teams were actually evolving the current state VNM to their desired future state—a state that was much more integrated and efficient. And they did it without any direction from us, their senior leaders!!
How successful was the new system? Ultimately, our productivity in preparing and releasing our test airplanes for flight testing each day increased by nearly 80%. More importantly, our operations became more stable and predictable. And in the high-risk world of flight test operations, predictable and stable operations lead to safer operations. It's hard to put a price on safety!
We learned much along the way. We found that focusing dialogue on roles instead of processes became a way of integrating across functional boundaries. Instead of people defending their functional processes, the dialogue around roles and how those roles and transactions add value to the system, broke down the functional barriers so prevalent in large corporations, and allowed people to integrate their operations above the process level, i.e., at the system level. This eliminated the process collisions, gaps, overlaps I talked about earlier. We also learned that drawing the future state VNM enabled people to see how they would add value in the new system, helping to erase their fear of change. Finally, making the network of roles and transactions visible enables employees to see "the whole system" not just their part of it. With the whole system in view, employees can better see how their actions can impact the performance of the system.
This brings me back to Albert Einstein. The challenges facing large organizations today won't be solved by the same kind of thinking and awareness that created them in the first place. Leaders at all levels of the organization will have to shift their thinking and raise their level of awareness to the "system level." By thinking systemically, by bringing the whole system into view, by understanding how the network of connections is driving the evolution of the business system, by tapping into and leveraging the collaboration and creativity of their employees—only then will leaders be able meet the challenges of an ever more complex world. In VNA, we found a useful method to help us do exactly that. -- Dennis P. O'Donoghue Vice PresidentBoeing Test & Evaluation
Table of Contents
FOREWORD BY DR. JAMES SPOHRER, IBM 9
FOREWORD BY DENNIS O'DONOGHUE, BOEING 11
PREFACE 13
ABOUT THIS BOOK 15
1: VALUE NETWORKS 17
INTRODUCTION 18
THE NATURE OF COLLABORATIVE WORK 23
ALL WORK IS NETWORKED 26
WHERE VALUE NETWORK MODELING HELPS 28
2: MAPPING THE VALUE NETWORK 33
VALUE NETWORK MAPPING BASICS 33
DEFINING SCOPE AND BOUNDARIES 35
ROLES AND PARTICIPANTS 38
TRANSACTIONS AND DELIVERABLES 44
TANGIBLES AND INTANGIBLES 48
SEQUENCING 51
CASE STUDY: PROCEDURE SCHEDULING IN HEALTHCARE
PROJECT―SEQUENCING DELIVERABLES 51
FACILITATION TIPS 54
3: EXAMPLES OF MAPPING 57
PHARMCO 57
JOURNALISM THAT MATTERS 60
AGRESEARCH – BRINGING INNOVATIONS TO MARKET 63
STRATEGIC ALLIANCES 65
TECHNOLOGY PROVIDER BUSINESS MODEL 66
TRAINING DESIGN AND EVALUATION 67
4: ANALYSIS BASICS 71
EXCHANGES OF VALUE 71
OPTIMIZING VALUE FLOWS 76
REALIZING VALUE IMPACT WITHIN THE NETWORK 83
NETWORK VALUE CREATION 87
PERCEIVED VALUE 92
5: ADVANCED ANALYSIS 97
PROCESS, WORKFLOW, AND VNA 97
VALUE NETWORK INDICATORS 101
NETWORK INDICATORS SUMMARY TABLE 106
WEBSITE ANALYSIS OF SKANE DEVELOPMENT NETWORKS 108
PREDICTIVE ANALYTICS FOR WORK AT RISK 113
COST / BENEFIT ANALYSIS AND ROI 116
PERFORMANCE INDICATORS 119
6: SELECTED CASE STUDIES 123
THE BOEING COMPANY 124
PROCEDURE SCHEDULING IN HEALTHCARE 126
REGIONAL INNOVATION NETWORKS 132
DRUG DISCOVERY VALUE NETWORK 139
GLOBAL FINANCE SYSTEM INDUSTRY ANALYSIS 141
OPTIMIZED FOR GROWTH: SCALING A SALES ORGANIZATION 146
CISCO SYSTEMS CUSTOMER INTERACTION NETWORK 152
7: DEEP DIVE INTO THE METHODOLOGY 161
THEORY BASE FOR VALUE NETWORK ANALYSIS 162
VALUE CONVERSION 165
HISTORY OF APPLIED VNA 168
SNA / VNA / ONA 172
VALUE NETWORK MATURITY MODEL 177
INTANGIBLE VALUE DOMAINS 179
FINAL THOUGHTS ON LEADERSHIP IN NETWORKS 181
GLOSSARY 187
ABOUT THE AUTHORS AND CONTRIBUTORS 195

About the Authors

Verna Allee, M.A., President of ValueNet Works, is a pioneer in value networks, intangibles, knowledge management, and new business models. She has more than twenty years of proven business results as a trusted advisor to hundreds of companies and organizations.
Verna is a Fellow of the World Business Academy, advisor to the European Commission, and sits on a number of Advisory and Editorial Boards including Hazel Henderson's Ethical Markets television series. She is the author or editor of four books and more than 50 industry articles and papers and has addressed many industry and business conferences.
Ms. Allee holds an M.A. in Organizational Leadership and Human Consciousness from JFK University and a B.A degree in Social Science and International Business from the University of California, Berkeley. She is a visiting lecturer at many universities around the world, most notably at Oxford University, Marshall School of Business at USC (Los Angeles), and Hanken Swedish School of Business.
Notable among her customers are The Boeing Company, Cisco, Telenor (Norway), Symantec, Alcatel-Lucent, British Columbia Academic Healthcare Council, AgResearch (New Zealand), VINNOVA (Regional Development in Sweden), The European Commission, Environment Canada, Mayo Clinic, Petrobras (Brazil), Kimberly-Clark, Chevron, Motorola and Eli Lilly. www.valuenetworks.com

Oliver Schwabe, M.Sc., is a seasoned business professional working on the interface between information systems and business, helping to translate advanced organizational theory and strategy into sustainable working practice and pragmatic technology solutions. As a trusted advisor at all organizational levels Oliver supports organizations in moving to paradigms suited to an economy based on networks and intangibles.
Oliver has worked extensively as facilitator and faculty at graduate and undergraduate levels for a number of universities with a focus on IT transformation, change management, network analysis, supply chain management and the leveraging of new technologies for business benefit. Oliver has furthermore developed and delivered numerous coaching offerings for thought leaders thus helping to translate theory into practice. As Chief Technology Officer of www.valuenetworks.com, Oliver headed up the team developing the web-based version of the value networks methodology.
Oliver holds an M.Sc. degree in International Business from the Keller Graduate School of Manage-ment, a B.Sc. degree in Human Resource Management from the New School and is currently PhD re-searcher at Cranfield University with a focus on whole life-cycle cost uncertainty quantification of advanced aerospace propulsion systems.
Eurofocus International Consultants