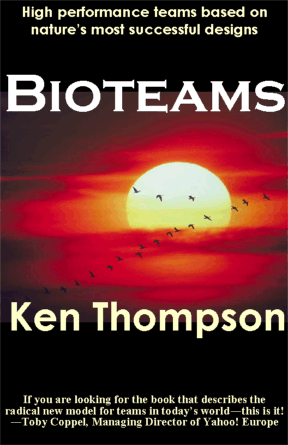 Bioteams and bioteaming are the most appropriate ways to think about
teams, networks and organizations in today's interconnected world.

Using the principles of bioteaming, command-and-control leadership gives way to connect-and-collaborate, where every member of an organizational team is a "leader." In nature and in bioteams, leaders don't give commands, they transmit information, trusting the team members' competencies and gaining accountability through transparency. True team leadership is about cooperation, not control. It's about acting on opportunities, and letting others lead the leader when they know best about getting stuff done.

What They Are Saying

If you are looking for the book that describes the radical new model for teams in today's world―this is it!
--Toby Coppel, Managing Director of Yahoo! Europe

Bioteams is a handbook for a new business model in which ideas are no longer developed behind closed doors, but across company boundaries and amongst diverse groups of people. It is this spirit of collaboration, not competition that will be critical if we are to address the major social and economic challenges that lie ahead. --Jonathan Kestenbaum, CEO, The National Endowment for Science, Technology and the Arts and Board member of the Design Council, the UK Technology Strategy Board and the Royal Shakespeare Company

When I heard that Ken Thompson was writing a book to support the concept of bioteams I was very excited. To have a book of proven rules, techniques and ideas with examples that enable teams to be more agile, more effective and overcome the natural latency in responding to business situations is exhilarating.
--Charles Bess, EDS Fellow

Ken Thompson's mix of decades of practical business experience, a new idea about the way teams work together online, and his insights and analogies from nature's teams give his writing a freshness and a new perspective that I find compelling. He's not an expert handing down pronouncements; instead he's an active, still curious, researcher on the track of something new and important.
--Kevin Jones, Former Columnist at Forbes, Principal, Good Capital

There is a spectre haunting the world: the spectre of peer to peer collaboration. This is how trillions of social insects, arguably the most successful species on the planet, organise themselves. Ken Thompson not only describes how, but also what happens when human beings start to work this way and the transformation it makes to the teams in their enterprises, communities and causes.
--Leon Benjamin, Author of Winning by Sharing and co-designer of the social networking site, Ecademy.com

In Bioteams, Ken Thompson has identified that the use of nature's most efficient collaboration techniques can enable dynamic and productive changes in both consumer and enterprise peer interaction. In fact, I was an early adopter of Ken's mind-expanding theory when I designed Inequity, my latest collaborative innovation and technology transfer venture, using bioteaming principles.
--Cory Sorice, Director of New Business Development, Black & Decker Corporation and Co-Founder of Invequity

Arguing that nature offers the best inspiration for creating effective teams, Bioteams offers solutions to the "command and control" shortcomings of the traditional organizational teams approach. Thompson describes key bioteaming implementation techniques based on tested, real-life applications, from Fortune 500 companies, to sports teams, to wikis. Bioteams is the innovative solution to your organizational challenges. But don't just read it--use it!
--Patrick Cannon, Ph.D., The Patrick Cannon Group


Description
The mark of the human kind is the ability to manipulate information outside the human body. The mark of a winning organization is the ability to form high performance teams.
Got a team you can count on? You'd better! To succeed in today's dynamic, technology-enabled environment, you must be able to function in and through teams. Bioteams offers a vision of what successful teaming experiences look like in the interconnected world of the 21st century. More than a book about team dynamics, Bioteams offers stories, principles, and guidelines showing how any individual can successfully participate in almost any work or learning-related situation faced today.

Bioteams reveals, how business enterprises, supply chains, high-tech ventures, public sector organizations and not-for-profits are turning to nature's best designs to create agile, high performing teams.

With the emergence of global Internet collaboration, social networks and mobile communications, the very meaning of the word "team" has changed--changed utterly. If we stick with our current "command-and-control" approach to teams, we will not be able to meet the growing needs of our customers or our communities in the high-change global economy.

We need a way to manage our teams that fits the new Internet environment. We need a model that has been tested in the most demanding of environments. We need more than just a model. We need a detailed "how-to" guide for creating business networks, mobile workgroups, and virtual communities.

Bioteams satisfies all these requirements. It offers a way to build exceptionally agile, high performing teams based on a thorough examination of the key principles that underpin nature's most successful groups. And, it includes a complete set of practical techniques that have been proven with real teams in the field, whose stories are described in a comprehensive set of case studies. Want to build a winning team? Read Bioteams --then act on what you've learned.
Available from



For corporate and educational orders, please email
info @ mkpress.com
Visit Ken's Bioteams Blog



www.bioteams.com
<![if !vml]>

<![endif]>
Dr. Humberto Maturana and Dr. Franciso Varela, two Chilean biologist/ neuroscientists, in their groundbreaking work on Self-Organizing Living Systems chose to illustrate their core concepts with a little graphical symbol with each component having a very significant meaning:
<![if !vml]>

<![endif]>
The Bioteams logo visually reminds us to always keep three very important things in mind as we design team interventions, processes, roles, behaviors, strategies, tools and enabling technologies:
1. All Bioteams are Self-Organizing Networks
2. All Bioteams have Nervous Systems
3. All Bioteams are Communications Systems
Bioteams and bioteaming are the most appropriate ways to think about teams, networks and organizations in today's interconnected world.
Foreword -- Dr. Curtis Bonk
To succeed in work environments today, you must be able to work in teams. In response, Bioteams offers a vision of what such successful teaming experiences look like in the twenty-first century. As synectics research has shown for decades, lessons and patterns from nature offer clues and insights into creative new products, procedures, and problem solving. With Bioteams, however, such research insightfully extends into team performances and interactions that lead to such new product inventions and effective business practices.
Ken Thompson not only lays out the research and theory, as well as an integrated set of principles related to bioteams, he backs that up with rich and insightful examples, stories, and experiences. The forms and types of bioteams covered in this book are highly intriguing and pull one into each page and chapter wanting to learn more.

Bioteams is a book about teams for teams, but it is more than that; it offers many stories, principles, and guidelines for how any individual can successfully participate in most any work or learning-related situation faced today and on into tomorrow. As such, it extends many recent management principles to the world of virtual networked business teams in which nearly everyone now participates to some degree. This book offers a chance not only to understand a wide range of interesting success stories in teaming, but outlines a set of principles and procedures to easily create your own successes.

When reading Bioteams, you will not solely think about the teams in which you participate, but in your role within them. To what degree are you performing as a bioteam member should, thereby, foster team creativity, innovation, and success? If you are not sure, read this book and quickly find out. If you think you know, read it anyway to find out more about how you can enhance your role.

This is the age of employee participation, multiple leaders and yet no leader, and prompt communication, as well as the technologies that make all this possible. In this intriguing book, Bioteams, Ken Thompson brings many separate management movements and strands together and makes sense of them. His depth and breadth of knowledge in this area is fascinating.

--Curtis J. Bonk
Professor of Instructional Systems Technology, Iniana University, Author, and President of CourseShare, LLC and SurveyShare, Inc.

Foreword -- Jay Cross
The biggest challenge businesses today face is unlearning what was successful in the industrial age and learning how to prosper in the network era. Most companies are somewhere between being stuck in the past and embracing the future. Think of organizations with industrial-age beliefs as ice, because they are rigid. In addition to their orientation to control, ice organizations think business is a zero-sum game; for me to win, you must lose. They have a black-and-white view of the world; things are rigid; the fundamentals still apply. Secrecy is competition advantage; hoarding information is the norm. Water companies are those that embrace the future. To them, reality is the unpredictable result of complex adaptive forces. Nothing's perfect; stuff happens. Cooperation is a win-win game. Relationships are all-important, and the more open you are, the easier it is to form them.

Ken Thompson has written an important book, a guidebook to help companies move from vestiges of the industrial age to the efficiencies of the network era.
Companies are not machines; they are living organisms. Yesterday's organizational teams are giving way to organic, self-organizing bioteams. Drawing on lessons from biology, ecology, and the natural world, Thompson provides wise counsel for setting up and nurturing bioteams. Here's the bottom line: "After 3.8 billion years of research and development, failures are fossils, and what surrounds us is the secret to survival. Like the viceroy butterfly imitating the monarch, we humans are imitating the best and brightest organisms in our habitat. We are learning, for instance, how to grow food like a prairie, build ceramics like an abalone, create color like a peacock, self-medicate like a chimp, compute like a cell, and run a business like a hickory forest."

Thompson believes that today's managements misunderstand the dynamic and living nature of the team as an entity over and above its membership. The natural attributes of bioteams include:
- Collective Leadership. Any group member can take the lead.
- Instant Messaging. Instant, whole-group, broadcast communications.
- Ecosystems. Small is Beautiful -- but Big is Powerful.
- Clustering. Engaging many through the few.

Thompson provides a prescription for managing bioteams naturally. Most of his advice applies equally well to the enterprise the bioteams collectively support. For example, managers should communicate information, not orders: "Give me the dots but let me connect them for myself." It's the team's job to find and process new information.

You plant a seed and expect nature to do the rest. Give workers the resources and challenge them to do what's required. Rather than give them an extra push, enable them to achieve accountability through transparency, not permission.
Thompson wants to define the team in terms of "network transformations" -- not outputs. I think of this as "Trust the force, Luke." As Henry Ford once said, "If a man thinks he can do something or that he can't, he's right."

The conclusions about bioteams are bolstered with examples from high performing banks, manufacturers, sports, and more. Thompson highlights the future norms of doing business: transparency, trust the team, shared glory, incremental improvement, and clear accountability.

The core messages of Bioteams provide a guide to the managerial future. We are all leaders. We must keep one another informed in real time. We trust living systems to self-organize.

Thompson describes the best practices of business in the network era. Read this book if you want to know what's going on. Ironically, these are not really Thompson's rules; they are Mother Nature's.

--Jay Cross
CEO, Internet Time Group, LLC, and author of
Informal Learning and Implementing E-Learning

Table of Contents
FOREWORD -- DR. CURTIS BONK
FOREWORD -- JAY CROSS
PREFACE

PART 1: BIOTEAMS INTRODUCED
1. BIOTEAMS AND BIOMIMICRY
2. ORGANIZATIONAL TEAMS JUST BECAME EXTINCT
3. WHAT NATURE TEACHES US ABOUT TEAMS
4. HOW CAN WE DO BETTER THAN NATURE'S TEAMS?
5. AN OVERVIEW OF BIOTEAMING
6. BIRDS DO IT AND GREAT TEAMS DO IT, TOO
7. THE STATE OF BIOTEAMING

PART 2: BIOTEAMING -- THE DETAILED MODEL
8. HIDDEN BELIEFS OF HIGH PERFORMING TEAMS
9. THE BIOTEAMS LEADERSHIP ZONE
10. THE BIOTEAMS CONNECTIVITY ZONE
11. THE BIOTEAMS EXECUTION ZONE
12. THE BIOTEAMS ORGANIZATION ZONE

PART 3: THE MECHANISMS OF BIOTEAMING
13. PHEROMONE-STYLE COMMUNICATIONS
14. FOUR UNIQUE WAYS BIOTEAMS GET THINGS DONE
15. THE SIX KEY PROCESSES IN A BIOTEAM
16. THREE COMMUNICATION PATTERNS IN BIOTEAMS
17. THE 4 TYPES OF TEAMWORK IN A BIOTEAM
18. THE THREE TYPES OF RECOGNITION IN BIOTEAMS
19. THE THREE RINGS OF COMMITMENT IN A BIOTEAM
20. USING "LIVING SYSTEMS THEORY"
21. "REQUISITE VARIETY" IN BIOTEAMS
22. ECOSYSTEMS AND BIOTEAMS

PART 4: MEASURING BIOTEAM SUCCESS
23. A TEAM PERFORMANCE IMPROVEMENT SCORECARD

PART 5: SEVEN KEY BIOTEAMING TECHNIQUES
24. INTRODUCTION TO THE BIOTEAM TECHNIQUES

PART 6: BIOTEAMING CASE STUDIES
25. OVERVIEW OF CASE STUDIES

PART 7: FUTURE DIRECTIONS IN BIOTEAMS
26. BIOCROWDS -- THE NEXT EVOLUTION

INDEX -- NOT
REFERENCES
ABOUT THE AUTHOR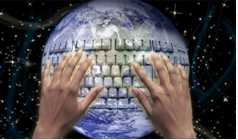 Companion Book
The Networked Enterprise:
Competing for the Future Through Virtual Enterprise Networks
www.mkpress.com/TNE