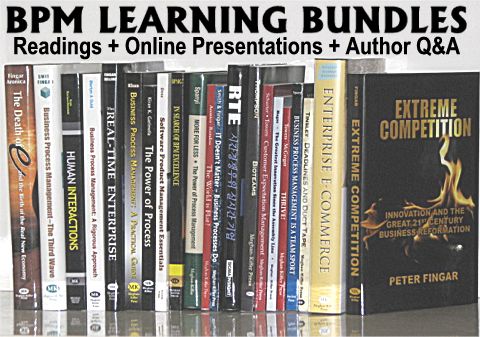 The BPM Learning Bundles wasn't our idea. Meghan-Kiffer Press was contacted by a large European company facing budget cuts, just as it was struggling to get its staff up to speed on business process management. The company wanted more than just books, they wanted access to related materials and a follow-up Q&A session with a recognized expert and thought leader.
We bundled these resources together.
Problem solved!

BPM Learning Initiatives for Tight Times
Many companies wanting to get their staff members up to speed on Business Process Management (BPM) opt to send a team to a conference / workshop.
But considering the skyrocketing cost of travel, budget cuts, and conference/ workshop fees that run into the thousands, you have a real problem in today's economy. We've estimated over $3,800 travel and fees for one person ($38,000 for a team of ten, $76,000 for a team of 20) for one conference/workshop.
Then consider the cost of our BPM Learning Bundles.
Problem solved! ... for as little as $595.

Once your team members have reviewed our landmark books, viewed the online presentation content, and discussed the materials internally, they'll then have access to a full one-hour Q&A session with one of our internationally recognized experts via Skype or conference call.
Appoint your team leader --and get started today.
---
Bundle 1: Complete BPM Library
(1 copy each of the 20 BPM books books in our library)
+ 1 Hour Q&A with BPM Expert, Peter Fingar, for your whole team
+ Online Access to BPM Keynote, based on material keynoted at a Gartner BPM Summit, for your whole team,
all for $595. Additional sets of books discounted 40%.

Bundle 2: BPM: The Third Wave (20 copies)
+ 1 Hour Q&A with BPM Expert, Peter Fingar, for your whole team
+ Online Access to BPM Keynote, based on material keynoted at a Gartner BPM Summit, for your whole team,
all for $795. Additional sets of books discounted 40%.

Bundle 3: Extreme Competition (20 copies)
+ 1 Hour Q&A with BPM Expert, Peter Fingar, for your whole team
+ Online Access to BPM Keynote, based on material keynoted at a Gartner BPM Summit, for your whole team,
all for $595. Additional sets of books discounted 40%.

Design Your Own Reading and Q&A Bundle
Review our selection of books at www.mkpress.com and email
Ms. Scottie Jacob for a quote: sjacob (at) mkpress.com
To order a BPM Learning Bundle, contact us:
orders (at) mkpress.com


Meghan-Kiffer Press,
Tampa, FL USA
Innovation at the Intersection of Business and Technology
Meghan-Kiffer Press Home
---