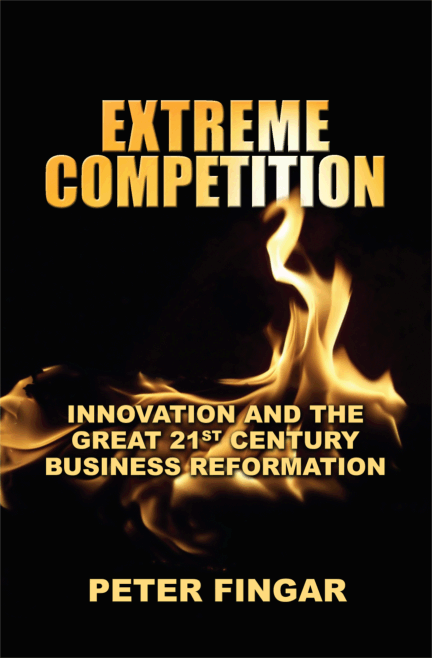 Watch an 11-minute overview of
(for the full 40-minute presentation, contct us)
Extreme Competition Wake-Up Call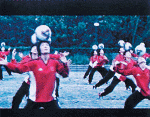 Executive Summary
8 Pages with Pictures


Listen to a 10-min interview at
Central Valley Business Times



Read the Cover Story in CIO magazine
Competition Gets Extreme



The Book's Press Release
(1 page)


There are some fierce new competitors on the block, ready to engage your company, and you personally, in extreme competition. In this riveting new book, Peter Fingar and his colleagues from around the globe sound a penetrating wake-up call to governments, companies, organizations, and individuals alike. Bringing great urgency to the book's pages, Fingar makes it crystal clear that we are not on the brink of a great transition -- we've already crossed the threshold to a new economic world order. With precision, insight and clarity, he reveals the key drivers and new realities of extreme competition that are hidden in plain sight. This book begins where Thomas Friedman's popular book, The World is Flat, leaves off, but spares readers from Friedman's grandiloquent prose, and offers concrete suggestions for action. This thought-provoking book is the definitive guide to winning in the new age of global competition.
To distill the great 21st century business transformation and what it portends for businesses and individuals, I decided to open up the screen on my desktop and reached out to experts from India, China, Europe, Japan, Australia, Korea, Singapore and the MidEast to bring up-to-the minute research to these pages. Those experts brought fresh information you'd only hear around the water cooler in high-tech organizations in Shanghai, London, Bangalore, Taipei, Tokyo, Hyderabad, Sydney, Riyadh, Manama, Seoul and Singapore--stepping up to the plate (their computer screens) to make this synthesis and distillation reflect a global snapshot of the new world of extreme competition.
Sandeep Arora (Bangalore, India)
Sue Bushell (Sydney, Australia)
Hitoshi Shirai (Tokyo, Japan)
Abhinandhan Prateek (Hyderabad, India)
Mark McGregor (London, England)
Omar Mark Ragel (Saudi Arabia and Bahrain)
Frits Bussemaker (Amsterdam, The Netherlands)
Steve Towers (Warwick, United Kingdom)
Shridhar Rangarajan (Pune, India)
Jesse Shiah (Taipei, Republic of China)
Gene Weng (Shanghai, People's Republic of China)
Charles Koh (Seoul, South Korea)
Chee Seng Low (Singapore, Republic of Singapore)
Jae Hyoung Yoo (Seoul, South Korea)

This book is dedicated to extreme competitors,
who many may wish to burn at the stake.

Although mainstream economic thought holds that America's history of creativity and entrepreneurialism will allow it to adapt to the rise of such emerging economies as India and China, I think that is so much wishful thinking. Globalization will not only finish off what's left of American manufacturing, but will turn so-called knowledge workers, which were supposed to be America's competitive advantage, into just another global commodity. I'm really concerned about the growing disrespect for science in America.
—Andy Grove, Co-Founder, Intel.

America's working middle class has been eroding for a generation, and it may be about to wash away completely. Something must be done.
—Paul Krugman, The New York Times.

Thousands of years ago, the first man discovered how to make fire. He was probably burned at the stake he had taught his brothers to light. He was considered an evildoer who had dealt with a demon mankind dreaded. But thereafter men had fire to keep them warm, to cook their food, to light their caves. He had left them a gift they had not conceived and he had lifted darkness off the earth. Centuries later, the first man invented the wheel. He was probably torn on the rack he had taught his brothers to build. He was considered a transgressor who ventured into forbidden territory. But thereafter, men could travel past any horizon. He had left them a gift they had not conceived and he had opened the roads of the world.
—The Fountainhead.
---
Peter Fingar and his colleagues from around the globe take us on a fascinating journey of discovery of tomorrow's flat world. For entrepreneurs and incumbent business leaders alike, the implications run deep and wide.
--Rajesh Jain, Managing Director of Netcore,
and Founder of IndiaWorld, Mumbai, India

Peter Fingar has fused a gem of a book under the pressure of the need for change. I started to read Extreme Competition and I could not put it down until I finished it, except what was necessary to sustain life. I rarely take time to "drink in" a book about business revolution, but this book has the potential to guide a significant change in the way we look at business.
--Jim Sinur, VP Distinguished Analyst, Gartner Research

Extreme Competition shows in concrete detail how old assumptions and business models are being rapidly obliterated by the rise of India and China and the negation of time and distance by the Internet and global supply chain management. This is the definitive guide to business success in the new age of total global competition.
--Clyde Prestowitz, President, Economic Strategy Institute,
and author of Three Billion New Capitalists

In an interconnected world, the services sector has seen varied levels innovation, often inspired by historical breakthroughs in manufacturing. At Wipro we are pioneering the use of Lean manufacturing techniques in the digitization of business processes. This innovation is our key to surviving and thriving in the world of Extreme Competition.
--Azim Premji, Chairman, Wipro Ltd., Chennai, India

Peter Fingar is exactly right that a new world of extreme competition is emerging, and that business process innovation will be its primary battleground. If you don't think that the ideas in this book are important, you simply won't be in business for very long. If you do, get busy reading about how to be successful in this brave new world.
--Thomas H. Davenport, Professor and Director, Process Management Research Center, Babson College. Author of Thinking for a Living (Harvard Business School Press)

Extreme Competition is an exciting book about the realities and opportunities of the 21st Century. Its recommendations are right on, especially Fingar's call for setting the pace of sustained innovation. Of great value are the hundreds of engaging, real-life examples.
--Mark. S. Lewis, EVP and Chief Development Officer, EMC Corporation

Fingar takes the normally fuzzy topic of innovation and gives it structure. His suggestions for action are both practical and visionary.
--Patrick Whitney, Professor, and Director, Institute of Design,
Illinois Institute of Technology

Peter Fingar points the direction to tomorrow's business success, clearly and persuasively. Extreme Competition examines how the Internet and global sourcing are changing the rules for all businesses and how yesterday's proven strategies aren't likely to make for tomorrow's winners. Fingar charts a roadmap to the future that no business person today should be without.
--Stan Gibson, Executive Editor, eWeek

In order to beat the competition, we must first compete against ourselves. At Cincinnati Bell we are committed to a "defend and grow" strategy, and use bundling to engage in both defensive and offensive plays. In short, we have no choice but to be the extreme competitor described in Peter's intriguing book, nor do you.
--John F. Cassidy, CEO, Cincinnati Bell

Extreme Competition eloquently describes how companies must rethink their business strategies, from the ground up, to respond to the realities of 21st century competition.
--Bryan Maizlish, CTO, Program Team,
Lockheed Martin Integrated Systems & Solutions

Today, companies must ask how an ever more connected world will change the rules in their industries. Extreme Competition offers the in-depth analysis needed to formulate those questions, and chart a path ahead.
--Edward C. Grady, CEO, Brooks Automation

Companies that have embraced Fingar's message are moving ahead, and creating innovative new business models so remarkable that in some instances they appear to give away their core products and services. How can they do that? Extreme Competition captures the moment and provides the answer.
--Steve Towers, CEO, Business Process Management Group, Warwick, England

Reading Fingar's book on the plane made up for the hockey game I missed watching. The book's pace was faster and the impact made me feel like I was on the ice getting hit. And unlike a game that is forgotten when it is over, the ideas and challenges presented in this book simply cannot be forgotten.
--Dave Hollander, Co-inventor of XML, the Lingua Franca of the Internet

Peter Fingar makes it clear that to survive in a world of extreme competition, it's essential to develop an obsessive, even paranoid, attention to business processes, and to manage them to support continuous and unrelenting innovation. Readers and companies that have low adversity quotients on this issue will become history, extremely fast.
--Kiran Garimella, Chief Architect, GE Healthcare Financial Services

Peter Fingar draws an exciting portrait of what lies ahead as globalization and technological innovation magnifies both the opportunity and competition at hand. A must read for all businesses looking to navigate this new world paradigm.
--Joseph Halpern, Partner, Halpern Capital
Leading companies employ what we at AMR Research call Predatory Supply Chains. They utilize their supply chain superiority to become fierce competitors to rule their markets. They deliver 20% more perfect orders, hold a third less inventory, and have lower costs equal to 5% of revenue. This book defines the new rules of the game.
--Eric Austvold, Research Director, AMR Research
---
Foreword by Rajesh Jain

Today's world looks very different from the vantage point of where I reside here in Mumbai, India. It is a world full of infinite opportunities as companies seek to leapfrog the legacy of decades of slow development. It is a world with youthful energy and money being unleashed as one navigates the new malls and restaurants coming up all over. It is a world where mobile phones connect people who never used a landline before--and perhaps will never use a desktop computer, opting for more advanced NetPCs and wireless devices of all manner.

It is also a world where the services juggernaut in urban India is complemented by the largely agricultural rural economy, where hundreds of millions still live in poverty. It's a world where the old still exists and, at times, even dominates the new. The contrasts may be stark, but there is one thing that is ubiquitous in my homeland: Optimism! For the first time in living memory, there is a belief that tomorrow will be better than today. That perception alone can make all the difference. I see not just the Old India of yesterday, but the New India of tomorrow. It is an India that will be built in a world of extreme competition, and extreme opportunities--powered by transformations and disruptions.

Disruptions are technological shifts that can provide opportunities for newcomers to take on incumbents--and perhaps usurp their power. It happens all the time. Today's king is not guaranteed to be tomorrow's emperor. We have seen this in history and politics, and we also see it in business. While at times, incumbents hasten their downfall by questionable decisions (in retrospect), at other times entrepreneurial start-ups, with some luck, race their way to the top. While there is no magic formula, understanding disruptions and key trends is crucial for success. This is the journey Peter takes us through--from business process transformation creating real-time enterprises, to the combined buying power of the billions in the world's emerging, underserved markets. Today's world is one of complexity, but a thorough understanding of the underlying principles can help in reaching new markets and customers.

I am a strong believer that there is a tectonic shift taking place in the world. The East is rising. And with a reverse brain drain of talent taking place from the West, innovations are now starting to flow from the world's emerging markets--with the potential to blowback to the developed nations. Today's non-consumers are becoming the new battleground--because their delight will shed light on the economic future of all nations. What is needed is an understanding of the present to build a vision of the future. Extreme Competition provides the needed framework to peer through the fog of today, and unravel the contours of tomorrow.

--Rajesh Jain, Managing Director of Netcore, and
Founder of IndiaWorld, Mumbai, India

Foreword by Tom McCarty
Like the proverbial frog in the boiling pot of water, business leaders may find themselves in such a sea of complex, external forces that they are slowly "boiling to death," frozen in their current state, unable to make the leap to the next business model. In this book, Peter Fingar issues a wake up call to those leaders that may still be thinking that "this too shall pass." He provides a compelling summary of the major forces that are shaping our current environment.

Having led the Six Sigma for Suppliers initiative at Motorola University, where Six Sigma was born, and as a Blackbelt who has been working with business leaders to create competitive advantage through business process management practices, I am especially encouraged by Peter's insights into the importance of process excellence as a path to success in the future. Of particular interest to me is the focus on processes that extend across the value chain, tying supply and production seamlessly through to full delivery of customer benefits.

Leaders that are able to re-think their business processes in ways that remove traditional boundaries between supply processes, production processes and customer processes, can achieve extreme competitive advantage in reaching global markets and delivering customer benefits at previously unimagined rates of speed and efficiency. "Grok process!" will be the new battle cry for leaders that embrace Peter Fingar's thoughtful advice. I view this book as a must read for those leaders.

--Tom McCarty, Executive Vice President and Six Sigma Practice Leader, Jones Lang LaSalle, and former Vice President of Consulting and Training Services at Motorola University.
---
Table of Contents

FOREWORD BY RAJESH JAIN
FOREWORD BY TOM MCCARTY
PREFACE

ARE YOU READY FOR EXTREME COMPETITION?
THE GREAT 21ST CENTURY BUSINESS REFORMATION.
EXTREME COMPETITION

THE FIVE TRANSFORMERS.
1. KNOWLEDGE AS BUSINESS CAPITAL.
2. THE INTERNET.
3. JUMBO TRANSPORTATION
4. THREE BILLION NEW CAPITALISTS
5. THE NEW IT.

WHAT DOES ALL THIS MEAN?
1. EXTREME CUSTOMERS
2. EXTREME INNOVATION
OPERATIONAL INNOVATION.
ORGANIZATIONAL INNOVATION
SUPPLY-SIDE INNOVATION.
CORE-COMPETENCY INNOVATION.
SELL-SIDE INNOVATION.
PRODUCT AND SERVICE INNOVATION.
INNOVATING INNOVATION ITSELF.
3. EXTREME INDIVIDUALS
4. EXTREME CUSTOMIZATION
5. EXTREME BUSINESS PROCESSES
SHARING BACK OFFICE OPERATIONS.
SHARING TANGIBLE AND INTANGIBLE ASSETS.
6. EXTREME TEAMS
7. EXTREME SUPPLY CHAINS
8. EXTREME EXPERIENCES & SELF-SERVICE
9. EXTREME INDUSTRY BLUR
10. EXTREME EDUCATION & LEARNING
11. EXTREME GOVERNMENT
12. EXTREME HEALTH CARE
13. EXTREME TIME.
THE PACE OF INNOVATION
14. EXTREME CHANGE
15. EXTREME SPECIALIZATION
16. EXTREME BRANDING

STRATEGIES FOR EXTREME COMPETITION
THE TIME TO ACT IS NOW
BE SLAVISHLY DEVOTED TO YOUR CUSTOMERS
THINK GLOBALLY, ACT GLOBALLY
BE A SUPERSPECIALIST
CONNECT WITH THE SUPERSPECIALISTS
BE A BRAND MASTER, FIGHT BRAND BULLIES
EMBRACE TIME-BASED COMPETITION
GROK PROCESS!
EMBRACE THE NEW IT
OFFER PROCESS-POWERED SELF-SERVICE
OFFER PRODUCT-SERVICES AND EXPERIENCES
SYSTEMATIZE INNOVATION
BE A GOOD CITIZEN
STRATEGY RECAP

REFERENCES

EXTREME READINGS

INDEX

ABOUT THE AUTHOR AND CONTRIBUTORS

---
About the Authors and Contributors

You can reach the authors by email:
extreme at mkpress.com
(substitute the @ for at, keeping spammers away!)



PETER FINGAR, Executive Partner, Greystone Group, is one of the industry's noted experts on business strategy, and a practitioner with over thirty years of hands-on experience at the intersection of business and technology. Equally comfortable in the boardroom, the computer room or the classroom, Peter has taught graduate computing studies in the U.S. and abroad. He has held management, technical and advisory positions with GTE Data Services, American Software and Computer Services, Saudi Aramco, EC Cubed, the Technical Resource Connection division of Perot Systems and IBM Global Services. He developed technology transition plans for clients served by these companies, including GE, American Express, MasterCard and American Airlines-Sabre. In addition to numerous articles and professional papers, he is an author of six best-selling books. Peter has delivered keynote talks and papers to professional conferences in America, Austria, Australia, Canada, South Africa, Japan, United Arab Emirates, Saudi Arabia, Egypt, Bahrain, Germany, Britain, Italy and France.

Sandeep Arora is the author of Business Process Management. Process is the Enterprise. Sandeep graduated from the Indian Institute of Technology in Kharagpur. Arora currently works as Tech Lead for BPM systems at FM Global in Johnston, RI. In the past he has worked as a consultant with Lockheed Martin, AMS, Pitney Bowes, Swiss Bank (now UBS) and Avon Products. Arora's writings can be found at bpm-strategy.com

Sue Bushell is Contributing Editor for CIO Magazine in Sydney, Australia, and an Independent Writer assisting high-tech companies in communicating complex ideas in clearly understandable business terms. sbushell@bigpond.net.au

Hitoshi Shirai is an author of best-selling books on e government,
e-commerce and related IT areas, Deputy Director of the Hitachi Research Institute in Tokyo, and HRI's Chief Researcher for the Japanese Government's efforts to make Japan the "World's Most Advanced IT Nation."

Abhinandhan Prateek is a Computer Science graduate of the Indian Institute of Technology in Bombay. After serving in posts with Tata Consultancy Services, Netscape and Oracle he founded Agneya Infotech, headquartered in Hyderabad.

Mark McGregor is Director and Chief Coach of the BPM Group, a non-profit organization dedicated to furthering the aims and objectives of individuals and organisations in the Business Process Management field. His major writings appear at BPMG.org.

Omar Mark Ragel, a 30-year IT veteran in the Middle East, is Managing Director of BPM-Middle East, with offices and operations throughout the Gulf Cooperation Council (GCC) countries (Bahrain, Kuwait, Oman, Qatar, Saudi Arabia and the United Arab Emirates). Ragel's process initiatives are described at www.bpm-me.com

Frits Bussemaker is the founder and chairman of the BPM-Forum, a non-profit organization serving business process management professionals in the Netherlands and Belgium. Visit www.bpm-forum.org for more information. He has worked in the IT industry since the 1980s and is a regular speaker at conferences on business process management.

Steve Towers is the co-founder and CEO of the non-profit Business Process Management Group, a global business club exchanging ideas and best practice in BPM and change management. BPMG.org has over 14,000 members across all continents.

Shridhar Rangarajan graduated with a BSc in Physics and MSc in Computer Science from the University of Poona in Pune, India. He is a Senior Architect at Herzum Software, an international consulting company specializing in IT strategy and enterprise architecture, headquartered in Chicago, Il. Previously, he served as Senior Software Consultant at Patni Computer Systems in Mumbai, India, and Lead Software Engineer for a major
e-business startup in Connecticut.

Jesse Shiah is a Computer Engineering graduate of the Taipei Institute of Technology in Taiwan and also received both Computer and MBA degrees from University of Massachusetts at Amherst. He has served in engineering and management positions with the DataViews division of Dynatech (acquired by GE), Uniscape, and a crack engineering team at Trados, serving Global 2000 companies, including Hewlett-Packard and Nokia. Shiah co-founded Ascentn, a high-tech business process management company headquartered in Mountain View, CA.

Gene Weng has a MS degree in Mathematics from a university in China, and a MS degree in Computer Science from a university in USA. He was an IT Architect at Perot Systems, and currently holds the same position in a major financial service company in the USA.

Jae Hyoung Yoo is a graduate of Yonsei University in Seoul with BS and MS degrees in Electronics Engineering and a PhD degree in Computer Engineering. Mr. Yoo joined KT (formerly Korea Telecom) Research Center in 1986 and has led various initiatives in the development of Network Management Systems. He is currently an assistant Vice President at KT overseeing the development of the next generation network operations support systems.

Chee Seng Low is an Engineering graduate of the National University of Singapore and received a MBA degree from Nanyang Technological University. After serving at various senior management positions in Nortel, Telecom Equipment (a subsidiary of SingTel, formerly Singapore Telecom) and Star-Hub, he founded Eminuum, headquartered in Singapore.

Charles Koh earned his MBA from New York University, MS in Computer Science at the Pratt Institute, and BA in Mathematics from the University of Hawaii. Born in Korea, he is President of Millenium Infosystems, and previously held technical, management, and consulting posts with NASA, the Federal Reserve Bank of New York, the Imperial Iranian Air Force, General Electric, and Arthur Young (Ernst and Young).