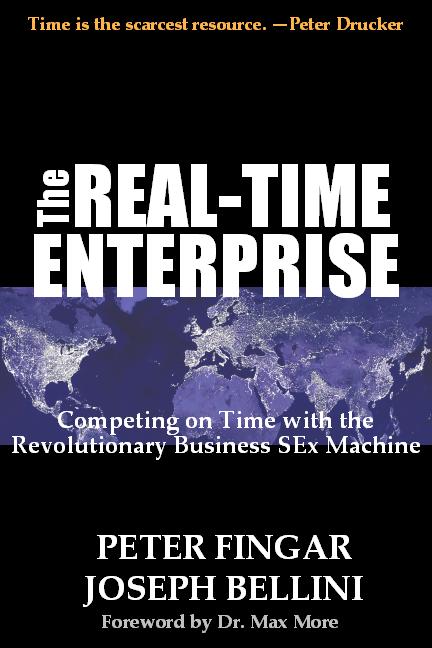 Read the Review at Manyworlds®
The Knowledge Network for Business Thought Leadership
Read the Press Release:
Operational Transformation: the Next Source of Competitive Advantage



Read Chapter 1
The Real-Time Enterprise in Twenty Minutes)

Why is it that, given two companies with approximately the same assets and number of skilled employees, one struggles and the other grows profits? From where do those profits come? The answer is that they come from how work gets done: how companies do what they do, how they operate.
Operational Transformation is the next frontier of business advantage. Lacking growth markets, and facing global competition in uncertain times, companies must change the way they conduct business--or competitors that reinvent their operations will run circles around them.
This is a book about new sources of competitive advantage. It's about operational transformation, time-based competition, and flawless execution of business strategy. Drawing on years of front-line experience across many industries, Fingar and Bellini explore what GE, Wal-Mart, Virgin Group, Toyota, JetBlue, Dell, Progressive Insurance, Amazon, and other pioneers have done to change the game in their industries. The authors show that deep structural changes--made possible by business process innovation--have enabled these companies to reinvent the fundamental ways they operate their businesses.
Most companies have plenty of innovative ideas for change, but they've lacked the capability to execute on those ideas--until now. Companies that transform their operations by mastering the new competitive weapon, the "strategy-execution (SEx) machine," will prosper in the decades ahead.
Table of Contents

Preface

Foreword by Dr. Max More
What is it and where is it coming from?
What is driving the real-time enterprise?
Strategizing for the real-time advantage

1. The Real-Time Enterprise in Twenty Minutes
Operational Transformation:
The Next Source of Competitive Advantage

2. Competing On Time
A Final Lesson from Nature

3. How Work Works in Business
The Internet and Strategy Execution
The Work Processor and the Strategy-Execution Machine

4. What Do "BPM" and "RTE" Actually Mean?
What Does "Real Time" Actually Mean?
So Simple, Yet So hard
The Real Real-Time Enterprise Defined

5. Making Profits Out of Thin Air
"It's Not the Economy, Stupid"

6. The Globalization of White-Collar Work

7. From Science Fiction to Ubiquitous Computing
The Return of the Business Document
From Here to the New Way of Competing

8. The Many Facets of The Real-Time Enterprise
Supply and Demand Equilibrium
The Double Leverage of Self-Service
Technology Architecture for Systems-of-Process
From Integration to Real-Time Collaboration
The Value Chain as a Flock
Lessons From GE
Putting it All Together

9. The Event-Driven Company
Complex Event Processing and Business Activity Monitoring
Getting There

10. Cycle-Time Management
Putting It All Together

11. Thoughts and Strategies for the Real-Time Enterprise
Planning, Strategy and Methods
What to Think and Do Next Monday Morning:
Incremental Change
People and Culture: The Critical Success Factors

Appendix A.
The Myths and Realities of the Real-Time Enterprise

Appendix B.
Cycle-Time Management: A Survey of Six Industries
If You Can't Measure It, You Can't Improve It
The Automobile Industry and The 12-Day Car
Insurance
Banking and Finance
High Technology
Apparel
Consumer Packaged Goods

Index

---
What this book is and isn't about.
In this book, we go under the covers of the buzzwords and hype to examine the many facets that make up the notion of a real-time enterprise. We share insights gained from our experiences on the front lines with pioneering companies that have already recognized what it means to become a process-managed, real-time enterprise, and are working intensely to become such. We also assess its implications for business strategy, for our goal is to answer the question of what the real-time enterprise portends for competitive advantage in business.

Along the way we describe some of the enabling technologies that are required to move from concept to reality. But this book is not about those technologies. It's not for programmers or technologists looking for technical guidance or programming recipes. It's about how the Internet is being forged with a new category of software that gives business people control of their business processes to compete for the future--a future that's certainly not business as usual.

When we do talk about enabling technology, it's not to distract the business reader, but to show the substance beneath the hype of both the real-time enterprise (RTE) and business process management (BPM) buzzwords being bandied about by consultants, IT vendors and the trade press.

This is primarily a book for business people, for at its core it's about how time-based competition can and must be mastered by the company that wants to win in the decade ahead.

Peter Fingar
Joseph Bellini
August 2004

---
About the Authors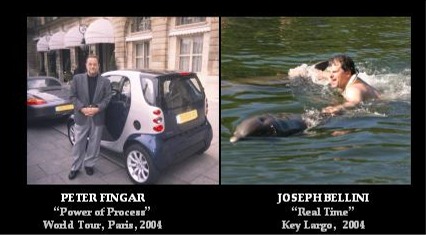 You can reach the authors by email:
rte@mkpress.com



PETER FINGAR, Executive Partner in the digital strategy firm, the Greystone Group, is one of the industry's noted experts on business process management, and a practitioner with over thirty years of hands-on experience at the intersection of business and technology. Equally comfortable in the boardroom, the computer room or the classroom, Peter has taught graduate and undergraduate computing studies in the U.S. and abroad. He has held management, technical and advisory positions with GTE Data Services, American Software and Computer Services, Saudi Aramco, EC Cubed, the Technical Resource Connection division of Perot Systems and IBM Global Services. He developed technology transition plans for clients served by these companies, including GE, American Express, MasterCard and American Airlines-Sabre. In addition to numerous articles and professional papers, he is an author of six best-selling books. He brings that knowledge to life in his provocative talks that deliver business insight and actionable information for executives determined to dominate their industries. Peter has delivered keynote talks and papers to professional conferences in the USA, Austria, Canada, South Africa, Japan, United Arab Emirates, Saudi Arabia, Egypt, Bahrain, Germany, UK, Italy and France.



JOSEPH BELLINI is the Senior Vice President of the Software Products and Services Division at Brooks Automation, a global leader in the semiconductor manufacturing industry. Prior to joining Brooks, Mr. Bellini was CEO of the publicly traded software company, eXcelon, which was acquired by Progress Software in 2002. Prior to eXcelon, Joe was CEO of C-bridge Internet Solutions, an MIT-based startup company. Joe took C-bridge public in 1999, and C-bridge grew rapidly, being ranked as the second fastest growing company in New England. His 20 years of software-related work experience has embraced engineering, marketing, sales and executive management at companies that include i2 Technologies, Oracle, EDS and GE. Mr. Bellini also sits on the board of Yantra, a distributed fulfillment applications provider. Joe holds two Bachelor of Science degrees from the University of Massachusetts in Applied Mathematics and Statistics and Mechanical Engineering. He is also an alumnus of Harvard Business School and holds a U.S. Patent for Extended Supply Chain Planning.

---

Foreword by Dr. Max More

Never mind New Economy vs. Old Economy industries. What matters is if your business enjoys intelligently revised and technologically enhanced business processes. Business process innovation is beginning to move in concert with accelerating technological evolution. Say goodbye to the New Economy; meet the Now Economy. We are witnessing the emergence of real-time enterprises (RTEs) that will comprise the bulk of the Now Economy. In the Now Economy, information flows rapidly through supply and demand chains, crossing corporate boundaries, ensuring maximum efficiency and responsiveness.

The ideal vision of the RTE is one of companies where information moves without hindrance, and business processes are continuously monitored and trigger rapid reactions, usually automated according to embedded business rules. RTEs also sense shifts in tastes and practices and respond by offering new products and services. Automated processes easily traverse corporate boundaries, time zones, media and systems. Batch processes and manual input are minimized by ensuring that real-time information among employees, customers, partners and suppliers is current and coherent. The Now Economy is the instantaneous, frictionless economy of economists' legend--the mythical beast that may finally be emerging from the mist. The Now Economy is a web of RTEs that form a virtual supply and demand chain continually seeking information, monitoring, and responding, guided by humans, mostly at the highest strategic level.

An exhilarating, invigorating prospect. But is this vision an accurate, prophetic glimpse of the company of 2010 or merely a flight of fancy? As a strategic business futurist I have seen numerous indications that the vision points in the right direction. But the seeming inevitability and urgency as seen from a technical perspective must be tempered by looking through the lens of the economist and the organizational psychologist. Both strategic business planners and IT executives need to separate hype from happening. The real-time enterprise is already here in embryonic form. Those who ignore the trends will be buried unceremoniously. But so will those who jump too far ahead. Getting the right balance between dogmatic skepticism and reckless optimism will enable executives to form a strategy to ride the leading but not bleeding edge of the Now Economy.

What is it and where is it coming from?
What exactly is the real-time enterprise? A working understanding of the RTE would include these characteristics:
- Process automation bridging distinct enterprise boundaries, media, and information systems;
- Real-time provision and exchange of information with customers, employees, partners, and suppliers;
- Processes that ensure this information is current and consistent throughout the network;
- Event-driven processes forming a sense-and-respond approach that minimizes manual input, batch processing, delays, and inventory; and
- High adaptability.

The real-time enterprise is crystallizing out of a process-rich brew in which swim Web-enabled customer relationship management, supply-chain event management, enterprise relationship management, partner relationship management, content management, customer analytics, business intelligence, optimization, forecasting and simulation. Into the mix we can throw technologies, including application servers, enterprise application integration, Web services, microservers, event routers, enterprise portals, and digital dashboards--and at the heart is a new category of software, the business process management system.

This fertile brew has been struck by the lightening of intense competition, bringing to life the first members of the real-time species. Many of these are existing behemoths with the most adaptive corporate DNA--Dell Computer (supply chain), Wal-Mart, GE (digital dashboards), Cisco (internal monitoring and reporting, one-day closing of finances), FedEx and UPS (tracking and self-service logistics management), Royal Dutch/ Shell (using sensors to monitor its oil refineries and properties) and the lesser-known Zara (demand tracking and inventory minimization). The uptake of real-time by these exemplary businesses gives further weight to the view of renowned venture capitalist, Vinod Khosla, who sees real-time as "the business story of the next decade."

What is driving the real-time enterprise?
Five forces are driving us towards the RTE: The first consists of the group of processes already mentioned, from customer and partner relationship management to analytics and content management. The second driver is the renewed emphasis over the last decade on operational excellence through programs such as Six Sigma, re-engineering, value-based management, and the balanced scorecard. The third driver can be seen in the widespread recognition that competition is increasingly not between individual companies but between supply chains. Analysts have referred to aspects of this supply chain competition in discussions of the extraprise, the value chain, the extended real-time enterprise, collaborative production, forecasting, and replenishment (CPFR) and collaborative commerce.

Collaborative commerce creates enormous opportunities for and benefits from real-time information and processes. Corporations within a value chain benefit by:
- Sharing real-time demand- and supply-chain information;
- Manufacturing and distribution planning;
- Joint product development, including synchronized design and skills management;
- Materials sourcing;
- Strategic sourcing of manufacturing, including warehouse and logistics management;
- Customer service, including synchronized customer contact points, analytics, and synchronized and collaborative sales and marketing including channel management;
- Distributed order management, including real-time order status; available-to-deliver information, and automated order handling and routing;
- Logistics management, including available-to-promise information; and
- Warehouse and transportation optimization.

We find the fourth driving force in the rapid development and convergence of emerging technologies from those mentioned above, to those almost ready for prime time such as ubiquitous computing, and neural network pattern recognition, and some already deployed technologies with a much larger future ahead including RFID (radio-frequency ID) tags, and natural language processing. RFID tags and ubiquitous computing really represent the most visible front of a tsunamic wave of proliferating sensors and actuators tied into real-time applications that experts see leading to smart dust, self-organizing micro-devices, and, ultimately, smartifacts--smart materials and intelligent artifacts. The real-time economy will be a world where food squeals if spoiled or tampered with, packages tell what and where they are, warehouses "talk" to each other, trucks converse with logistics and weather systems to optimize routes, important information finds you wherever you are on any device, shelves restock themselves and signal changes in customer tastes, and the integrated customer relationship system of a financial services firm generates a thank-you call to a customer who has just made a big trade.

The fifth driver for real-time comes from the competitive advantages it enables:
- Reduced lead times, improved efficiency and responsiveness;
- Real-time financial reporting (now demanded by Wall Street);
- Lower stock levels;
- Reduced cost per transaction;
- Superior competitive intelligence and demand information;
- Increased responsiveness to customers;
- Reduction in expensive human input;
- Real-time reengineering of processes;
- Better decision-making;
- Improved leveraging of technological improvements;
- Visibility of the extended supply chain;
- Optimization of procurement; and
- Risk management by optimizing purchase decisions under conditions of uncertainty.

Strategizing for the real-time advantage
So real-time is real, it has begun, and its development seems inevitable. But what should you be doing about it and how does it affect your strategy? Some commentators, intoxicated with the real-time idea, have promised sustainable competitive advantages, using disruptive real-time technologies to cement market dominance. This is nonsense. Certainly successful early adopters and best practice users will pull ahead. But real time will eventually become just a cost of doing business, a necessary but not sufficient condition for competitive advantage. Just like Six Sigma or re-engineering, real-time enterprises will only sustain a competitive advantage by doing real time really well and, as Fingar and Bellini explain, setting the pace of innovation.

Achieving mastery will be particularly crucial to "value network architects" (Cisco, Dell) who require process excellence even more than customer solutions companies (Amazon, Charles Schwab) or product innovators (3M). One key to real-time mastery lies in clear definition of business processes. Real-timing sloppy or poorly understood processes will work no better than implementing enterprise systems of the past without prior planning. Superbly engineered real-time processes will produce little benefit unless leaders understand cultural dynamics and align incentives to the adoption and use of real time. Frustrating as it may be to the technocrat, the competitive edge will go to those who master organizational psychology and other soft skills both within the enterprise and as applied to data flows to and from others in the extended enterprise.

The real-time enterprise promises so much that many businesses will overdo it. Incremental real-timing will almost always trump big-bang implementations. Executives should consider which aspects of their business would benefit most from real time. Smart strategy means understanding what business you are in, exactly how your processes work, where the incentives lie, and which real-timed processes would contribute most to success. It really is time for real time, but start smart, take small steps, and keep your balance.

I invite you to join Peter Fingar and Joseph Bellini on their insightful journey through the world of the real-time enterprise. They will take you under the hype curve to provide the information and insight you need as you prepare your company for competing successfully in the 21st century.

--Dr. Max More
Director of Content Solutions, ManyWorlds
August, 2004